Erick Guerra of U Penn guest blogs about his new article in Journal of Planning Education and Research, which explores why regional plans have overlooked the future of autonomous vehicles.
---
Guest Blogger: Erick Guerra of University of Pennsylvania  
Driverless cars are coming. Nearly all major car manufactures and several large technology firms are racing to develop vehicles that can operate with limited-to-no human interaction. Despite the probability of technological, legal, and political pitfalls along the way, fully autonomous vehicles (buses and cars) will likely be commercially available and driving themselves on city streets and highways in the next 20 years—well within a long-range planning horizon. In an article recently published in the Journal of Planning Education and Research (free link through December 2015), I investigated how large Metropolitan Planning Organizations (MPOs) are preparing for what is potentially the most transformative transportation technology since the internal combustion engine and the mass-produced automobile.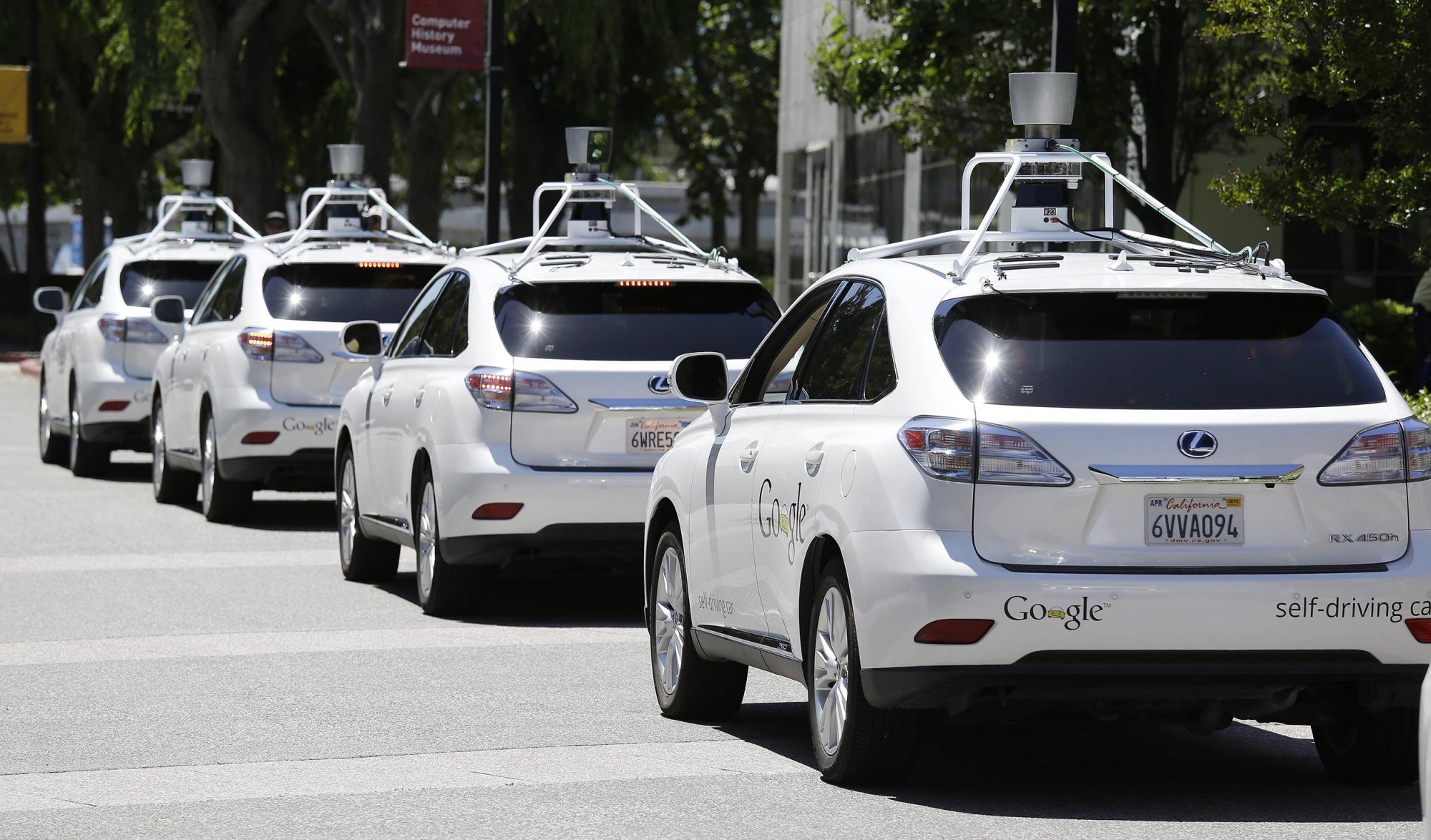 I focus on large MPOs because these organization have the legal mandate and sufficient staff to consider impactful long-term trends like driverless cars. Yet only one of the 25 largest MPOs even mentioned driverless, automated, or autonomous vehicles (buses or cars) in its most recent long-term Regional Transportation Plan (RTP). These plans are required for MPOs to access DOT and other transportation funds, and represent a core activity of shaping a region's transportation policy vision and funding priorities. Further, no MPOs actively plan for the new autonomous-driving technology.
The reason for the conspicuous absence of this paradigm shifting technology from regional plans is not the ignorance of transportation planners. In fact, unawareness and skepticism about the new technology played only a weak role in keeping driverless cars out of RTPs. Instead, uncertainty about the timing and impacts of driverless cars and the divide between the emerging technology's potential impacts and the way that investment decisions are made featured prominently (See the Table below). As on planner put it, "[w]e don't know what the hell to do about it. It's like pondering the imponderable."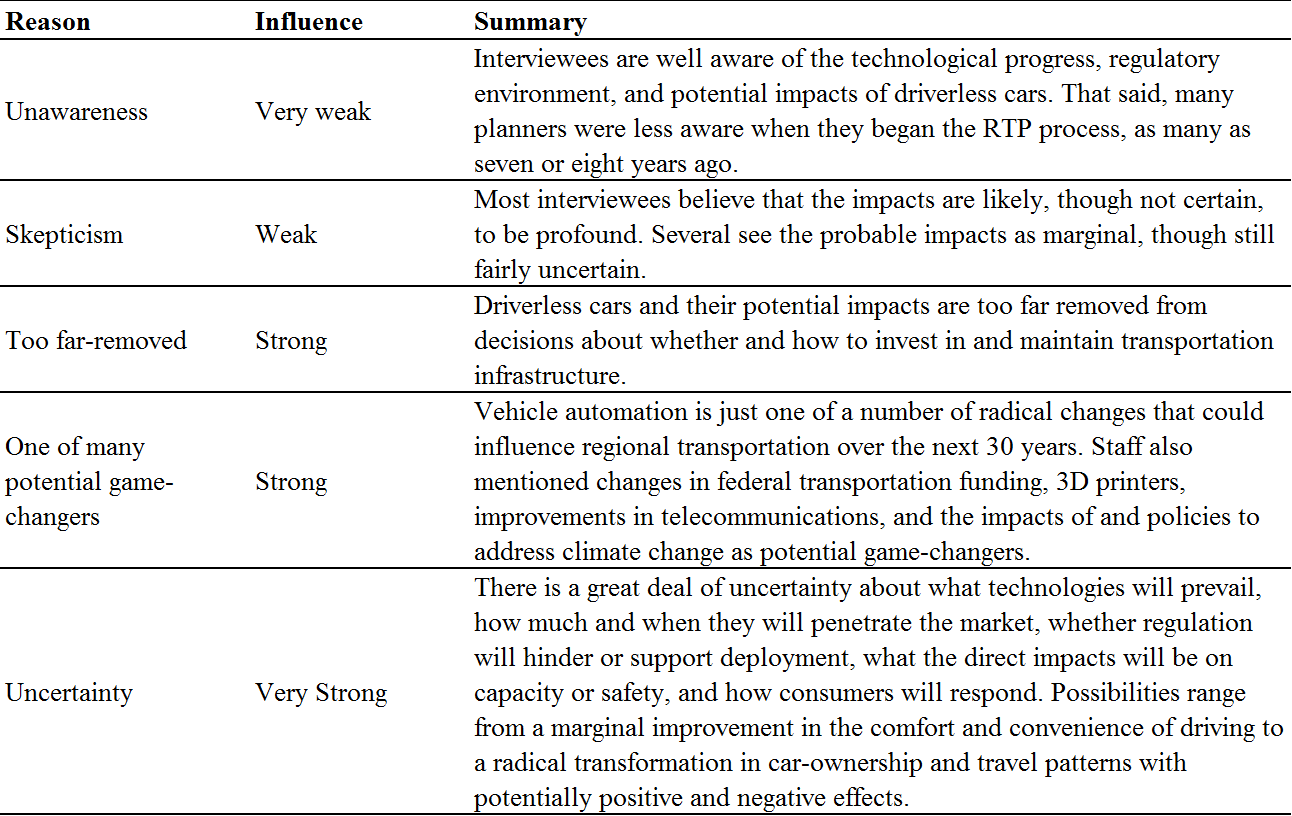 Despite these uncertainties and the RTPs, planners from some (though certainly not all) of the largest MPOs are at the forefront of planning for self-driving cars. They attend, host, and organize conferences and focus groups on new transportation technologies and their implications for cities, regions, and transportation systems.
Three regions—Atlanta, San Francisco, and Seattle—have produced some of the first and most advanced models to predict how autonomous vehicles might affect travel behavior and regional transportation systems. Others, like Pittsburgh and San Diego, are involved in testing new transportation technologies, though the focus has been on connected, rather than autonomous vehicles. All but a couple of interviewees described one or more planning-related activities, such as focus groups or meetings with experts, to discuss the technological progress and implications of self-driving cars. Interviewees not only attend local and national meetings and conferences about vehicle automation, they also organize them.
Mitsuhiko Yamashita of Nissan and Their Authonomous Drive Vehicle
For better or worse, driverless vehicles will almost certai only influence transportation safety, effective roadway capacity, travel behavior, transit, freight, equity, and urban form. Whatever the actual impacts, the potential impacts will continue to be used to argue for and against an array of investments and investment types. As new technological breakthroughs occur, more automated features become commercially available, and public awareness about vehicle automation increases, self-driving cars and buses will have an increasing influence on public discourse and investment decisions. By getting ahead of this discourse, planners can play a stronger role in shaping how driverless cars influence regional transportation investments. 
---
Denver Freeway Widening Plans on Hold
The Colorado Department of Transportation's plan to widen the Interstate 25 freeway through Denver is one of a few plans to widen urban freeways under consideration in the United States.
This six-course series explores essential urban design concepts using open source software and equips planners with the tools they need to participate fully in the urban design process.
This course aims to provide an introduction into Urban Design Sketching focused on how to hand draw master plans using a mix of colored markers.
View More