The Bay Area is one of the few metro regions in the U.S. with a separate MPO and COG, but that could change after voting members of both the Metropolitan Transportation Commission and the Association of Bay Area Governments agreed to a merger study.
---
"Leaders of the Association of Bay Area Governments (ABAG) at an early morning meeting agreed to study merging with the Metropolitan Transportation Commission (MTC), a proposal they had initially opposed," writes Andrew McGall of the Bay Area News Group.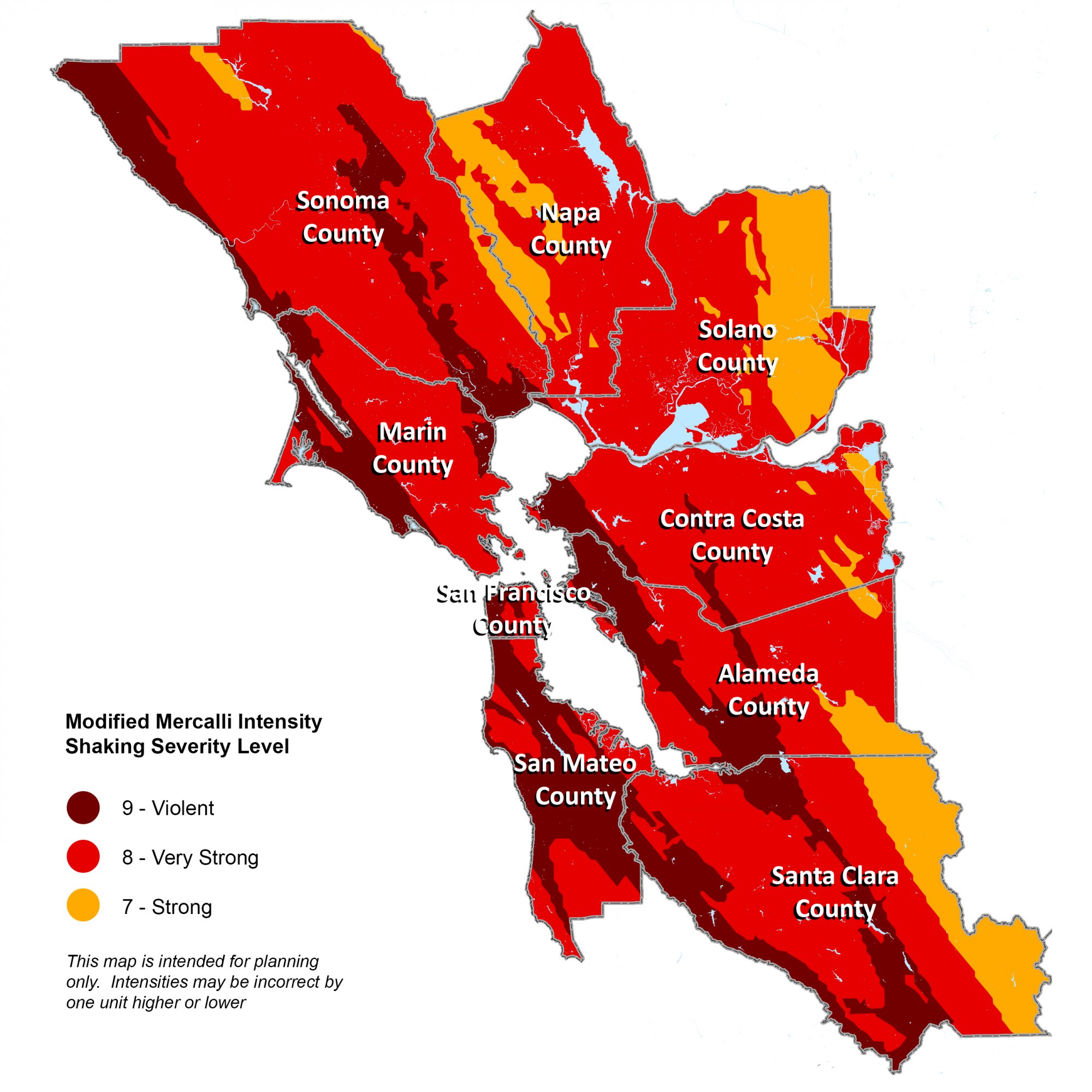 Source: USGS 2013 via 
ABAG
ABAG is the region's coalition of governments (COG) that deals with housing allocations and other planning (including earthquake preparation as illustrated above) while MTC is the metropolitan planning organization (MPO) that "is the transportation planning, coordinating and financing agency for the nine-county San Francisco Bay Area," according to its webpage.
Later in the morning, the commission's board tossed aside its plan for a unilateral takeover of ABAG's planning staff. Instead, it unanimously approved working with the association to complete a merger plan by June 1.
"The two agencies are vastly different in size and scale, with the MTC's budget of $945 million dwarfing ABAG's budget of $27 million," notes The Daily Journal.
What's more, ABAG gets its funding from MTC, notes MTC Executive Director Steve Heminger in an earlier, comprehensive Contra Costa Times column comparing the functions of the two agencies and explaining why Bay Area residents should be interested in the proposed merger.
The support for ABAG from cities comes as a surprise considering the agency is disliked by many because of its role it plays in assigning regional housing need allocations.
"These are unelected people who have this personal vision of what is good for everybody else," Corte Madera Councilman Michael Lappert said of ABAG before voting to withdraw from the agency. "They have no check, no balance." [Marin Independent Journal, 03/07/12]
In an opinion (posted here) for the San Jose Mercury News, Egon Terplan, Regional Planning Director for SPUR, writes, "In recent decades, there have been numerous attempts to merge ABAG and MTC. None has succeeded."
Déjà vu?
To understand the historical basis for the split and some of those past attempts, see chapter 2: "Origins And Evolution Of COGs And MPOs—And Their Split In The Bay Area" of a Public Policy Institute of California "occasional paper": "Considerations Regarding the Possible Merger of the Association of Bay Area Governments and the Metropolitan Transportation Commission Reform" (pdf), dated October 30, 2001.
A San Francisco editorial posted here last year suggests going further - merging not two but three regional planning agencies, and that regional planning evolve into regional governance like the Portland region's Metro.
Hat tip appropriately goes to the MTC-ABAG Library.
FULL STORY: Bay Area regional planning agencies to merge
San Francisco Just Ended Single-Family Zoning
The San Francisco Board of Supervisors voted to Tuesday to eliminate single-family zoning, but pro-development advocates say additional changes are needed to unleash a wave of construction.
This six-course series explores essential urban design concepts using open source software and equips planners with the tools they need to participate fully in the urban design process.
This course aims to provide an introduction into Urban Design Sketching focused on how to hand draw master plans using a mix of colored markers.
View More