You do not hear much talk about meaningful urbanism in the Southeast U.S. Until political winds shift, don't expect that to change.
Considering all of the talk about urbanism flying around these days, you might expect to hear some of it directed at cities in the Southeast U.S. But there is not much: maybe a quick look at a transit initiative in Charlotte, some bike-ped improvements in Miami, or the downtown renaissance of a city like Chattanooga, Birmingham or Durham – all good things, but nothing compared to the constant barrage of information we get about cities in other regions. There are a lot of reasons for this, but most come back to the basic fact that Southern cities lack the density and connectivity necessary to create the urban ideal to which everyone seems to aspire.
This issue was at the heart of a recent one-day conference in Raleigh, N.C. titled, "Density Works: Design in Place." The event is the product of the College of Design at N.C. State University and the Raleigh Department of City Planning. It is now in its 11th year as an important voice for urbanism in a region largely defined by seemingly endless suburban sprawl. 
The slate of speakers presented an interesting mix of idealism, activism, romanticism and realism. Mike Lydon of The Street Plans Collaborative led off with a lively presentation about his boots-on-the-ground work with Tactical Urbanism; followed by the transportation planner John Kott, who preached the evils of the automobile to a crowd who drank that Kool Aid a long time ago; landscape architect and urban designer Ignacio Bunster-Ossa of WRT promoting green infrastructure (and hinting at his move beyond landscape urbanism); and then author/urban designer Julie Campoli, who gave a crowd-pleasing and nostalgia-laced discourse on what walkable communities should look like.
While each presentation was informative and, at times, inspiring, they offered little that could be directly applied to the work of the audience of planners, landscape architects, architects and city leaders working within the realities of North Carolina. A bunch of examples from urban wonderlands such as New York City, Philadelphia, San Francisco, Portland and Toronto were, as always, fun to look at, but seemed too specific to their location to serve as more than reminders that there is no one-size-fits-all approach to creating or perfecting urban environments.
The last speaker was the local realtor/developer John Kane, who was sort of odd man out, providing an intriguing foil for the others. Kane's claim to fame is the hugely successful Raleigh development called North Hills, or, as he likes to call it – Midtown Raleigh. I can only assume he was intentionally brought on to show what density really looks like in the 21st century South. The contrast between his presentation and the others was dramatic…and a little bit painful.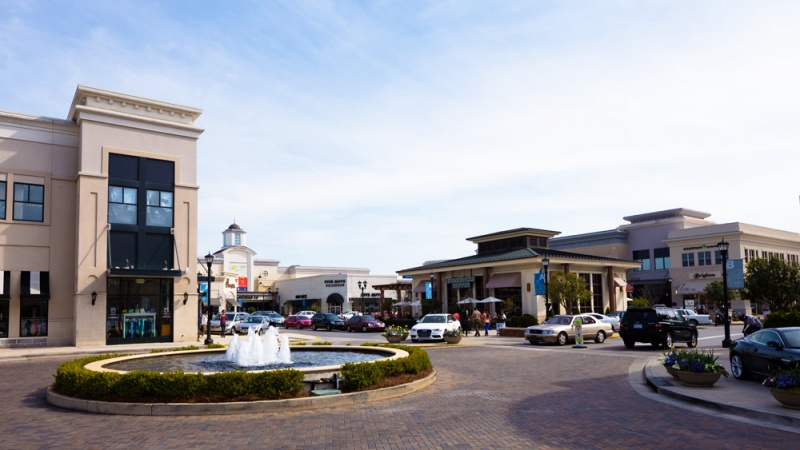 North Hills is a massive mixed-use development built on and around the site of a 1960s era suburban mall, now packed with shiny new commercial, office and an increasing amount of residential units. I could describe what it looks like, but you have all seen it before – a new place designed to evoke the ambience of somewhere old, replete with all the faux character found in a New Urbanist town center or a glorified, high-end suburban strip mall. There's a lot to criticize about what it's not, but the fact is that it does succeed as a legitimate way of creating density within a suburban landscape. Even so, no matter how dense it is, it still exists as an island, disconnected from the rest of the city – except by car – and, as such, an odd choice for a conference on urbanism.
This fact was not lost on the crowd; you could just feel the sanctimony spreading through the room as Kane went on and on about chain restaurants, spas and office towers, all while dollar signs sparkled in his eyes. I wondered if he understood why we were all there, because he failed to address broader urban issues that the group expected to hear about. To be fair, he is a businessman – a very successful one – not an urban designer and, to his credit, he held his ground when challenged on issues like accessibility and affordable housing. He made clear he would love for Raleigh to have better transit, because it would mean more customers. Sadly, it's not up to him to make it happen – as he has proven he can get things done.
Like most other Southern cities, Raleigh faces the frustrating reality that its local government is not willing to step up and make a real commitment to any sort of meaningful transit system. Even as adjacent (and more progressive) counties are taking steps toward creating a connective light rail network, conservative Wake County officials sit on their hands, unwilling to act. Such inertia has hit the entire state, as even the once transit-friendly governor, who was instrumental in bringing light rail to Charlotte as its mayor, is now part of a stubbornly resistant political machine that believes the future of transit is, as always has been, highway construction – an ongoing source of misplaced pride in the state.
I could spend days venting about the political reversal North Carolina has experienced over the past few years. Regional transit is far from the only thing that has been negatively impacted. Suffice it to say, I'm not real happy. This used to be a progressive state – at least in relation to the rest of the region. Forward-thinking leadership enabled it to successfully turn its fading textile, manufacturing and tobacco-based economy into a vibrant one centered on medicine, technology and research. Unfortunately, transit never had time to take hold, and suburbia continues to spread like wildfire.
I am sure other regions deal with these same issues on some level. But getting a large number of elected officials in the South to think on a broader scale that effectively deals with urbanism as a connected system rather than merely distinct pockets of downtown walkability is as important as it is unlikely. Without such leadership, we don't stand much chance of letting places like North Hills become more about being urban and less about just being dense. 
Topics