New communication and interaction technologies are dramatically changing the way the public understands and participates in government. The emerging openness of data and information at the city level is broadening the urban policy conversation, but challenges and questions lie ahead as the open city develops.
---
For many people, it's information overload. Email every day, billions of websites, Twitter feeds, Facebook status updates, RSS, a hundred blogs a minute -- there's a seemingly endless stream of information and seemingly no way to keep up. Sure, it's hard for people, but imagine what it must be like for a city.
As the Internet broadens the way we communicate, it's also changing the way we participate and interact with government. That means a huge amount of data. From emailed complaints to city officials to requests for public documents to comments on city websites, the public's voice can find its way into City Hall much more easily and in greater quantity than ever before. Though the sheer volume is a bit overwhelming, governments are beginning to take it in stride. Some are even embracing it.
Or at least they're trying to figure out how to embrace it.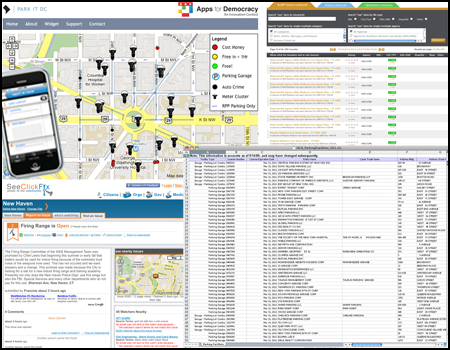 That was the subject of "Open Cities: New Media's Role in Shaping Urban Policy", a two-day conference hosted by Next American City and supported by the Rockefeller Foundation. The event brought together government officials, community activists, urban thinkers, web developers, and bloggers to discuss how urban places can benefit from this new era of limitless communication. The concept isn't exactly new, but it's being thought about and acted upon at an accelerating pace – by governments from local to federal, among community groups and activists, and with the private and non-profit sectors.
Nick Grossman is director of TOPP Labs at The Open Planning Project, where he combines open source technologies with public participation processes to engage communities. He's watched the trend building and sees its potential. "The communication is happening a lot more quickly and a lot smaller," Grossman said.
But not smaller in scale -- just more focused.
Online communication tools and social media networks have brought about the rise of niche community groups for such fine-grain topics as news on a specific city block or bike infrastructure within a neighborhood.
John Geraci is the co-founder of the hyperlocal news network outside.in and creator of the networking and ideas website DIYcity.org. He says the ability of the web to allow greater participation "hints at the possibility of a truer representation of democracy."
But it's not just cities enabling this greater participation. New websites and mobile applications are being developed that facilitate public participation and interaction with government on a scale that's never been possible. One example is the website SeeClickFix, which enables people to report and track minor nuisances within their community, and notify their public officials about problems within their jurisdictions. People can take pictures on their mobile devices, upload them to the site, and create problem tickets and nuisance area watch lists that are emailed to their local officials. From potholes to persistent crime, SeeClickFix offers a non-government-like way to get involved in local government. Founder and CEO Ben Berkowitz calls it a gateway to civic engagement.
"We strongly believe that this is about government," Berkowitz says. "But it's also about you and community organizations and non profits and anyone else who plays a role in improving the public space."
Enabling this public participation is one of the cornerstones of modern urban planning, and these innovations are creating a new way to look at the process of citymaking.
"Urban planning is not just writing a plan once every 20 years. It's everyday engagement in the design of our communities, and that's something the Internet enables," said Grossman.
The emerging trend among cities is open data. From Washington D.C. to New York to San Francisco and even the federal government, officials are taking city data and making it public. Hundreds of streams are now available, including such data as the amount of new building permits, the locations of trees, crime reports and registered vacant properties. With these streams out and in the public realm, web developers have been able to create a raft of city data-based websites and applications.
For example, crime data has been mapped in a number of cities to show residents where crime is occurring and what types of crimes are being reported. Other applications include a locator tool to find parking in Washington D.C., and another that maps detailed bike routes and recent thefts.
Much of the data is only marginally useful in terms of getting people more actively involved in their government. Washington D.C., for example, offers a spreadsheet of Health Professional Licensing Fees. New York offers a list of laundry facilities. But regardless of this data's apparent uselessness, the consensus at the Open Cities conference was that the more data, the better. John Tolva, director of citizenship and technology at IBM, discussed how making data available was just the first step. What's needed next is a way to process it all.
"I long for an understanding of how they relate and how they correlate," Tolva said.
That's turned out to be harder than simply making the data available. The hope is that web developers will be able to programmatically broach a better understanding of how certain streams of data interrelate and affect each other. In the meantime, however, they're simply there. Some useful applications and websites have come about as a result, but some at the conference see them as little more than poster children for the open source movement.
The crowd at the conference was optimistic about the potential of this openness, but some questions remain. Issues of maintenance, legality and enforcement dog the city officials who've been charged with making their data available, and many of those issues have yet to be fully digested. In addition, there is one central question: is this working? Rob Lane, director of the design program at the Regional Plan Association and the moderator of one of the panel discussions, wondered what impact this trend will have. Are more people participating? Are cities simply creating more ways for the same voices to be heard? Are they changing the outcome of planning, or simply the process? There don't seem to be any quantitative answers to these questions. Not yet, at least.
Another issue raised by many speakers is the issue of equal representation and access. Many expressed concerns about the "digital divide" -- the gap between people with adequate access to the internet and the new communication tools cities are utilizing, and those with little or no Internet access.
"I never want to be in the situation where government is elitist", said Ron Vinson, director of media for the city and county of San Francisco.
He's concerned about the use of his city's new open data policy, and how many of the developers using the city's data are creating tools and applications for expensive hardware like the iPhone – technology not feasibly available to lower-income citizens.
Daniel X. O'Neil shares this concern. He's the co-founder of the neighborhood news site EveryBlock, and he calls the problem "the elite speaking to the elite."
"That bothers me."
Though many cities do still retain their telephone access services like 311 and other more traditional ways of interacting with government, many worry that these won't be enough. The potential of new media in city governance and urban policymaking largely relies on volume. From neighborhood blogs and hyperlocal news sites, to interactive city portals and traditional phone services, to iPhone apps and emerging data-based web software, the benefits of this expanse of information and communication is both depth and breadth. But like many people, cities and policymakers are still trying to figure out the best way to wrangle all of this information.
"I think the future for new media in government is bright," said New York City Transportation Commissioner Janette Sadik-Khan. "But it's going to be harder than we think."
---
Nate Berg is assistant editor of Planetizen.
The Right to Mobility
As we consider how to decarbonize transportation, preserving mobility, especially for lower- and middle-income people, must be a priority.
Early Sharrow Booster: 'I Was Wrong'
The lane marking was meant to raise awareness and instill shared respect among drivers and cyclists. But their inefficiency has led supporters to denounce sharrows, pushing instead for more robust bike infrastructure that truly protects riders.
Tacoma Developing New Housing Policy
The city's Home in Tacoma plan is designed to address the region's growth and rising housing prices, but faces local backlash over density and affordability concerns.
Green Alleys: A New Paradigm for Stormwater Management
Rather than shuttling stormwater away from the city and into the ocean as quickly as possible, Los Angeles is now—slowly—moving toward a 'city-as-sponge' approach that would capture and reclaim more water to recharge crucial reservoirs.
This six-course series explores essential urban design concepts using open source software and equips planners with the tools they need to participate fully in the urban design process.
Learn the tools for implementing Universal Design in planning regulations.
View More