An article from the journal Urban Studies is inspiring debate and controversy over a year after publication, presenting opposing opinions on fundamental questions about how land use regulation affects the housing market.
---
There's a housing debate taking place in California, unfolding over several subsequent chapters through legislative and referendum processes at the state, regional, and local level. Previous chapters of this debate have reached their highest pitch around statewide legislation like SB 50 and SB 827 and local referendums like Measure S in Los Angeles and Proposition B in San Francisco, featuring a rotating cast of advocates, journalists, and publications, with debates that frequently spill ad hominem attacks onto the pages of social media.
At stake is no less than a fundamental question about the consequences of land use regulations: Do stringent land use regulations, allowing for fewer residential development, contribute to high housing costs in high demand urban areas, and would less exclusionary regulations, allowing more residential development, create a more affordable housing supply? 
As this ground is contested daily by politicians, advocates, developers, and neighborhood organizations, the academic debate is evolving in response, as thoroughly accounted for in an article by Adam Brinklow from May 2020, with new evidence and methodologies presented on both sides of the issue. The Journal of the American Planning Association devoted an entire issue to the academic debate about the consequences of single-family zoning earlier this year. 
Parsing through these conflicting accounts is critical for the field of planning, both professional and academic, to move forward with a scientific understanding of the long-term consequences of planning implementation. 
Among the latest chapters of the academic debate is the controversy surrounding an article published in September 2019 by Andrés Rodríguez-Pose and Michael Storper in the journal Urban Studies. The article, "Housing, urban growth and inequalities: The limits to deregulation and upzoning in reducing economic and spatial inequality," presents a counterargument to the fundamental assumptions of what the paper describes as the "housing as opportunity" school of thought, which most planners and urbanists now think of as YIMBY (Yes In My Backyard) politics. 
In the article, Rodríguez-Pose and Storper argue against the fundamental assumptions of the YIMBY worldview, i.e., that the regulatory status quo of zoning and other land use controls is contributing to the high costs of housing (in addition to other social ills) in high-demand metropolitan areas.  
The article got a lot of attention, including a write up by Richard Florida for the website formerly known as CityLab and a flood of responses (including one from Florida) on social media and on the other big national urbanism publications. The article became one of the most visible examples of the academic debate contesting the future of planning and land use.
The article by Rodríguez-Pose and Storper continues to linger in the spotlight today, after being called into question by a series of responses written by Michael Manville, Michael Lens, and Paavo Monkkonen, starting with an article published nearly a year later in the same section of the same journal. The response, titled "Zoning and affordability: A reply to Rodríguez-Pose and Storper," takes the original paper to task for mischaracterizing cited research and for making assertions without citation. 
Rodríguez-Pose and Storper were afforded a chance to respond in the same edition of Urban Studies, in keeping with the norms of academic publishing. Manville, Lens, and Monkkonen were compelled to respond again, with a letter written to Urban Studies asking for an explanation for a continued lack of citations and mischaracterization of other researchers' work. 
That most recent response is reproduced below with the permission of the authors. According to the authors, the journal has promised to issue an erratum since this letter was posted on Google Drive.
Rebuttal, Response, and Critique, written by Michael Manville, Michael Lens, and Paavo Monkkonen. 
As you I'm sure you agree, having an academic debate really only works if both sides engage factually and in good faith. In our paper, we detailed numerous instances where Profs Rodriguez-Pose and Storper were quite loose with assertions and citations. We did so in detail, using block quotes and page numbers. In their response, Profs Rodriguez-Pose and Storper did not directly address any of the specific points we made. Instead they accused us of dodging their arguments while doubling down on inaccuracies. Here are three examples of things they invented in their rejoinder to us: 
1. They claim, without quote or citation, on page 4, that we try to "kill the messenger" by stating that they lack the "pedigree" to write about housing. We did no such thing. This assertion seems easy enough for the Urban Studies editors to have checked--our paper was right there. Anyone reading it will see  we made no ad hominem attacks. (The R-S rejoinder does, however, make ad hominem attacks, including--weirdly--the use of a Goethe poem to suggest that R-S are riders astride stallions while we are mere dogs yipping at their heels). 
2. They claim (page 4) that we are "disingenuous" because we "publicly-endorsed" legislation implying that zoning triggers interregional migration, and then quote the introduction to California's SB4 as evidence. But none of us publicly-endorsed that bill. This fact seems more difficult to have checked, but not impossible. A google search or quick email to us would have sufficed.  At the least, R-S could have been asked to cite their assertion that we endorsed this bill. 
3. They invent citations, or at least invent what's in the cited work. In our Debates essay we noted that they did this in their original paper, particularly with respect to a paper by Freemark. R-S never responded to those claims, and then they did the same thing in their response, albeit with a different paper.  Here is a passage from their response (page 6), note the highlight: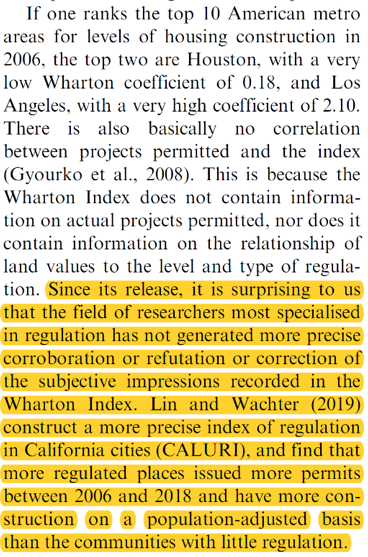 Basically, they contend that two prominent Penn professors (Lin and Wachter) have devised a new regulatory index, better than the Wharton Index, which shows that it is the regulated cities in California that do the most building.  
The paper they reference is here. Recall that R-S make two claims based on it. The first claim is that these authors devise and use something better than the Wharton Index, called CALURI. The second is that this study upends the conventional wisdom about regulation and housing. Let's look at the first claim. (We will show some screenshots here but by all means look for yourself as well). Here is the data section of the Lin and Wachter paper: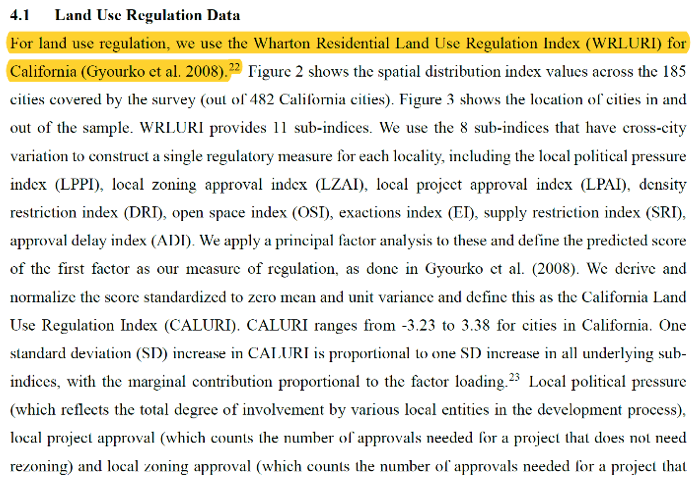 So—they use the Wharton Index. "CALURI" is just the subset of Wharton data that's drawn from California. The first claim, therefore, is just blatantly false. (In fairness, Lin and Wachter do also use a regulatory survey from Berkeley's Terner Center. They do so, in their words, as a "robustness check." And they find no difference between Wharton and the Terner survey. So if anything they confirm rather than refute the Wharton survey's utility.) 
What about the second claim? Does the paper actually find that regulation doesn't matter?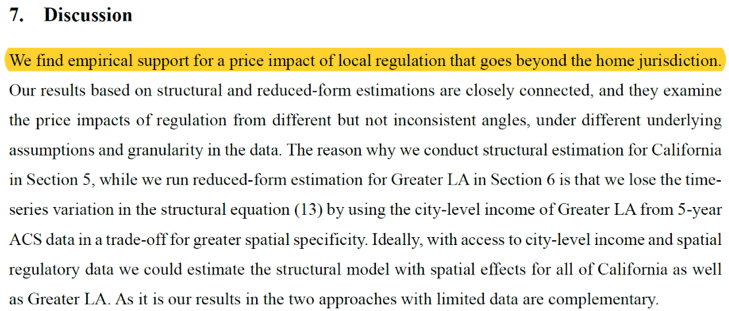 and: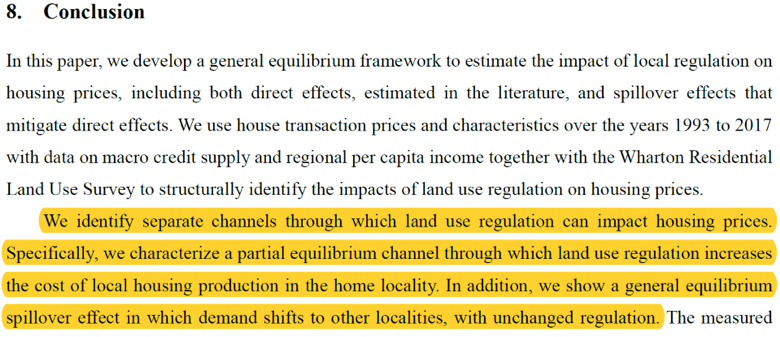 No it does not. All the models Lin and Wachter present show that regulation has a bigger impact on prices than was previously thought, because it pushes prices up in both regulated and less-regulated cities.  
One might wonder how that conclusion can be true if the paper also shows that more permitting happens in restrictive cities from 2006-2018? 
Well, the paper doesn't find that. Because the paper isn't about that. The authors never examine permitting or construction, and the paper doesn't measure 2006-2018. The paper is a general equilibrium analysis of house prices, not supply, and it covers 1993-2017. 
Could this have been an innocent mistake? Maybe. But anyone who reads far enough into the article to see the part about CALURI has definitely read far enough to know the paper used the Wharton Index. And the abstract makes plain that the paper analyzes prices, not construction. And importantly, the findings of this paper are squarely in line with the argument that stringent regulations make housing less affordable. 
We understand that it would be challenging for the Urban Studies editors to have checked this reference. But you do see our dilemma: it's hard to argue with people who just invent facts. And Urban Studies is, intentionally or not,  putting its imprimatur on these inventions. Not only that, but the Lin and Wachter paper is really good, and was clearly a lot of work. Urban Studies has helped R-S simply appropriate and misrepresent that work, just so they could score a point in argument. 
We understand 'Debates' articles may not be as extensively reviewed as research articles, but given the importance of these particular misrepresentations for the debate itself, we did want to raise our concerns about this process. Of course many people won't notice these fabrications. We did notice, and we think it matters. Hopefully the journal will issue a correction. 
Mike Manville is an associate professor of Urban Planning at the University of California, Los Angeles in the Luskin School of Public Affairs.
Michael Lens is an associate professor of Urban Planning and Public Policy and associate faculty director of the Lewis Center for Regional Policy Studies at the University of California, Los Angeles.
Paavo Monkkonen is an associate professor of Urban Planning and Public Policy at the University of California, Los Angeles in the Luskin School of Public Affairs, as well as the director of the Latin American Cities Initiative, the coordinator of the Regional and International Development Concentration, and a faculty cluster leader for the Global Public Affairs Initiative.
The three authors have also co-written an article calling for the end of single-family exclusionary zoning, published by the Journal of the American Planning Association in December 2019.
The Right to Mobility
As we consider how to decarbonize transportation, preserving mobility, especially for lower- and middle-income people, must be a priority.
Early Sharrow Booster: 'I Was Wrong'
The lane marking was meant to raise awareness and instill shared respect among drivers and cyclists. But their inefficiency has led supporters to denounce sharrows, pushing instead for more robust bike infrastructure that truly protects riders.
This six-course series explores essential urban design concepts using open source software and equips planners with the tools they need to participate fully in the urban design process.
Learn the tools for implementing Universal Design in planning regulations.
View More