The interdisciplinary work of the Kounkuey Design Initiative, led by executive director Chelina Odbert, and deeply committed to the homegrown potential of neighborhoods and communities.
---
With a portfolio of projects that spreads from the busiest streets of Los Angeles to the deserts at the eastern reaches of Southern California all the way to Kibera, Kenya, the not-for-profit Kounkuey Design Initiative (KDI) works, and achieves, for the highest possible ideals of the planning profession.
With a master's degree in planning but an interdisciplinary approach to the challenges of equity in underserved communities, KDI Executive Director Chelina Odbert offers numerous insights about the hard work of achieving the goals of the public in a political system that doesn't always represent the needs of its most vulnerable communities.
The following interview is excerpted in full from the 6th Edition of the Planetizen Guide to Graduate Urban Planning Programs, published on September 3, 2019.
How do you describe your current position?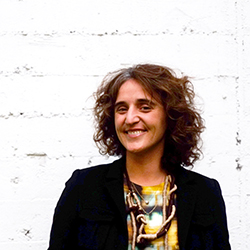 I would describe the job as intense and multifaceted. I'm the executive director of a nonprofit design and community development firm called Kounkuey Design Initiative (KDI). We are urban planners, landscape architects, architects, engineers, and community organizers, working alongside residents as partners to build equity in neighborhoods and cities. The work is never dull because of its interdisciplinary nature. It requires us to work and think in so many different ways: spatially, politically, and academically. My job proves the theory that the best urban planners are generalists. We have deep expertise in some areas, but our firm really excels in looking for ways to sew a common thread through many projects to create one holistic approach to building equity in a given neighborhood or city.
What specific projects have you worked on to advance the goal of equity, and what kind of specific outcomes are you trying to achieve?
At the broadest level, our mission is to work with under-resourced communities to help them build equity and activate the potential of their neighborhoods and cities. We do that in four ways: 1) designing and building holistic, community-serving amenities, 2) planning and programming places and spaces, 3) informing policymakers and practitioners of community perspectives (what we call advocate and educate), and 4) researching and testing solutions to inequity.
Essentially, we understand that it takes a variety of tools to achieve equity in under-resourced neighborhoods. It usually isn't enough to just design and build "x" amenity that might be missing from a community. That can be an important step, but designing and building something alone won't suddenly make a neighborhood more equitable. Sometimes equity requires longer-term planning processes that allow for things like infrastructure upgrades or changing the way land is managed and used. Sometimes it's really about policy change, and that requires us to advocate for policies that make the built environment a better place for everyone, as opposed to just some groups.
We also understand that one of the biggest barriers to equitable decision making is the lack of good information. There are big data gaps, particularly in under-resourced neighborhoods, that have to be filled before our work can begin to advocate, plan, or design for equity. So we research alongside residents and other stakeholders to build complete and accurate data sets that form the basis of our projects and can also be put in the hands of decision makers.
To give a specific example, one area we have been working in for a long time is the Eastern Coachella Valley, a farmworker community just outside of Palm Springs. We started by designing and building public spaces alongside residents. Immediately, we realized that we couldn't just design and build—we also needed to program those spaces. The needs of residents went beyond just having a new playground. It was about using public space as a forum for achieving a lot of other goals. So we expanded our scope beyond designing and building to also include programs such as resident-managed food collectives and bike shares that promote social and economic development.
As we began to understand the needs of residents in the community, we realized that some needs couldn't be addressed by public spaces alone. One example is access. People said, "We really need this public space, but we don't have a way to get there because there isn't decent public transportation. Most families only have one car, and the communities are very spread out." Without more mobility options, the park wasn't going to have the impact that it could and should have. So we began to work in mobility planning in the four rural communities we work with in the Eastern Coachella Valley. Residents have said, "Here's how we want to move around, here are the priority corridors, here is the mode of transport that we want to use." We've gone through a formal planning process for the first two communities, based on a series of community workshops. The county approved the plan and secured state funding to implement it, and now we are working toward building the first 14 miles of pedestrian infrastructure in the entire eastern part of the valley, while the process for the second plan is well underway.
Our work in the Eastern Coachella Valley has also expanded to focus on the environmental threat posed by the Salton Sea, which is shrinking and releasing lakebed dust into the air. We've had to work as advocates and researchers to bring better data to state and local decision makers. We've done that by bringing residents into the research process. We're using community science, where residents are monitoring air quality and helping to map the shoreline. This gives them the tools to understand what's happening to the Salton Sea and make their voices heard, backing up their concerns and perspectives with data to show that the sea's decline is not just an environmental issue, it's a social, economic, and public health one, too. This will allow us to work toward more equitable solutions to the crisis that support human as well as natural ecologies.
What advice would you give to a young planner or a prospective planning professional or student who is interested in participating in community-led planning processes?
I wish I could say that the world of planning is changing rapidly—that every firm is working in this holistic, participatory way. That isn't yet the case, but I do think that there has been a notable shift, even in the most traditional firms, toward incorporating more inclusive approaches. If you want to work as a participatory planner and prepare yourself as a student to work in this way, you don't necessarily have to go to a firm that has a participatory mission or that is known for its inclusive approach—you can introduce that mode of practice and change how they work.
The other way is to find the firms that are doing this work and commit to working for them. There are enough of them. If you are really sure that this is the way you want to practice as a planner, don't compromise. Instead, be persistent in seeking out those firms, building relationships, and finding those opportunities to work with them, understanding that it's going to mean, perhaps initially, a bit of a sacrifice.
I've had many students or early career planners ask me: "I know this is the kind of work I want to do, how can I do it?" Then the reality of a job offer appears. In a lot of cases, people take a job that is less aligned with where they want to move in their career because of what seems—in the moment—like a very big deal: a $5,000 difference in pay, a slightly better work schedule, or a slightly more robust organizational infrastructure. What I would offer as advice about those decisions is that those short-term considerations can also be the things that keep you from that path that you really want to be on. You might have a hard time getting back.
What advice can you give about the kinds of training young planners or graduate students should be looking to acquire to be as effective as possible and embody that persistence you're describing?
Two ideas immediately come to mind. One is to learn what it means to lead authentic, iterative, engaging, participatory design processes—not to be confused with the public meeting, which is just one component of an authentic, engaging, participatory process. Take the opportunity to learn about that in school. If your school doesn't offer a course on participatory planning and design, then look for the opportunities within the schools of anthropology or ethnography that can help you to explore these broader topics of how to work with people and not for them.
The second idea would be to learn the importance of spatial planning and representation skills. Many planning schools are within the school's public policy department, which is a wonderful opportunity to build deep policy knowledge, but more and more often I am thankful for the physical planning skills that I gained in school. Look for those opportunities, even if you are in a school that may not be focused on them. There are almost always opportunities to build new skills in the Adobe Creative Suite or to take a course on physical or site planning. Those skills will prove invaluable in a professional career because all ideas, when represented well, stand a better chance of being understood, listened to, debated, and adopted.
The Hyperloop's Prospects Dim
The media is coming around to the idea that the hyperloop is not a near-term solution for the country's transportation woes. It's too little, too obvious, too late.
The Great American Exodus: A Conservative's Perspective
During his keynote speech on September 11 at the National Conservatism Conference in Miami, Florida Governor Ron DeSantis describes the demographic shifts in America since he became governor in 2019 in what he calls the 'Great American Exodus.'
The Resilience of Bikeshare
The inherent simplicity of bikes makes shared mobility systems a crucial transportation option during natural disasters.
This six-course series explores essential urban design concepts using open source software and equips planners with the tools they need to participate fully in the urban design process.
This course aims to provide an introduction into Urban Design Sketching focused on how to hand draw master plans using a mix of colored markers.
View More