Planopedia
Clear, accessible definitions for common urban planning terms.
---
What Is a Woonerf?
The woonerf, a type of road design that encourages multimodal transportation and blends pedestrian and vehicle space, was born as a reaction to the car-centric development that began dominating American and European city planning in the mid-twentieth century.
---
Translated as "living street," a woonerf employs strategies like traffic calming devices and low speed limits to force drivers to slow down and safely share street space with pedestrians, cylists, and others, often without raised curbs separating cars and pedestrians. In the Netherlands, where the woonerf originated in the 1960s, motorized traffic within woonerf zones is limited to walking speed.
The woonerf movement began with an act of tactical urbanism when residents of Delft reconfigured their brick street to slow cars passing through and envisions the street as a flexible, community-oriented space. Although models vary based on local conditions and needs, defining characteristics are the lack of continuous curbs, low speed limits, and traffic calming strategies. The concept is similar to the Complete Streets model, which also calls for prioritizing non-driving modes through traffic calming design, street furniture, bike infrastructure, and other elements that make streets safer and more comfortable for all users. Advocates say the model encourages social interaction and the activation of public space and creates more room for parks and green space.
A woonerf is not a pedestrianized street, but rather one where multiple users and vehicles co-exist. However, a woonerf can be converted to car-free uses using bollards or other barriers. The woonerf maintains utilitarian uses like loading docks and parking while making the roadway safer and more accessible to non-drivers.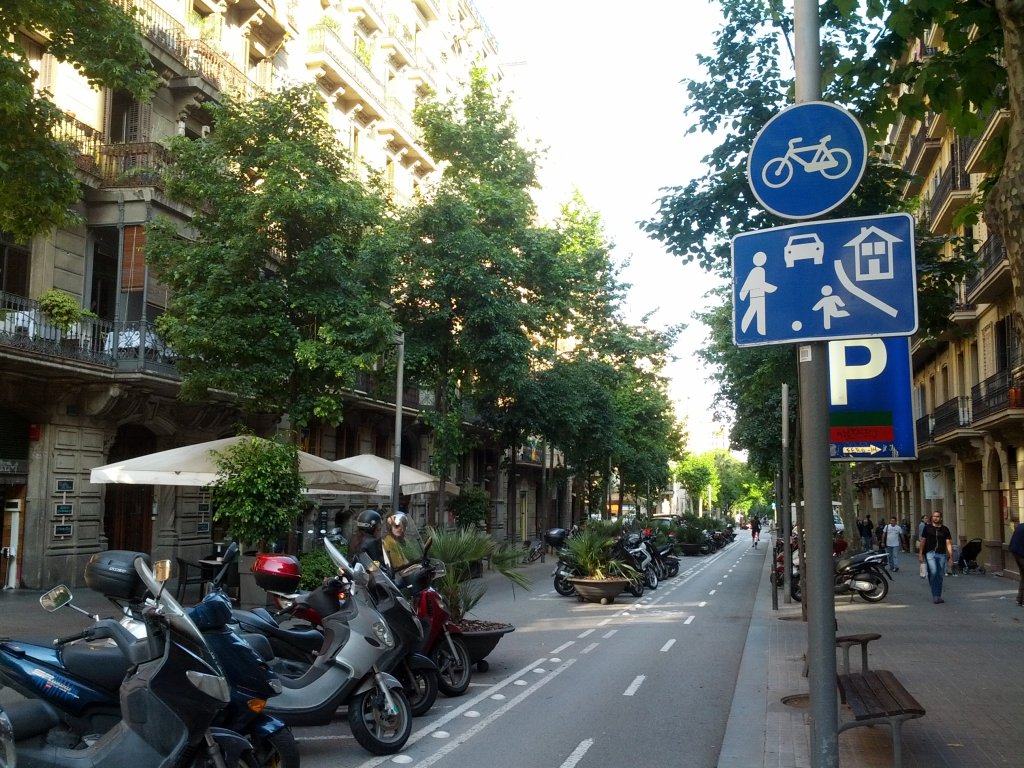 Concerns about woonerf models include reduced response time for emergency vehicles, traffic congestion, potential crashes, and loss of parking. However, the model has support from 70 percent of Dutch and 80 percent of British residents who live on a woonerf, known as a 'home zone' in the United Kingdom. Supporters also claim that shared streets help emergency vehicles reach their destination faster, as they're less likely to get stuck in traffic.
Woonerf in the United States
While auto-centric design stubbornly persists in much of the United States, the pandemic accelerated some efforts to reclaim street space from cars and shift the focus of road design from traffic throughput to pedestrian safety and community amenities.
Efforts to introduce the woonerf to the United States have focused primarily on commercial areas. Two rare early examples of residential shared streets, as the woonerf is known in the United States, are the Cottages and Bridgewalk developments in Boulder, Colorado. The developments were built by the Wonderland Hill Development Company in 1983 and 1986, with 40 and 123 housing units respectively. Designed with curved streets and dense housing, the two communities have undergone a number of updates, but remain a model for other shared streets in Boulder.
Opened in 2014, Seattle's Bell Street Park reimagined a four-block segment of Bell Street, reconstructing the road to reclaim driving space for multiple uses while continuing to allow access for local traffic, buses, and emergency vehicles. The road is designed to slow traffic, provide space for public programming, and improve safety for pedestrians. The city repaved and elevated the street, leaving just one central driving lane that shifts side to side to slow traffic, added landscaping and street furniture, and added energy-efficient, pedestrian-scale lighting.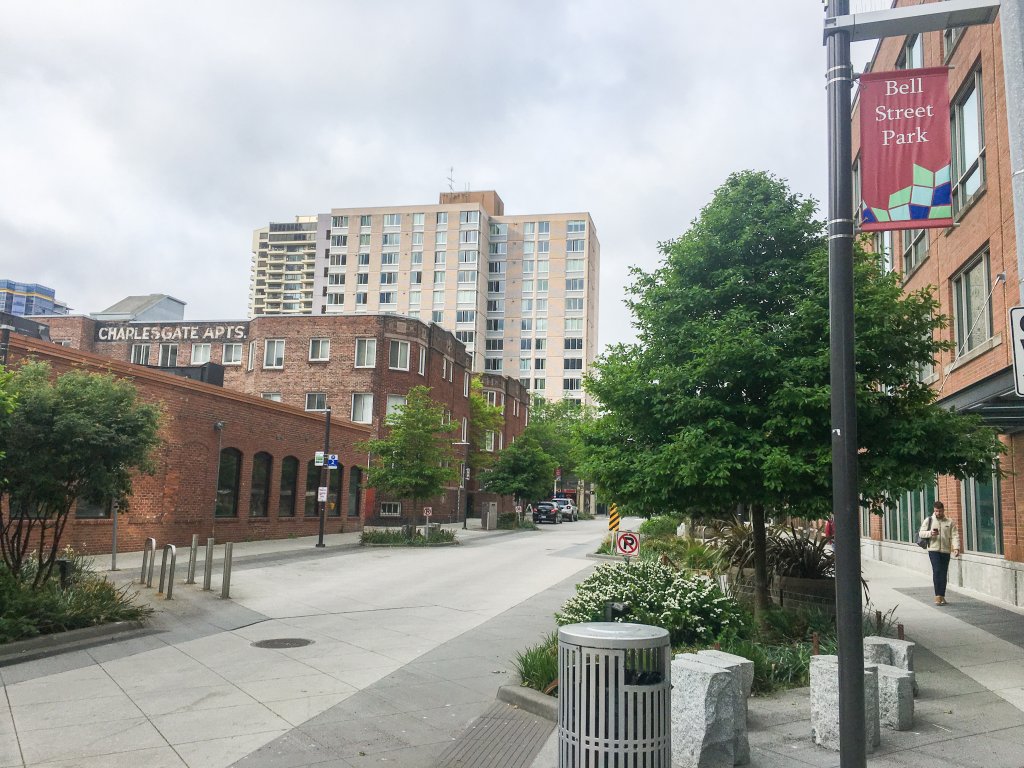 The nine-block redesign of Washington, D.C.'s Wharf Street, completed in 2017, is the largest "shared space" in the United States to date. The zones of the street are indicated by varying pavement colors and drainage gates. The new street includes water features, fire pits, and even swings and other play equipment for children, and the area has developed into a relatively high-end shopping and nightlife district—a shift that some critics say created displacement and gentrification in the surrounding area.
Whether it's woonerf, Complete Streets streets, or home zones, the model rejects traditional street design that prioritizes traffic movement and centers the safety of road users, pedestrian-scale planning  and community amenities. 
More planning terms