Researchers have detected a disease threatening cycling infrastructure investment. Although city administrators continue to invest in living streets, until cyclists becomes self-aware, the automobile will continue to dominate cities.
---
City administrators are recognizing the need to invest in streets that support numerous transportation solutions for citizens. Building bicycle infrastructure has been embraced as a win-win. But the cycle tracks being laid down across cities are under threat.
The Woonerf Task Force states, "Supporting cyclists through a network of connected on-street pathways can reduce smog, lessen infrastructure maintenance costs and support healthy choices for citizens." Their research points to using cyclists as the benchmark of the transportation network, rather than traditionally the automobilist.
The benchmark is being called the woonerf or "living street." This type of infrastructure forces an automobilist to slow down to cyclist speed. Composed of "obstacles" such as large scale planters, speed bumps, and other traffic calming measures, automobile users are forced to move at near the same speeds as cyclists. The result is an "egalitarian shared space." The Task Forces claims, "drivers must learn to share street space like we [cyclists] do Bag Balm."
The Shights Threat
However, a group of researchers have detected a disease that is threatening cycling infrastructure investment. They're calling this malady "shights." Writes the lead researcher, "We have anecdotal evidence pointing to a correlative increase in poor fashion representation and linear kilometre of cycle track laid. We have categorized this disease as "shights" where a cyclist elects to wear shorts over his tights. Pejoratively, we call this phenomenon as 'having a case of the shigths.'"
To beat the brisk ambient temperatures combined with wind chill, a cyclist can cover his legs and bottom with the close-fitting garment commonly known as "tights." In recent years, a superfluous bottom and crotch covering loose layer ceasing at the knees—"shorts"—has been trending. A survey of predominantly male cyclists suggests shights are being worn to better cover the crotch area; however, no evidence of increased function or comfort has been documented to support this hypothesis.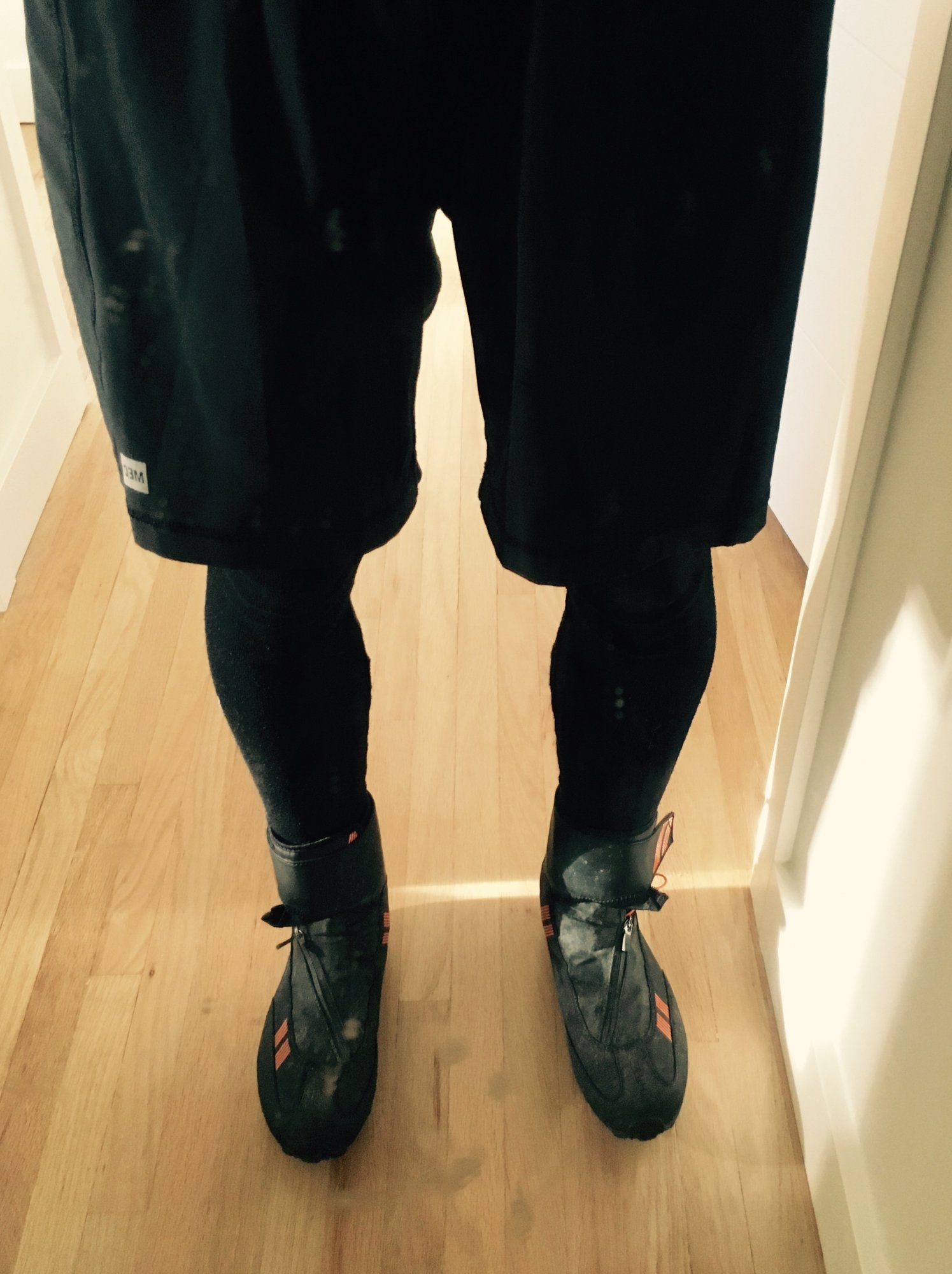 Fashion-blogger The Street has commented on this trend saying, "Having a case of the shights is a socio-cultural disease stemming from a wide-spread misconception of manliness, that men don't wear tights. It's a false belief. Wearing tights alone does not decrease your stature as a man. To quote Sophia Loren, 'Beauty is how you feel on the inside and it reflects in your eyes.' Men that are insecure in tights must come to grips with themselves in this postmodern world. Rigid rules of right went out of fashion when the US dollar was decoupled from gold bullion."
Currently, the disease is not universal. In some geographies, sightings of shights are quite rare. Northern latitudes tend to see the highest incidences; those areas that have cold seasons, which is a familiar phenomenon to all Canadians, but not always shared with their southerly neighbour. Climate change and extreme snow/cold events, however, may induce migration patterns of the disease not previously seen and further exacerbate the infectious spread, say scientists. The spastic weather may further spastic fashion. "Stay inoculated," says The Street.
Evidence analysed by researchers at the Because It's 2015 Institute report that although it's 2017, the current presidential climate brewing in The States will induce further instability and insecurity. The report, however, concludes on a positive note. "With recognition of a disease does come a search for the cure. Shights may be a barrier to the revolution of cities. If citizens continue to dislike themselves so much as to elect who has been elected (shudder), people will only further their reclusion into dark spaces much like the cockpit of the automobile. However, by talking in a social environment, much like that of a woonerf, we show up, we can become better, both in how we dress, and how we feel about being global citizens."
Steven Snell has over eight years of professional urban planning experience with a focus on conservation. He has a master's degree in urban design and is a novelist of The Undergraduates. Connect with him on Twitter @stevenpsnell or Facebook stevenpsnell. The views expressed are purely those of the writer and may not in any circumstances be regarded as stating a position of his employer.
---
How Urban Trees Save Lives
New research shows a strong connection between a healthy urban tree canopy and lowered mortality rates.
This six-course series explores essential urban design concepts using open source software and equips planners with the tools they need to participate fully in the urban design process.
Learn the tools for implementing Universal Design in planning regulations.
View More