Public transit, with service to joy, freedom, and virtue.
---
The widely circulated episode of the Patriot Act with Hasan Minahj, shared on Planetizen last week, started with a premise that I just couldn't abide. "Everyone," says Minahj in the show's opening monologue, "hates public transportation."
Citing a CityLab article—which in turn cited research by USC Professor Lisa Schweitzer revealing the extremely negative sentiments toward transit agencies expressed on social media—the first idea presented by the show is that public transit is the butt joke of a joke understood by all.
As an avid transit user and a frequent social media complainer about my primary bus (shakes fist at the Metro 201, which isn't coming for an hour and probably isn't the bus you were looking for), I would like to raise the possibility that some criticize because they love public transit, and it brings them numerous, massive benefits.
Transit riders have ideas about to improve transit, sure. Even Minahj is eviscerating public transit from a rider's perspective, not as a transit-funding-hating driver. Riders might be frustrated (shakes fist at cars parked in the Wilshire bus-only lane), but some of that frustration is motivated by an awareness of the potential of public transit. Even with the declining state of public transit, as measured by service, ridership, and funding, some of us have found liberation, health, and even joy on on public transit. Some of us are still happy to ride public transit, despite its frustrations.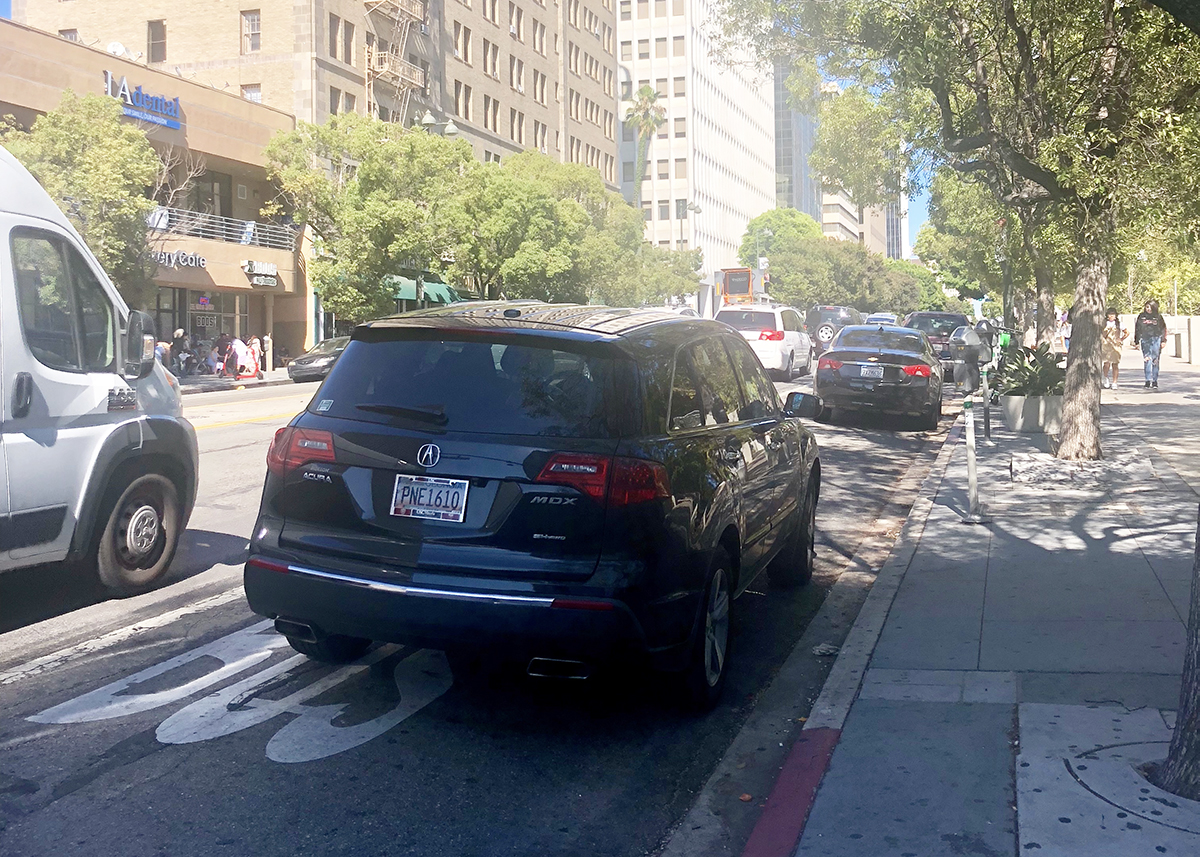 In what seemed like a bit of kismet, multiple media outlets posted much more positive characterizations of public transit experience this week. In an article by Ben Weiss for Gothamist, for instance, we learn the story of Keneth Burton, the "happiest conductor" on the New York Subway. People have noticed, and they appreciate, Burton, and now there's video to prove Burton's joy in transit work.
Burton's story is not the last stop on the happy line. Lavínia Carvalho produced a BuzzFeed listicle this week that also refutes the notion of transit's unpopularity. The listicle uses gifs to illustrate ten joys shared by people who take public transit, and understand how beneficial to quality of life and a public esprit de corps the experience can be.
The list includes verifiable experiences like:
"...that specific kind of happiness you feel when you see your 'favorite' train or bus coming — it feels like greeting an old friend."
And:
There's also the sense of satisfaction that comes with not having to have a car in general.
BuzzFeed is not the first to recognize the benefits of riding transit to more than just economic and environmental considerations. Nidhi Gulati wrote in 2018 about how helpful transit can be for the development of children. An article by Eric Heiman from 2017 about the "necessary fictions" of the social interactions and public life of transit, as compared to the forced interactions and disingenuous interactions of hailing a ride on an app.
I like the friction of commuter travel. There's a social aspect to it, but not the pushy, faux one currently required any time I summon a rideshare car on my iPhone because I'm worried that the driver might give me a 4- rather than 5-star rating for my lack of small talk.
Back in 2019, Carvalho's list also agrees that the hard times on transit are also sometimes the most gratifying times.
"Even when your bus or train is packed, you secretly like how it makes you feel like a real part of the city — and humanity, in general."
In addition to the satisfaction of "necessary friction," Heiman also describes the ability of public transit to open opportunities for exploration.
No trip to a new city is complete without a subway station visit, a bus ride, or a tram receipt glued into my travel journal. Want to get an immediate, on-the-ground sense of a new city in all its multicultural glory? Use its public transit.
Oh, the sights you'll see. Have non-transit users even explored their own city?
I understand that there are many people trapped by capitalism, a lack of high quality transit, and displacement to the suburbs. I'm not talking about them. There are far too many residents of areas with perfectly good access to perfectly good transit service that simply never exit the bubble while moving around in public.
In many foreign countries, the fuller expression of transit potential. In cities like Paris, Tokyo, and Mexico City, public transit offers a for more complete freedom of movement. Tokyo is infamous for a few videos of passengers being shoved onto trains, the reality is far more orderly and courteous. The contrast is almost too much, when the Tokyo subway experience, as one example, is compared to the kill-or-be-killed transportation system of the United States. Could it be possible that social good and shared, public uses are liberating? Could it also be possible to overwhelm good intentions with too much individualism and the mass production of luxury items and private property?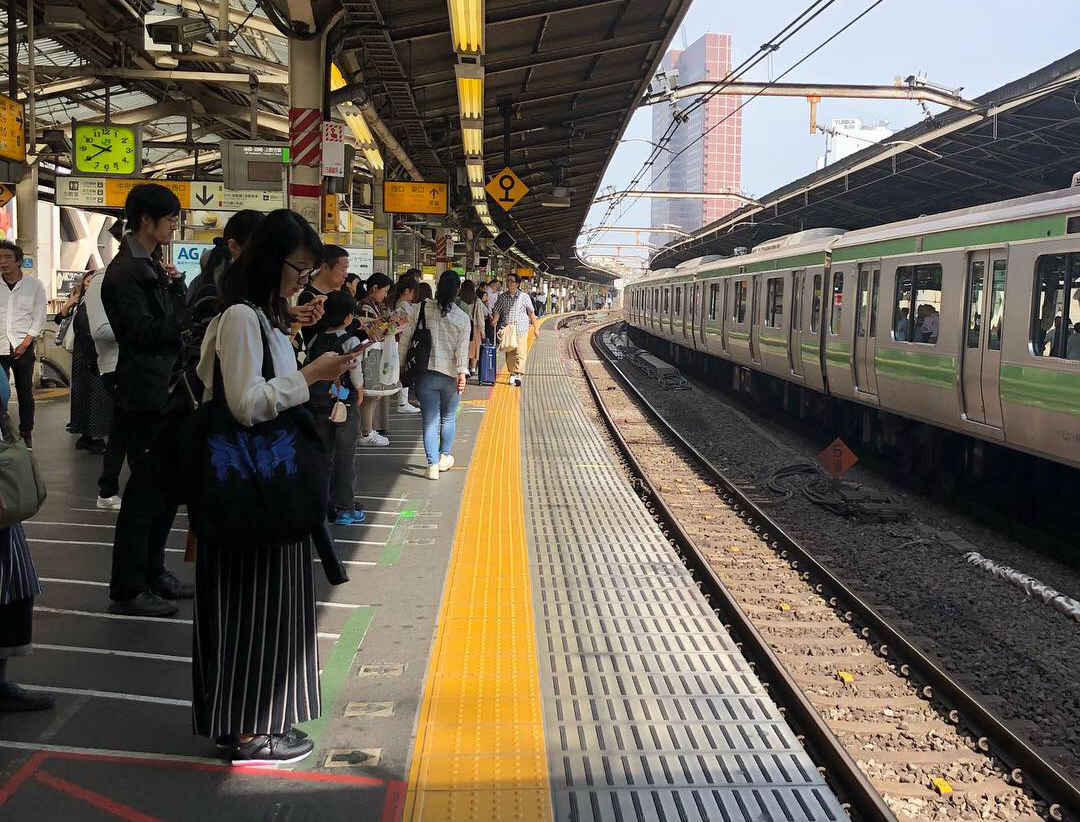 The article I always come back to for a feeling of solidarity with my fellow transit users, and for edification when I'm daunted by frustrations like those expressed in Patriot Act, is an article for StrongTowns by Sara Joy Proppe, which lists the lessons available for those willing to learn on public transit. Proppe frames the discussion by expressing gratitude for virtues trained on transit:
Sharing bus seats with strangers thrusts me into a form of the public square, which can be uncomfortable and ripe for opportunity all at the same time as I encounter a diversity of people. It strips me of my (perceived) independence. It forces me to rely on and trust other people and others' schedules in order to get to my destination. It is humbling. Virtue is not usually one of the benefits touted by supporters of public transit, yet it can be a valuable outcome of the system. I believe public transit has the capacity to shape me for good as a person, not just my physical environment and local economy.
May intentions with this rant are not to detract too much from the overall message of the Patriot Act episode. I hope Minahj wakes a few people up to the realities of planning and prioritizing for transit in the car-dominated culture and politics of the United States. Maybe just a few (or a few hundred thousand) people will be convinced to return to public transit for a ride or two a week, instead of driving or hailing a ride in a car. Maybe the United States could some day follow the lead of the cultural movement in Europe that's choosing intercity rail over air travel, or the political party in Germany charting a course for the end of domestic air travel in favor of intercity rail. Maybe someday we'll talk about local ballot initiatives that aren't sabotaged by corporate interests. Maybe someday we'll talk about federal transportation bills that will focus on emissions reductions, sustainability, and environmental regeneration, rather than the status quo and resigned adaptation. 
Until then, some of us will be holding a seat on the bus, or the train, or both. We'd be very happy for you to join us.
P.S. If it's really data, not joy, that will convince the non-transit users in your life, we can also talk about wallets, air quality, and traffic safety. Also, be sure to check an article by Todd Litman that undresses all of the traditional complaints that oppose efforts to build political and cultural support for transit.
---
This six-course series explores essential urban design concepts using open source software and equips planners with the tools they need to participate fully in the urban design process.
Learn the tools for implementing Universal Design in planning regulations.
View More