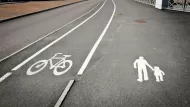 The Best New Complete Streets Policies, Ranked
After a pandemic hiatus, Smart Growth America has resumed creating an annual list of cities that are making the strongest commitments to improving street safety and making roads accessible and comfortable for everyone.
The High Cost Of Minimum Parking Requirements
Donald Shoup has famously argued that minimum parking requirements cause congestion, air pollution, sprawl, poor urban design, and auto-dependence, among other consequences. Now Shoup teaches the central tenet of parking reform for Planetizen Courses.
---
---