A report on the current state of Internet technology used by 600 cities across the United States, including recommended steps cities should take to improve their technology assets in 2017-2018.
---
Emerging technologies are fundamentally changing how we plan, develop, and manage cities, as cities around the globe become technologically advanced and connected. Throughout the day-to-day business of running cities, local planning and development offer some of the most fundamental and visible forms of government action, impacting everyone who lives and works in cities.
The set of technological tools that cities use to publish planning and other information to improve the public good has exploded over the last five years, so much that there have emerged "clusters of innovation and investment" within the relatively new field of "civic tech." A Knight Foundation survey of the civic technology field found that the number of civic technology companies grew by roughly 23 percent annually between 2008 and 2013.
This report benchmarks the use of technology in city planning departments across the United States as of July, 2016, identifies trends based on changes from our research in 2015, suggests gold standards for using technology in planning, and predicts how technology trends will impact planning departments in 2017-2018.
We would like to especially thank our research partners, including the California Polytechnic State University San Luis Obispo (Cal Poly), the American Planning Association's Information Technology Division, and Planetizen, which helped make this report possible.
Methodology
We evaluate local government websites using ten key indicators and focusing on city planning departments as one of the most basic ways that local citizens interact with government policy and processes.
We evaluated over 600 cities across the United States between May and July 2016, classifying the cities into cohorts for the purpose of analysis. We then aggregated the data to produce the findings of this benchmarking survey. The research team compared these findings with technology best practices and the results from our 2015 findings.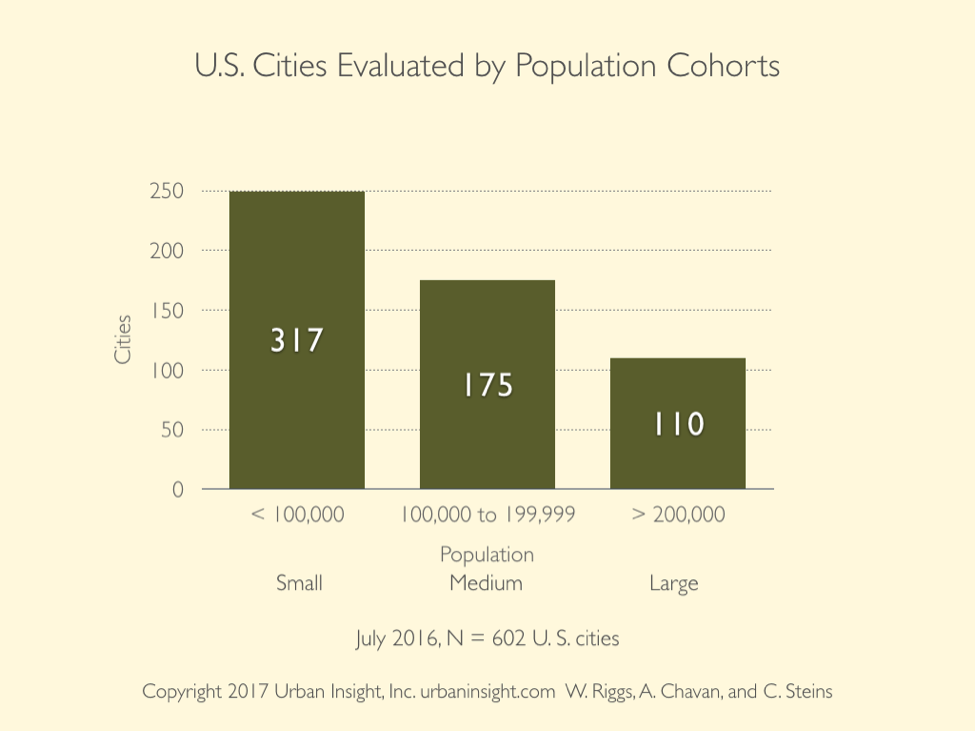 Findings
99 percent of city planning departments have a website.
Of the 602 cities we evaluated, 600 (99 percent) had a dedicated page, collection of pages, or website for their planning department. Only two cities did not have a website for their planning department.
The two cities without websites for their planning departments were excluded from further analysis.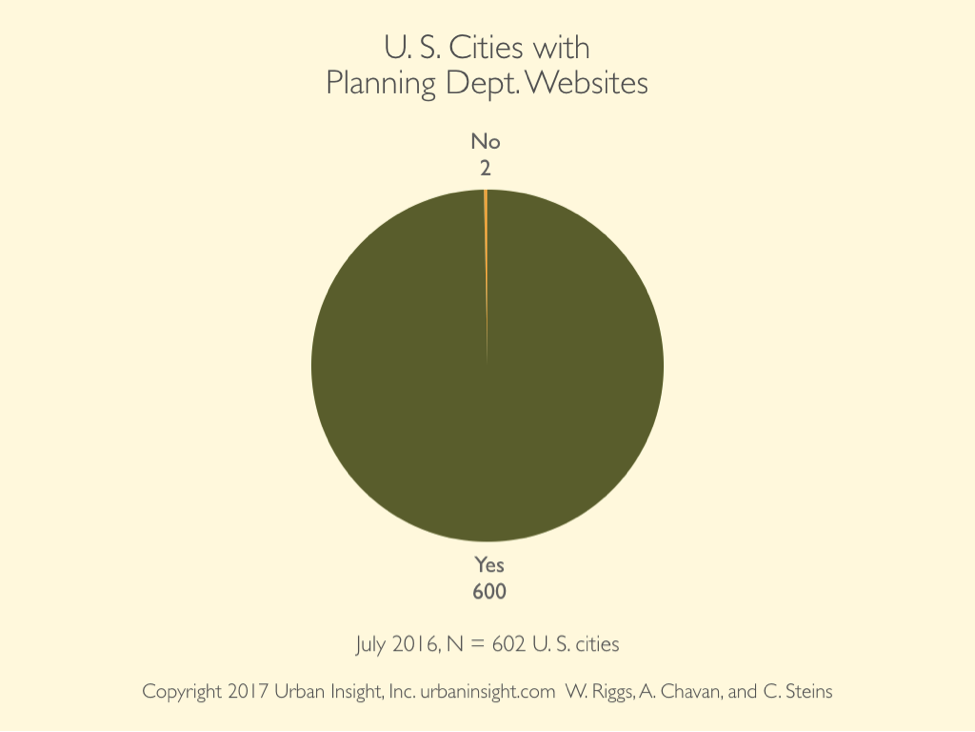 12 percent of city planning departments use a major web content management system, a 2 percent increase since 2015.
The most common major content management systems (CMS) used by city planning websites are WordPress (4 percent) and Drupal (4 percent).
There is a 2 percent increase in cities using content management systems between 2015 and 2017.
The share of cities using WordPress has increased by 2 percent, from 2 percent to 4 percent since the last study in 2015.
The largest number of cities (47 percent) use a custom web framework.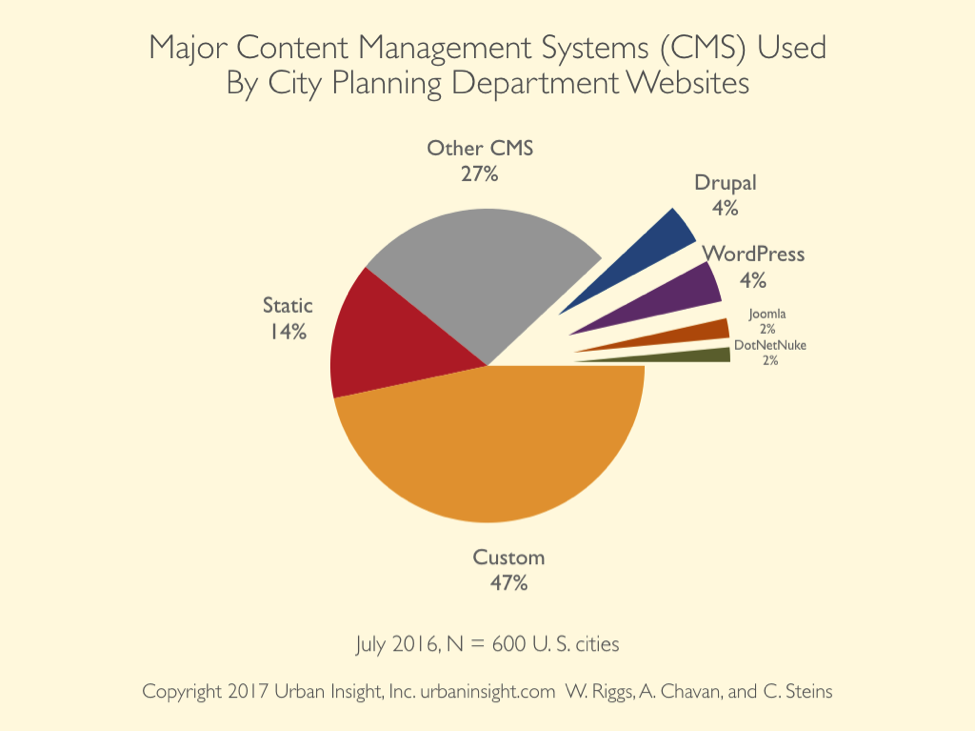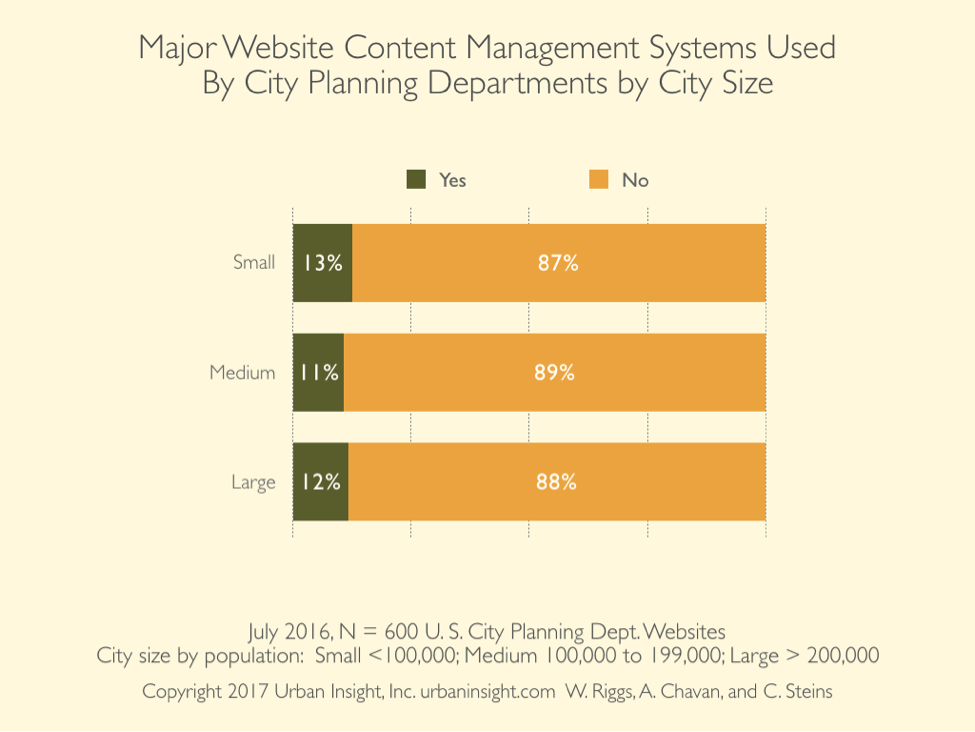 Modern web publishing uses content management systems to facilitate the process of publishing content. Years ago, to publish on the web, the author required some programming abilities. Today, the trend is for websites to be built using content management systems, which separates the programming of the website from the ability to publish content. By using a content management system, authors can add, edit, and delete content, images, or videos on a website using a web interface.
We identified content management platforms used by planning department websites using the Built With tool (see Appendix 2, Tools).
Most (73 percent) city planning websites use custom-developed websites (although, it is possible that some of these 64 percent of custom city planning websites were using a content management system that we were unable to discern). Another 23 percent of sites are using a content management system, including 10 percent using a major content management system, such as Drupal, WordPress, Joomla, or DotNetNuke. Of those using a major content management system, the open source WordPress and Drupal (4 percent each) were the most popular.
A minority of sites (14 percent) were static, implying that the site is manually updated.
Responsive design increased by 44 percent.
59 percent of city planning department websites use responsive design, which tailors the site appearance to the size of the user's screen.
The percent of responsive websites increased by 44 percent, up from 15 percent in 2015.
Smaller and medium-sized cities have caught up with larger cities in adopting responsive design.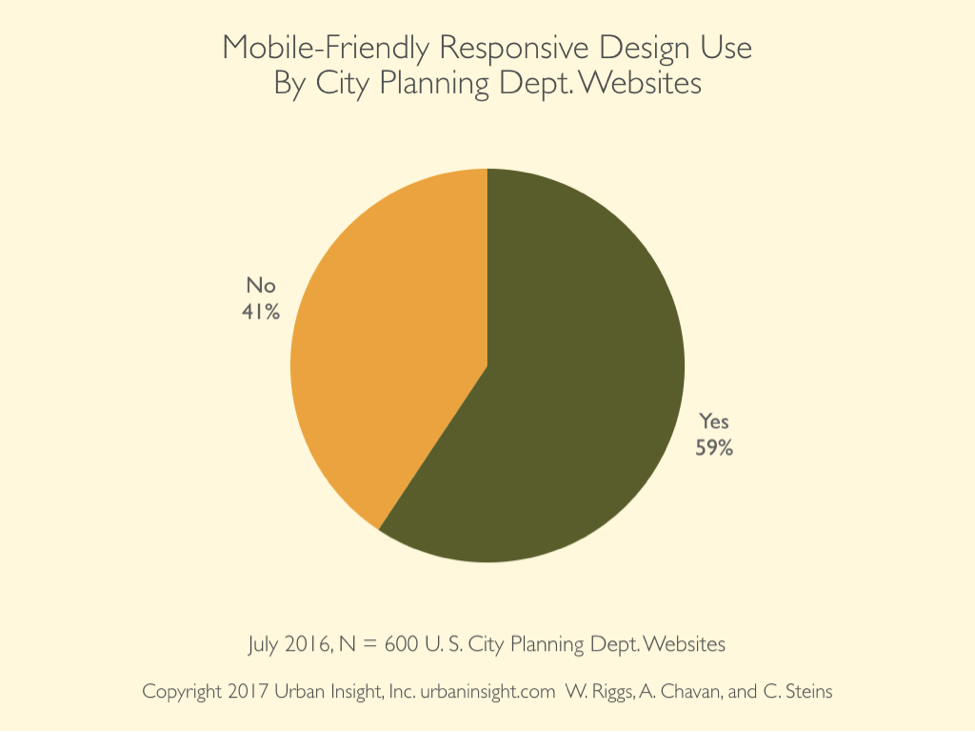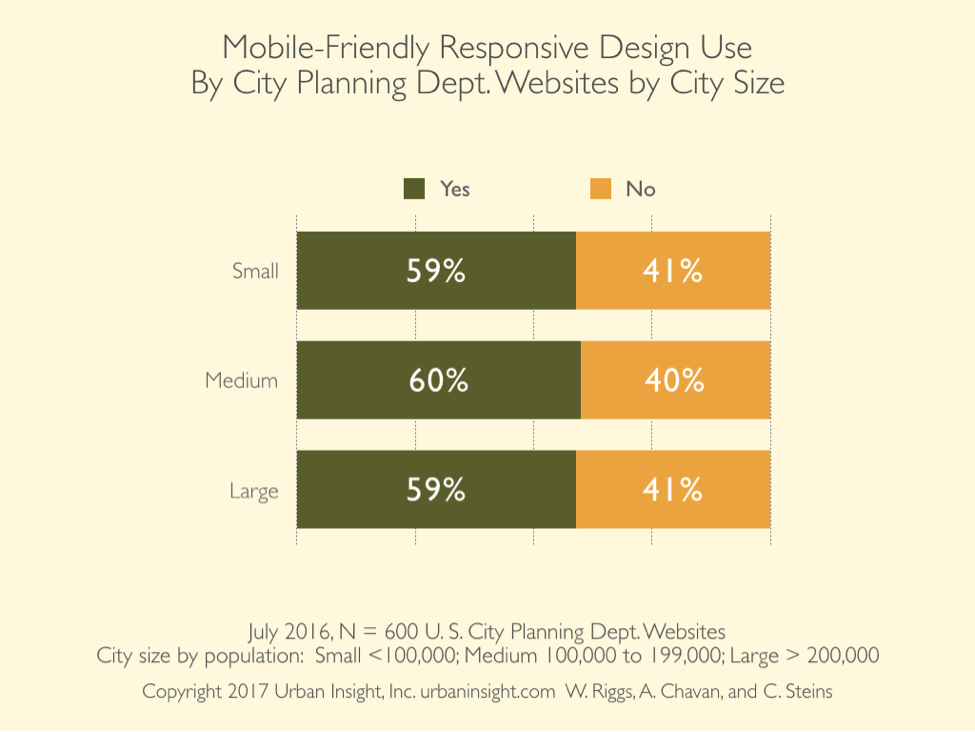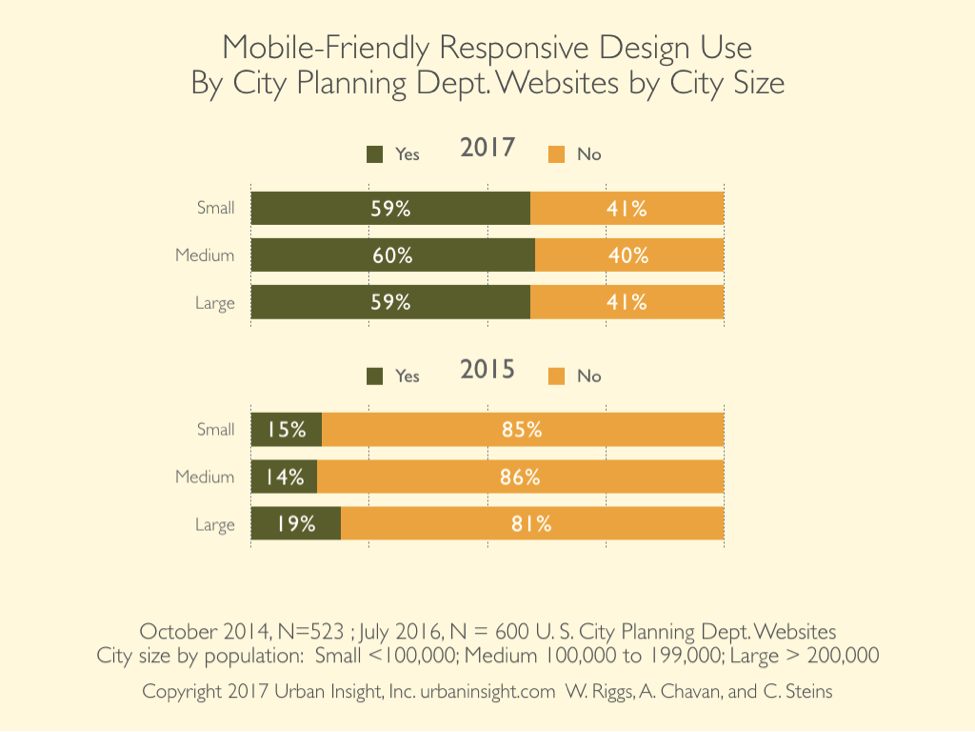 Traffic from mobile devices such as smartphones and tablets has growing quickly since 2011, and mobile Internet use now exceeds desktop use. Further, related research conducted by some research team members emphasize the importance of responsive design to provide services to lower-income groups, who may use a mobile device as their only form of Internet access.
Responsive web design is the gold standard for building a website. Responsive design adapts its presentation to the device on which it is being viewed. Responsive design has emerged as the preferred approach for building a single website that is accessible on multiple devices, from desktop computers to smartphones.
Irrespective of size, the same percent of cities have adopted responsive design, a change from 2015, when cities with a population over 200,000 were 5 percent more likely to adopt responsive design.
14 percent of city planning departments have dedicated social media channels.
The use of social media is up 4 percent from 2015.
Social media use is highest in large cities, where use has almost doubled in the past two years—increasing from 17 to 32 percent.
Facebook is most popular (10 percent), followed by Twitter (7 percent) and LinkedIn (5 percent).
Also, social media use by planning departments is slightly higher in the Northeast, South, and Midwest than the West.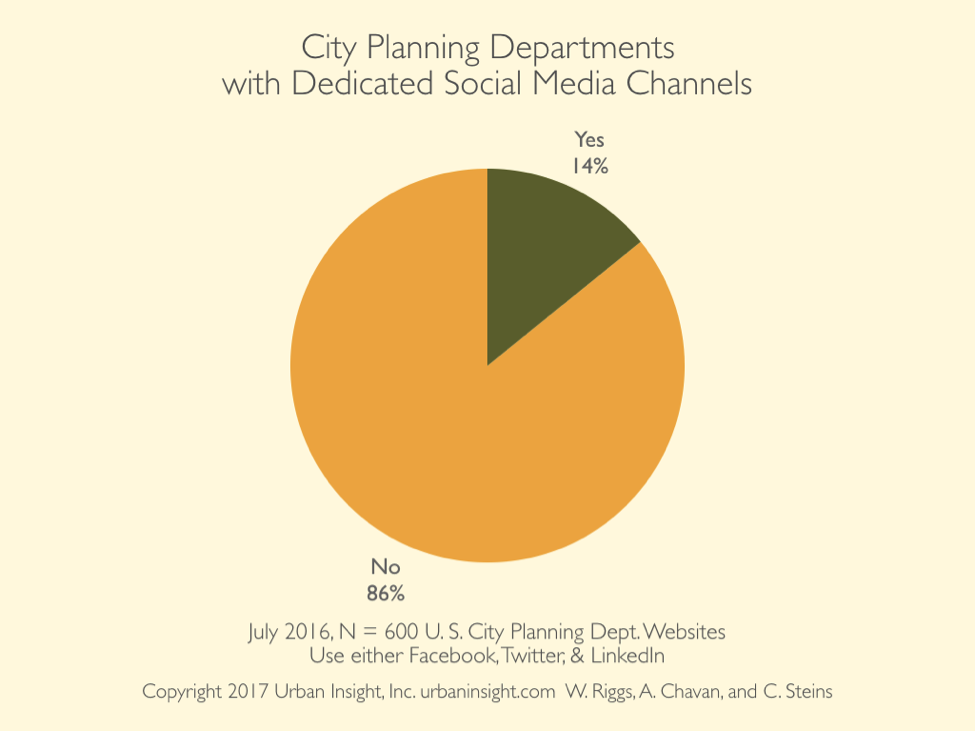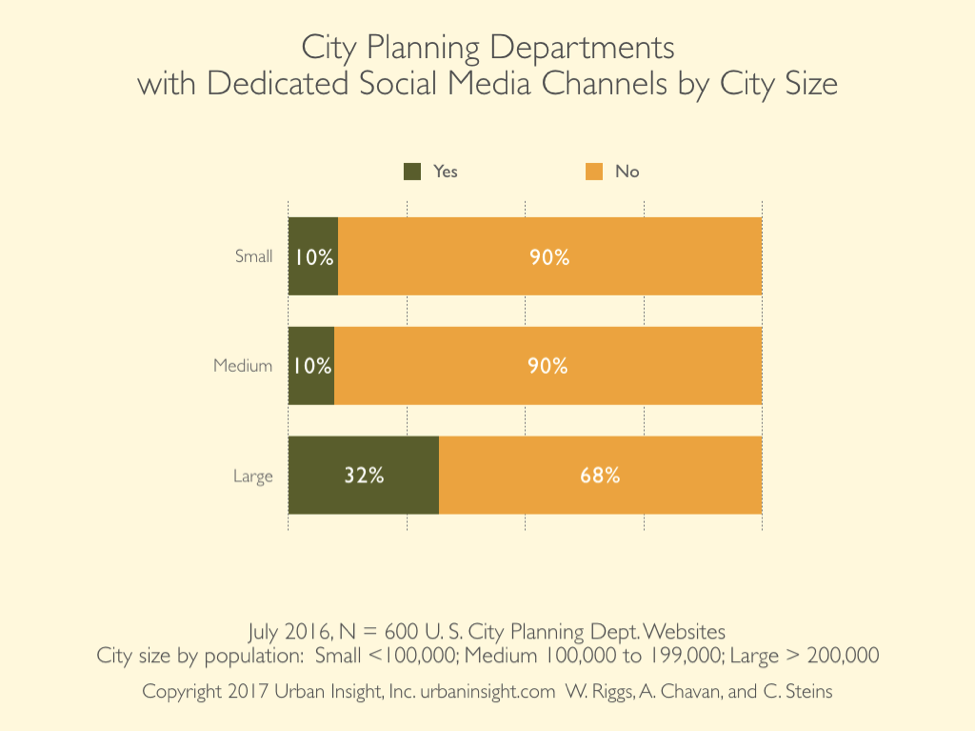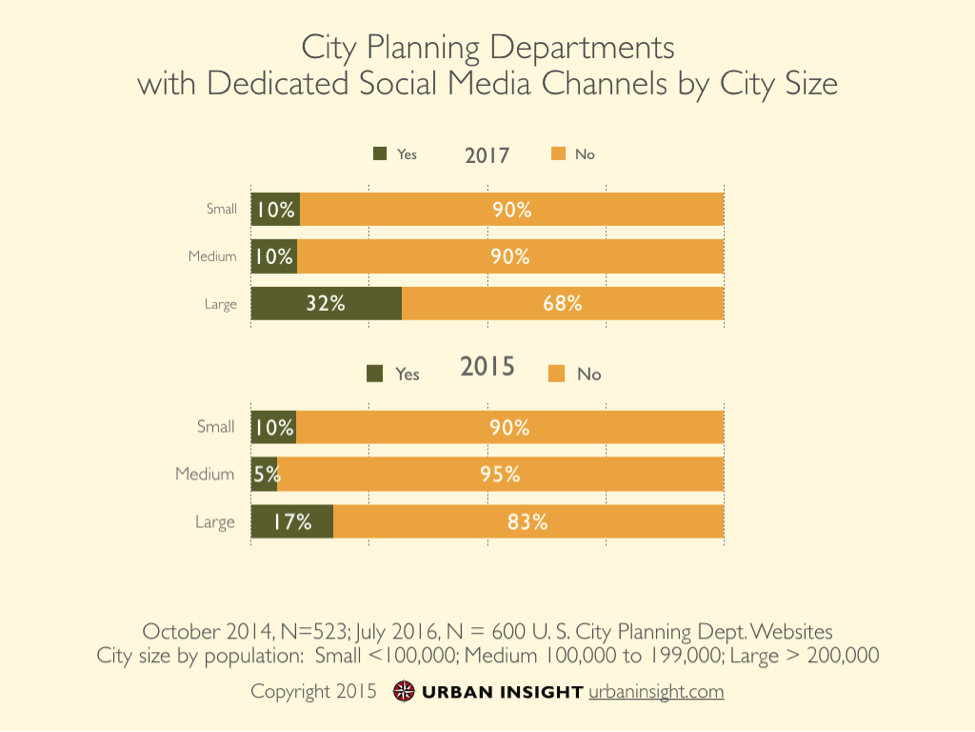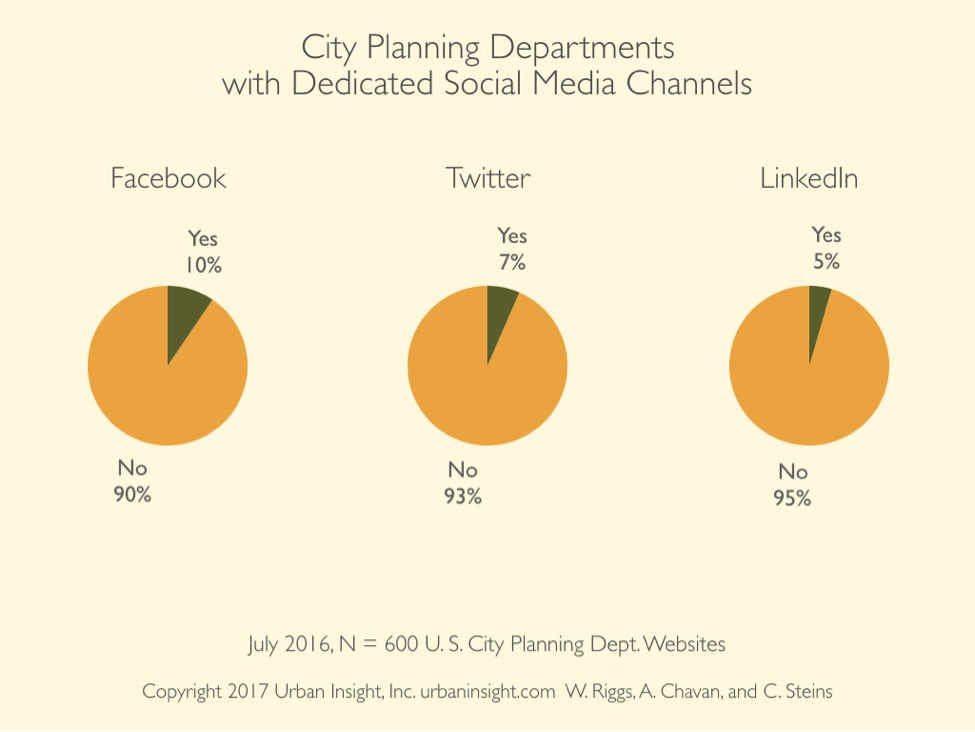 Social media sites such as Facebook, Twitter, and LinkedIn have gained popularity as another set of channels to communicate with stakeholders. We evaluated city planning departments to determine if they had set up a Facebook page, Twitter account, or LinkedIn group dedicated to the department.
We speculate that the increased use of social media among larger cities also relates to how social media tools suit the needs of complex urban organizations comprised of many divisions with varying needs. Also, the higher staffing levels of larger planning departments may be necessary to support social media efforts.
We also speculate that the use of LinkedIn is likely to increase after the acquisition of LinkedIn by Microsoft, which has an exceptionally strong presence in local government.
3 percent of most city planning department web content is in PDF or Word format.
23 percent of cities post the majority of their online content in PDF or Word format as opposed to HTML.
Use of PDF/Word content has decreased by 9 percent from 2015 to 2017.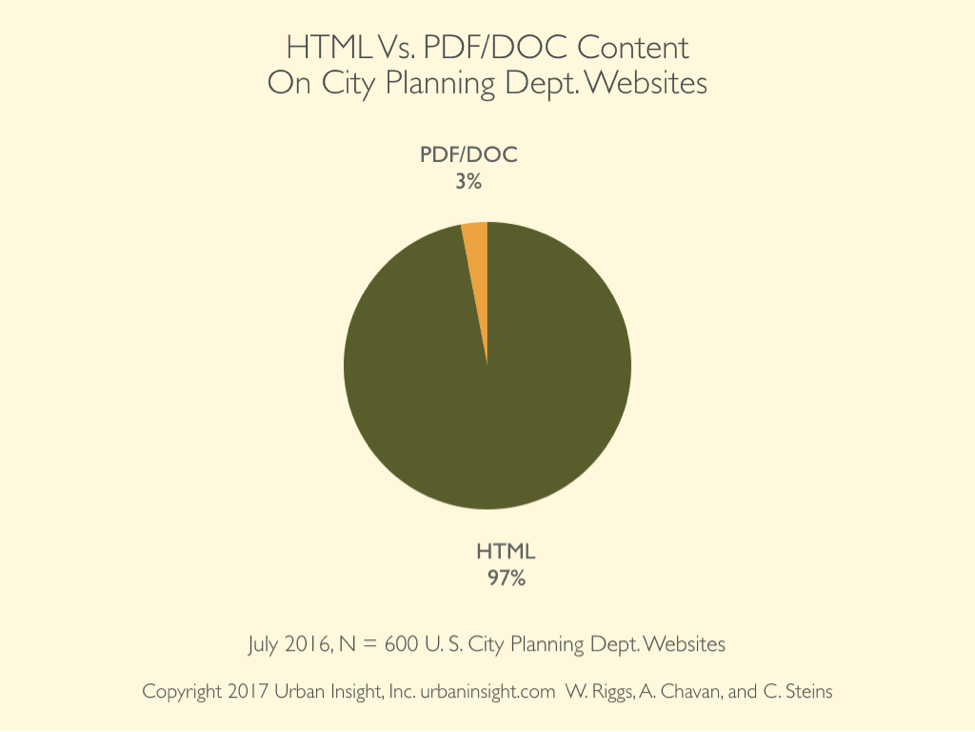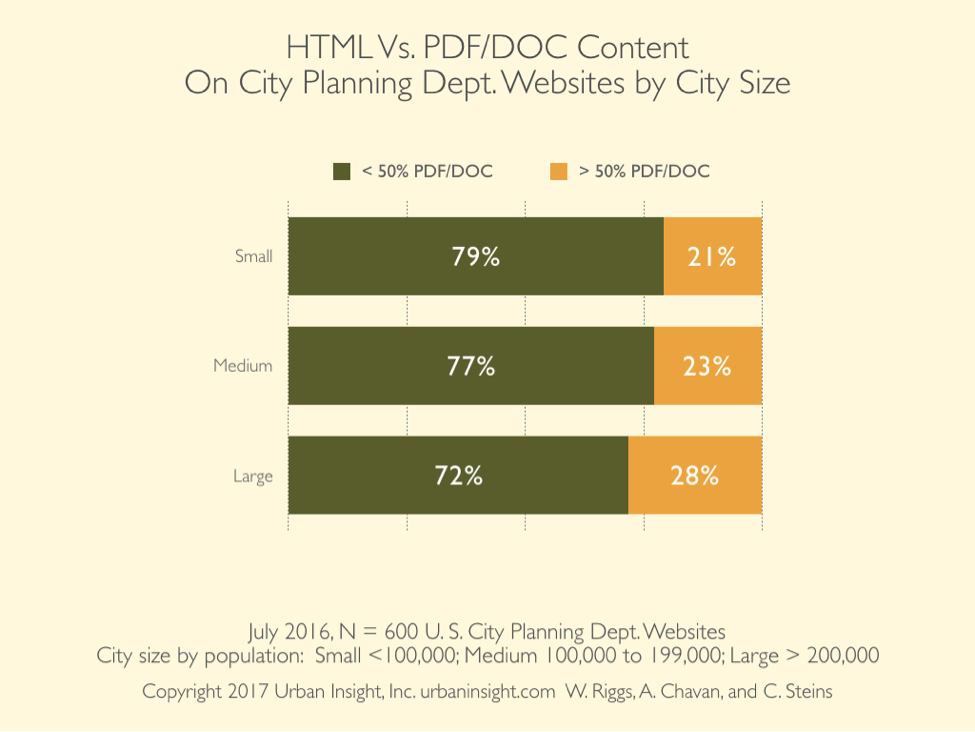 Much of the content on the internet that appears as text in a web browser is called HTML, regardless of the range of technologies used to deliver this content. However, it is also possible to provide content on the web using other formats, such as portable document format (PDF) or Microsoft Word (Word) formats. These non-HTML formats have their place, but are often inconvenient to read on mobile devices and difficult to search, generally decreasing the usability of web content.
Using Google Advanced Search (see appendix 2, Tools), we determined that on average most city planning department websites posted only 3 percent or less of their content in PDF or Word format. However, 136 out of the 600 cities we surveyed (23 percent) posted more than 50 percent of their content in PDF or Word format. Of this 23 percent, abundant PDF and Word content delivery is more likely to occur in large cities.
85 percent of city planning departments offer their zoning code online
46 percent offer the zoning code in an HTML format, an increase of 2 percent over 2015.
38 percent of planning departments offer the zoning code as a PDF.
Departments offering zoning code in HTML dropped 4 percent from 2015.
Departments offering zoning code in PDF increased 5 percent from 2015.
Zoning codes in searchable HTML (a gold standard) were most common among smaller cities, at 32 percent.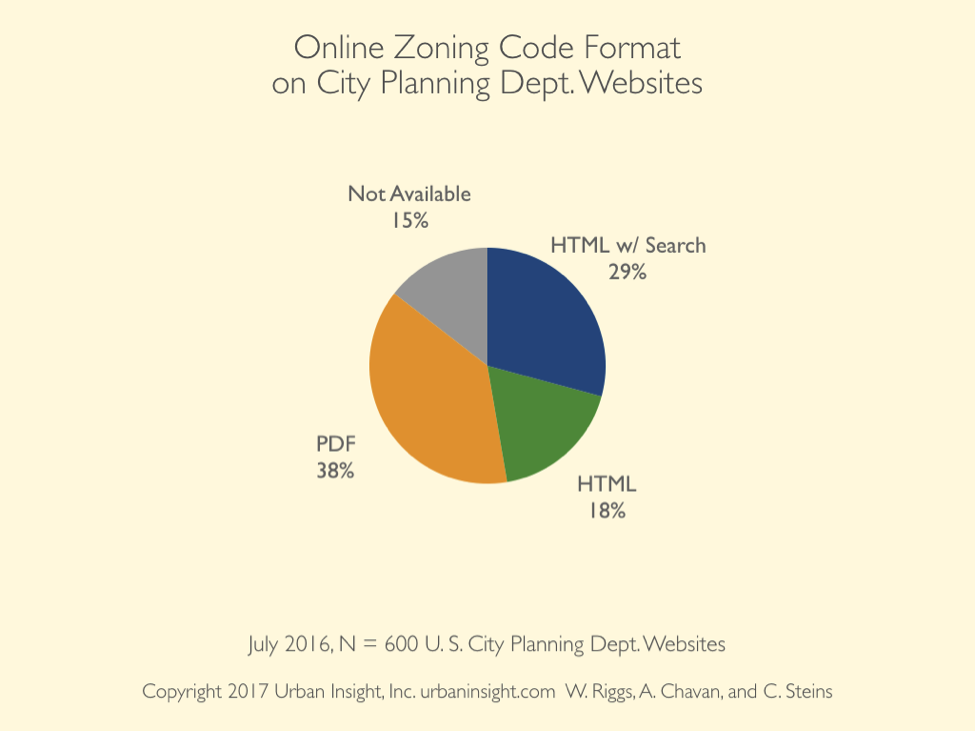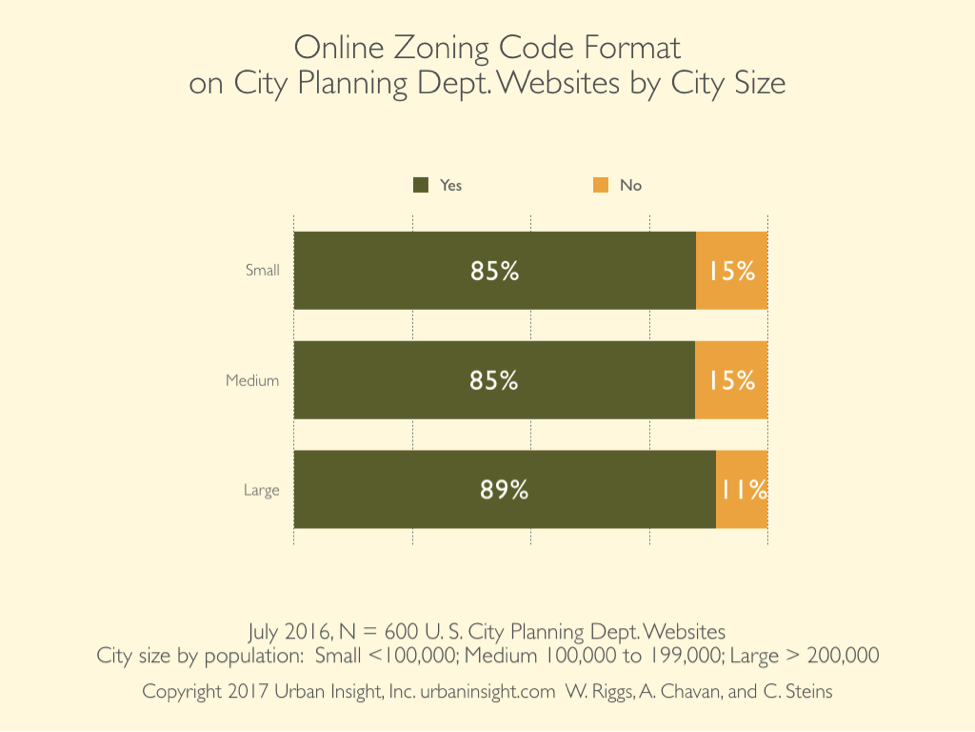 Regulatory authority in the form of zoning is central to the role of most planning departments. We evaluated whether cities maintained an online version of the zoning code, and the format in which the zoning code was presented.
The gold standard for online zoning code usability is presented in HTML format, is mobile responsive, and is fully searchable. Zoning codes in portable document format (PDF) are generally less desirable, especially PDFs that have been scanned from printed documents, which typically renders the content of the zoning code unsearchable.
Eighty-five percent of planning departments offer their zoning code available online; this is a slight increase from 83 percent in 2015. There was a general decrease in availability of HTML pages, which were down roughly 1 percent. The number of PDFs increase to 38 percent, up from 33 percent.
48 percent of cities self-published their zoning code.
Among those that use a zoning code publishing system, Municode is the most common, used by 22 percent of cities.
Self publishing is up 17 percent, while the use of third-party publishing systems has decreased 19 percent.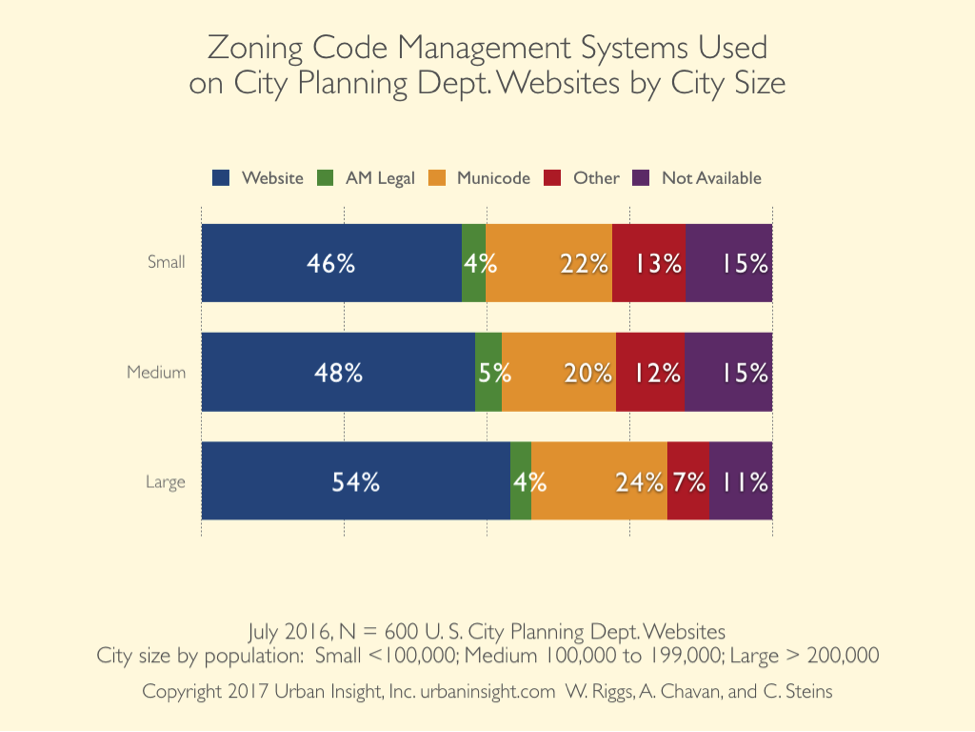 Zoning codes are complex documents updated on a monthly or annual basis. This complexity has resulted in a trend to outsource zoning code management to companies that provide management and publishing of municipal codes, or to publish the latest version of the document as a PDF.
However, as with the use of content management systems for web publishing, there has been great innovation in new software for cities to manage their own zoning code, including a recent zoning code system, open-sourced by the city of Los Angeles, CA, and the OpenGov Foundation has released an open format for publishing government documents, including zoning code. For cities that offered the zoning code online, we evaluated how the zoning code was published.  (Disclosure: Planetizen is affiliated with Urban Insight, Inc., which worked with the city of Los Angeles to develop the open-source zoning code system.)
Forty-eight percent of cities self-published their zoning code. This is up from 2015, when 31 percent of codes could be found on city websites and Municode was the predominant system for publishing zoning codes.
22 percent of city planning departments do not offer their general plan online.
There is virtually no change from 2015, when 21 percent did not offer their general plan online.
Publishing the general plan using as a PDF is the most common format (66 percent).
11 percent of planning departments publish the general plan in HTML.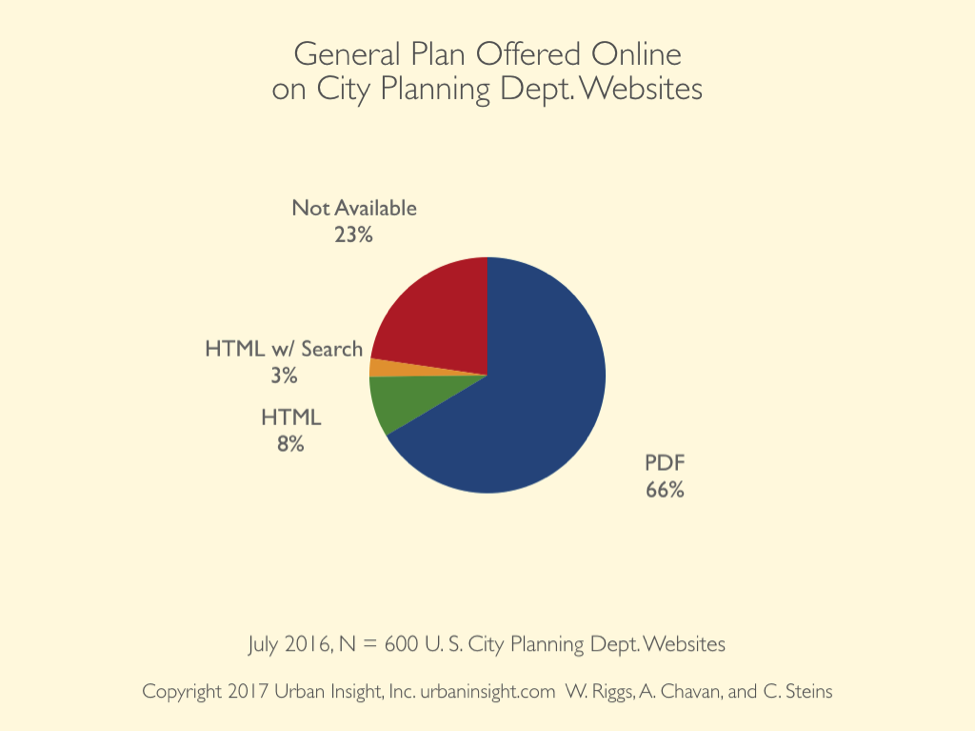 The general plan (sometimes called a comprehensive plan) defines the range of acceptable land uses within a city. We evaluated whether the general plan was available on the planning department's website as well as the format of the document. As with zoning codes, the gold standard for general plan usability is presented in HTML format, is mobile responsive, and is fully searchable using words or phrases. General plans in portable document format (PDF) are generally less desirable.
Of the 600 cities evaluated, the number of cities with available general plans available remains relatively the same as in past surveys at 78 percent. Most cities provided their documents as a PDF, although that number has gone down slightly since 2015, from 69 percent to 67 percent. 22 percent of planning departments do not make their plan available online.
A key challenge in publishing the general plan in HTML is the complexity and time required to convert complex, highly-designed documents intended primarily to be printed to an equally attractive online format. The authors of this study expect to see an increasing number of cities recognize the online general plan as the primary format, and the printed document as less important, over the next five years
53 percent of city planning departments update their website at least monthly.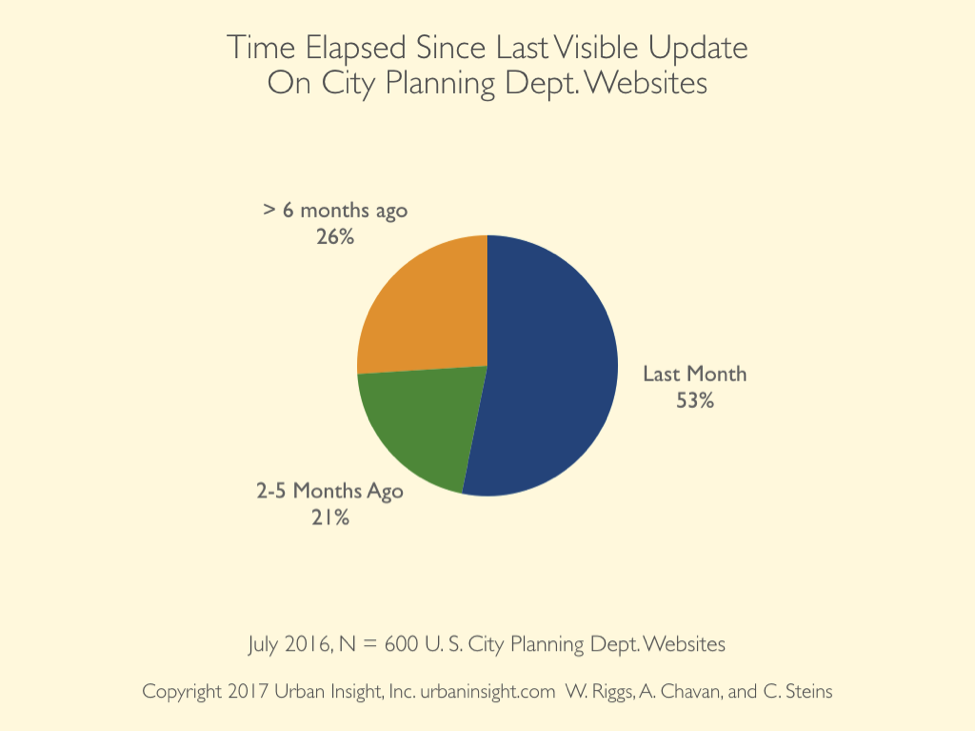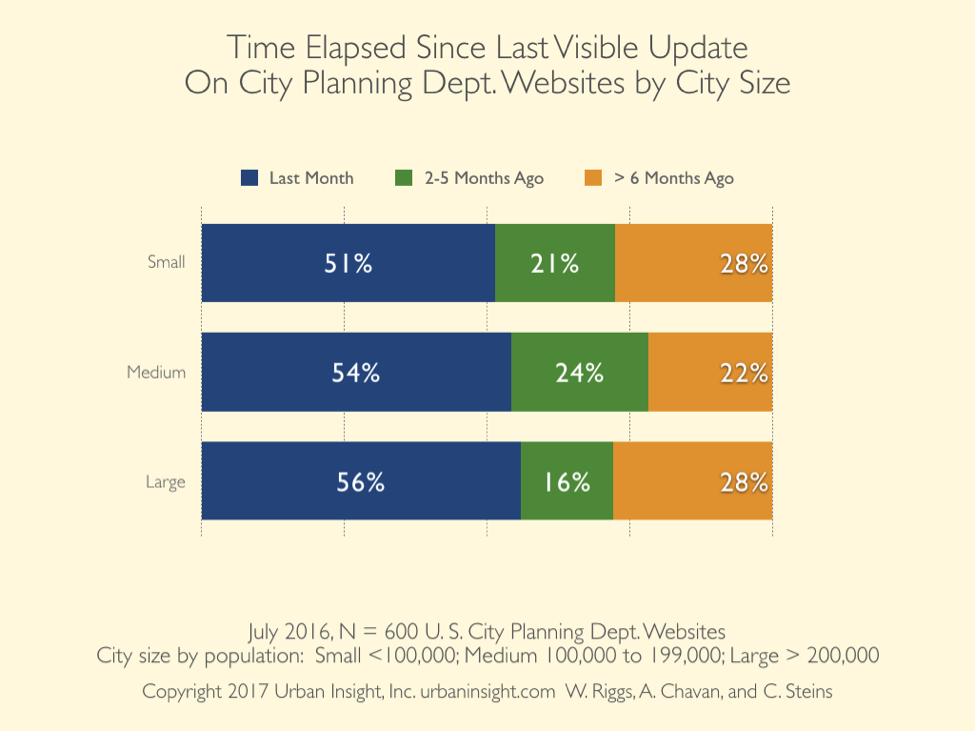 Published updates by the planning department about its activities can signal the department's interest in engaging with the public. We evaluated city planning department websites to discover the last visible website update performed by the department.
Similarly to the findings of our last survey, websites were update on a fairly regular basis. Fifty-three percent had been updated in the last month. Another 26 percent did not show any visible updates in the last six months.
47 percent of cities offer an online GIS tool to search properties.
The use of online GIS increased 7 percent since 2015.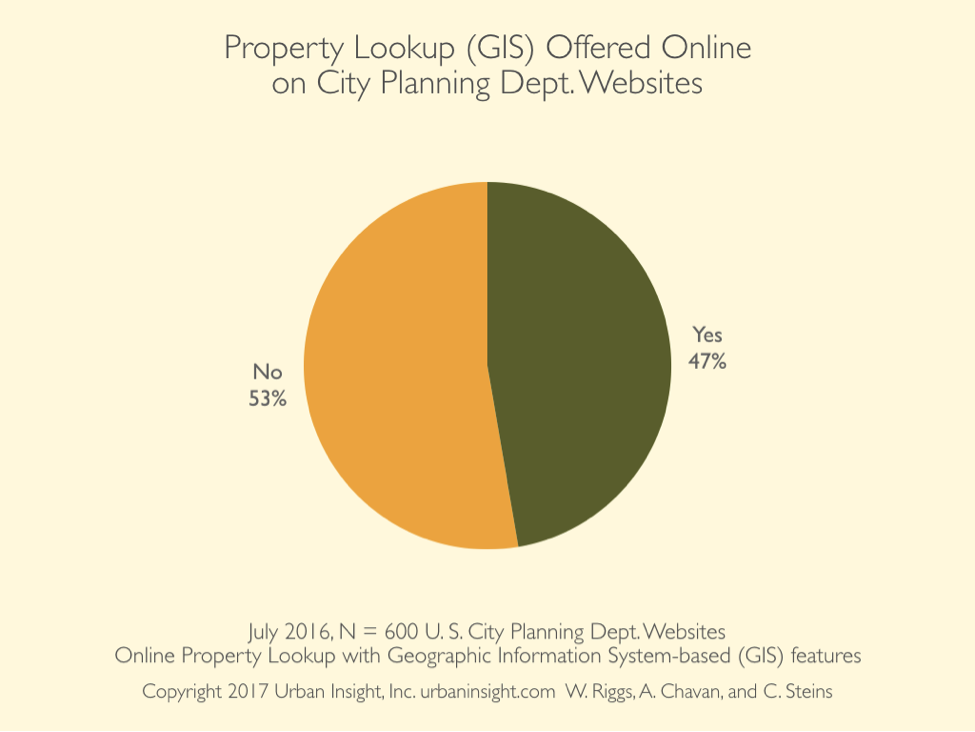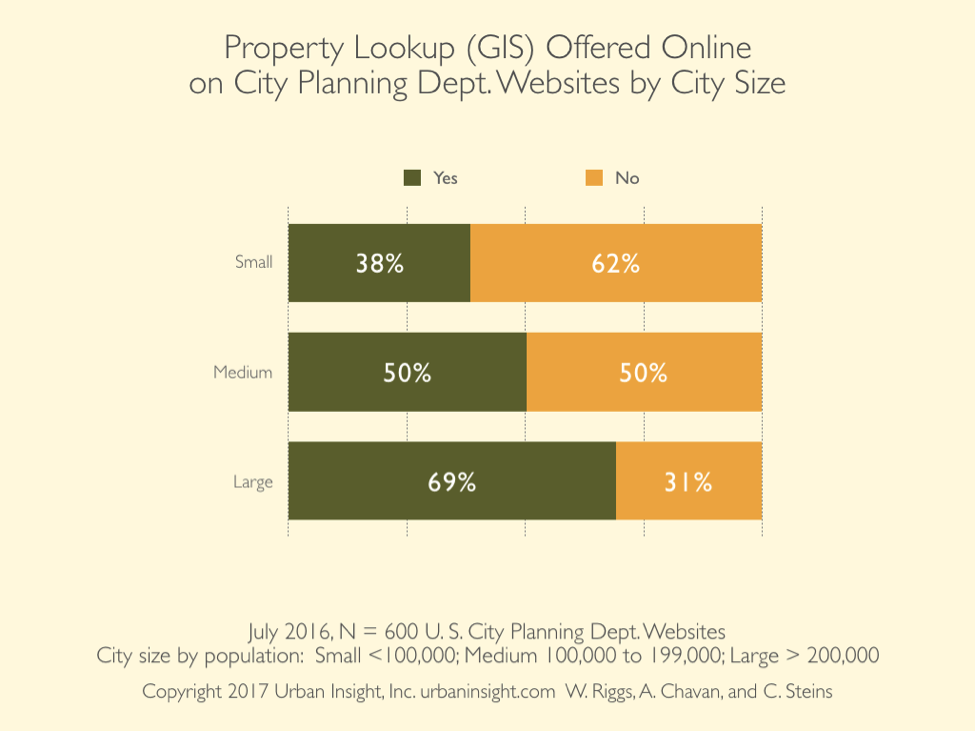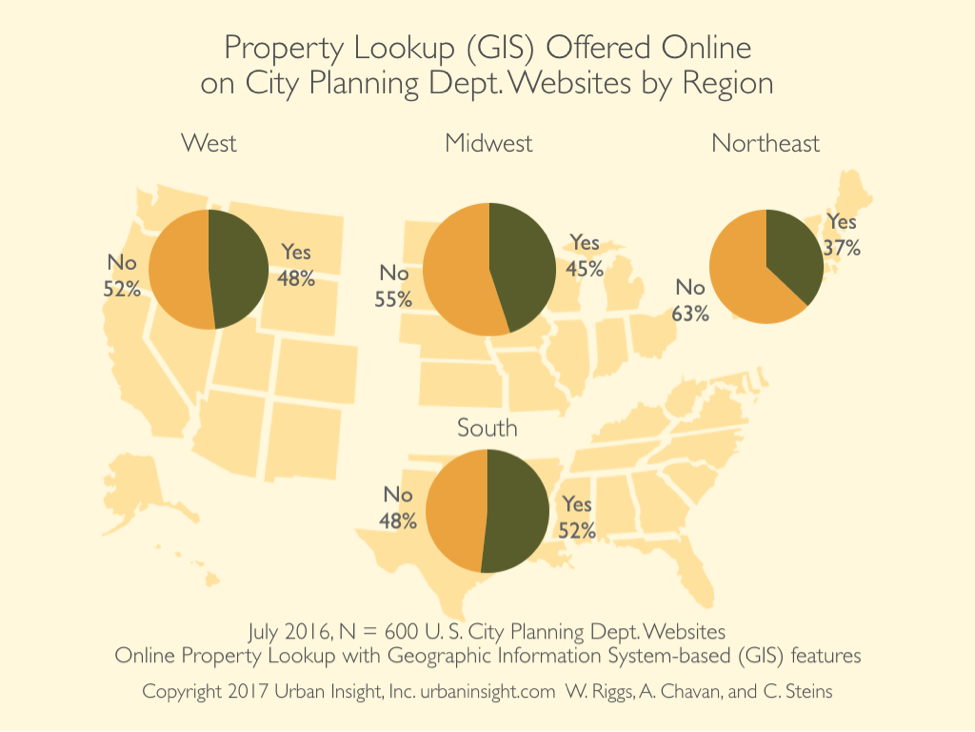 The ability to look up information about a specific property is often provided by the city, county, or other agency. The availability of parcel-level detail online is an indicator that the city has invested in a web-based geographic information system (GIS) and that the planning department has access to potentially sophisticated land use analysis and mapping capabilities. For our analysis we evaluated whether the planning department had offered, in some form, an online tool to look up properties on its website.
As we predicted, the number of cities with GIS property lookup capability rose 7 percent from 40 percent in 2015 to 47 percent in 2017.
Only 38 percent of small cities offer this tool while over 50 percent of medium-sized cities and almost 70 percent of large cities have this capacity. Similar to our 2015 results, this capability is more common in the West and South than in the Northeast and Midwest.
35 percent of the cities surveyed offer online permitting capacity.
Online permitting increased 14 percent from 2015.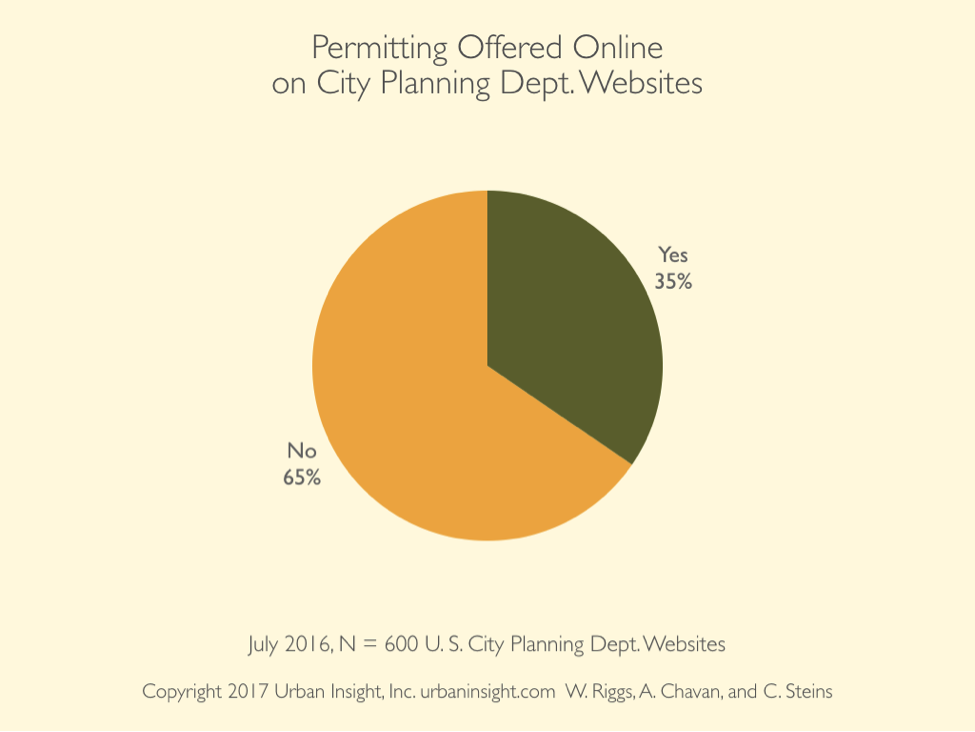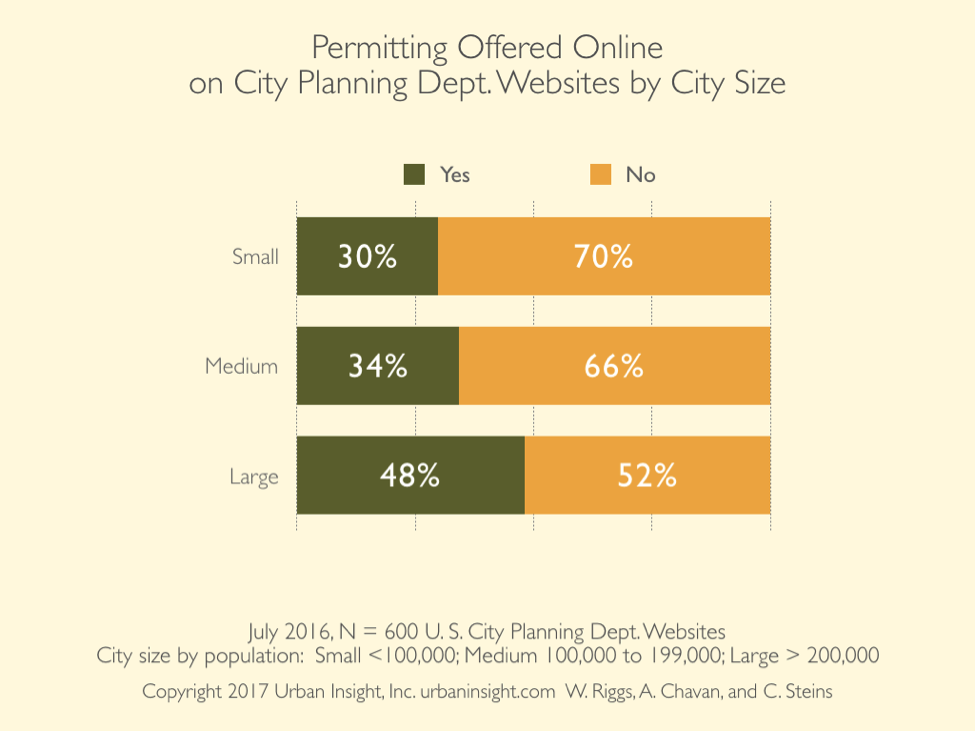 The authority of the planning or building department to issue permits for building or modifying structures is central to the role of most cities. Traditionally, a manual process issues permits at the planning counter. Emerging technologies and a broader reliance on e-commerce as an acceptable and desired alternative to face-to-face transactions are beginning to impact how planning departments perform permitting transactions.
We evaluated whether online permitting was available on the websites of the planning departments under study. While the majority of cities (65 percent) do not support online permitting, there was a dramatic increase in the number of cities offering such services. The number of cities engaged in online permitting saw some of the largest gains between 2015 and 2017 in our survey. 35 percent of the cities surveyed had online permitting capacity, which was up from 21 percent.
Of the 35 percent that do provide online permitting, the rate of adoption is greatest among large (with populations greater than 200,000).
Given the increases seen in both responsive design as well as online GIS property tools we anticipate growth in this area as government websites continue to adapt to user demands and offer online transactions in the future.
Conclusions
Based on our evaluation of time series data collected in June 2016 and June 2014 and our familiarity with the use of technology to support city planning departments, we make the following observation about the use of technologies in cities in 2017 and 2018.
Use of responsive designed increase by 44 percent from 2014, and is now used by 59 percent of departments. Expect to see continued increases in responsive design as mobile and tablet devices eclipse desktop computers as the primary means of viewing planning department content. If you are building a new website, be certain that it uses responsive design.
The use of off-the-shelf (versus more complicated custom-built) content management systems will increase as websites are updated. Modern content management systems will aid in the frequency of website updates, and the best contemporary systems use responsive design. If you are building a new website, strongly consider the use of a content management system.
Expect to see an increase in the use of mobile-optimized delivery methods, such as Google Accelerated Mobile Pages (AMP), Facebook Instant Articles, and Apple News. Use of a major content management system will facilitate implementation of these technologies.
As the percentage of web traffic from smartphones and tablets continues to grow, there will be increasing pressure on city planning department websites to convert information from PDF documents to HTML format, which is much easier to read on such devices. If you are considering updating the city's zoning code or general plan, budget and plan for the use of an appropriate publishing platform as you start your process.
Within the next five years, we predict that web-based formats will begin to take precedence over printed documents. As you consider your next major comprehensive plan or zoning code update, reconsider which format will be the primary method of publishing.
Adoption of online permitting systems and online geographic information systems will continue to increase as technologies to support these systems become more affordable and innovation in this area blossoms. However, implementing these technologies will remain out of reach for many planning departments for several more years.
The field of civic technology, "civic tech," has grown significantly in the last five years. Consider identifying a technology-savvy team member in your organization to champion new approaches to technology by engaging with the civic tech community.
About the Authors
Dr. William (Billy) Riggs is Assistant Professor at Cal Poly, San Luis Obispo in the Department of City and Regional Planning, focusing on urban policy related to economics, transport, housing, and emerging technology. He can be found on Twitter at @williamwriggs.
Chris Steins is Chief Executive Officer of Urban Insight, a technology consulting firm based in Los Angeles, California, and a founding editor of Planetizen. He specializes in work at the intersection of technology and planning. He can be found on Twitter at @urbaninsight.
Abhijeet Chavan is Chief Technology Officer of Urban Insight. He is also a founding editor of Planetizen and leads Urban Insight's practice in legal aid services, responsible for development of the OpenAdvocate public information web publishing system.
Acknowledgements
The authors would like to thank UCLA graduate student Megyn Rugh, who served as a research assistant on the project, and students from the CalPoly, San Luis Obispo "Planning Information Systems" (CRP 457) course, who conducted preliminary data gathering.
Appendix 1: Methodology
Ten key indicators were chosen and then used to evaluate over 600 city planning departments across the United States. This methodology for benchmarking websites was based on comparable evaluation conducted for the legal and planning industry and validated through peer-review (Cabral, Chavan, Clarke, & Greacen, 2012; Chavan, 2014; Riggs, 2016).
These metrics include factors that can facilitate better and more-timely information to citizens, as well as the ability to tailor websites to user needs (e.g., accessibility and mobile screen visibility). These tools are discussed in greater depth in Appendix 2.
Our cities data is taken from U.S. Census Bureau's 1-year American Community Survey results using the 2012 ACS 1-year estimates as a benchmark for comparison. Using the 1-year figures was appropriate because the goal was to benchmark the up-to-date characteristics of web technology in planning organizations throughout the United States. Typically, the most current data is found in the 1-year estimates, although this data lacks the precision of 5-year estimates. The 1-year ACS data also offered the capability of reputable and repeatable sourcing method tied to existing demographic data in the communities evaluated.
Since 1-year estimates do not represent urban areas from smaller than 65,000, we also add a sample of 100 of the ~2,000 small cities found in the 3-year estimates. This yielded a total of 659 cities. After gathering this data, unincorporated areas, or those with a Census Subdivision designation (N=57), were filtered out. Of the remaining 602 websites, two cities did not have a planning-related website, giving us a final representative sample of 600 cities (N=600). This provided for statistically significant results at the 95th confidence interval, with a margin of error of less than +/- 3.9 percent. The data collected was then validated for accuracy by a secondary evaluator, and aggregated to produce the findings of this benchmarking survey. A chart of the cities by size is provided below. 
City Size

Frequency

Percent

Valid Percent

Cumulative Percent

Valid

Small (50k-99k)

315

52.5

52.5

52.5

Medium (100k-199k)

175

29.2

29.2

81.7

Large (>200k)

110

18.3

18.3

100.0

Total

600

100.0

100.0
Appendix 2: Tools
| | |
| --- | --- |
| Indicator | Method of Evaluation |
| Website Existence | Visual survey |
| Content Management System (CMS) | |
| Responsiveness | |
| Social Media (Facebook, Twitter and LinkedIn) | Visual survey |
| Percent of Content in PDF and DOC Format | |
| Online Zoning Code | Visual survey |
| Zoning Code Publishing System | Visual survey |
| General Plan Availability | Visual survey |
| Last Visible Update | Visual survey |
| Online GIS Property Lookup | Visual survey |
Summary of Changes from 2014 to 2016
This survey builds on the 2015 survey, which evaluated the state of urban planning websites during 2014. While most of the variables collected are the same, a few changed and some of the collection methods changed based on changing technology.
First from a data collection standpoint: while past studies we used Wappalyzer to evaluate web platform, we used Build With. in 2016 because the interface was more transparent to data gatherers. Similarly, more easily interpretable tools have emerged to test mobile responsiveness, so we shifted to using Google for responsive design.
Our two most significant changes were the removal of our readability analysis and our addition of smaller cities to the original study cities. This data was collected in 2015 using a tool offered by Google Advanced Search and provided an assessment of the reading level of content on a specific website. Google has discontinued the tool, and we did not identify a suitable replacement.
For the cities we evaluated our longitudinal unit of analysis (the top ~500 cities in the United States, based on 2012 Census ACS 1-year data) remained the same, although we have added a random sample of 100 additional cities that were below the 60,000 person ACS threshold, using Census 2012 3-year estimates. There were a total of 2,143 municipalities with estimates in the 2012 3-year data.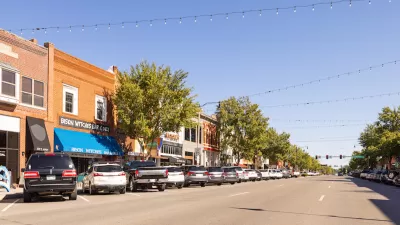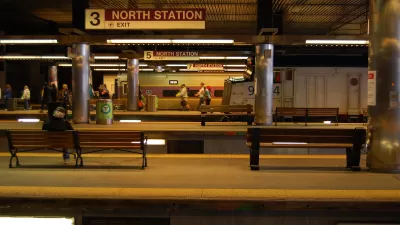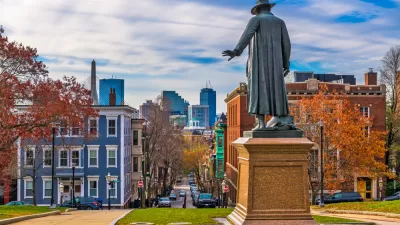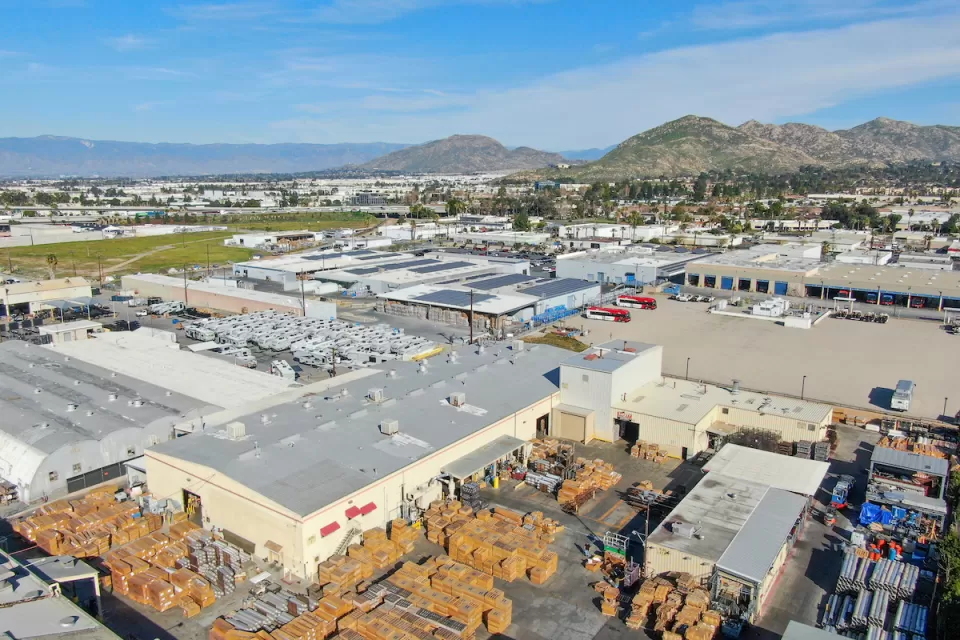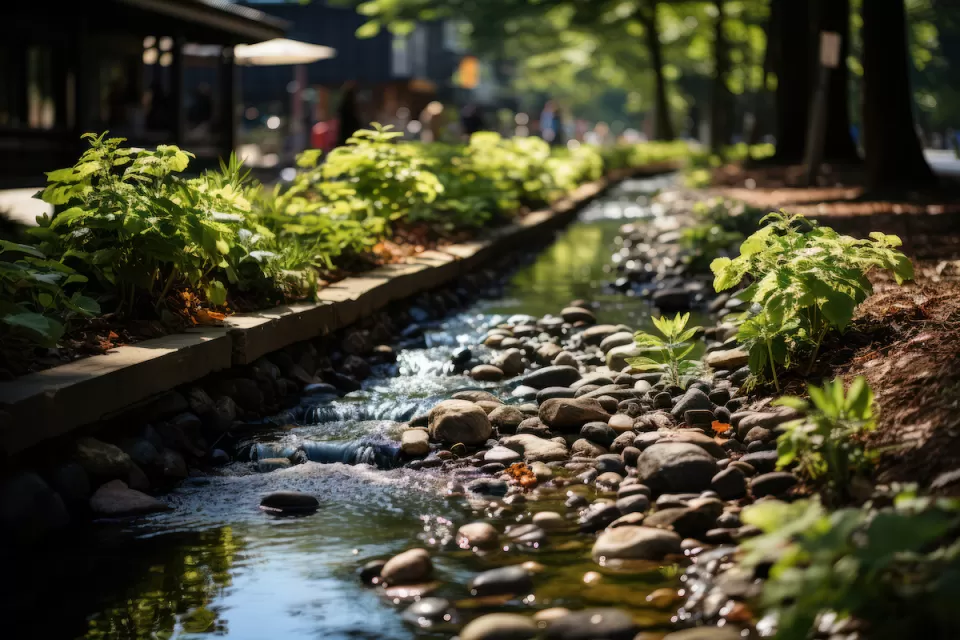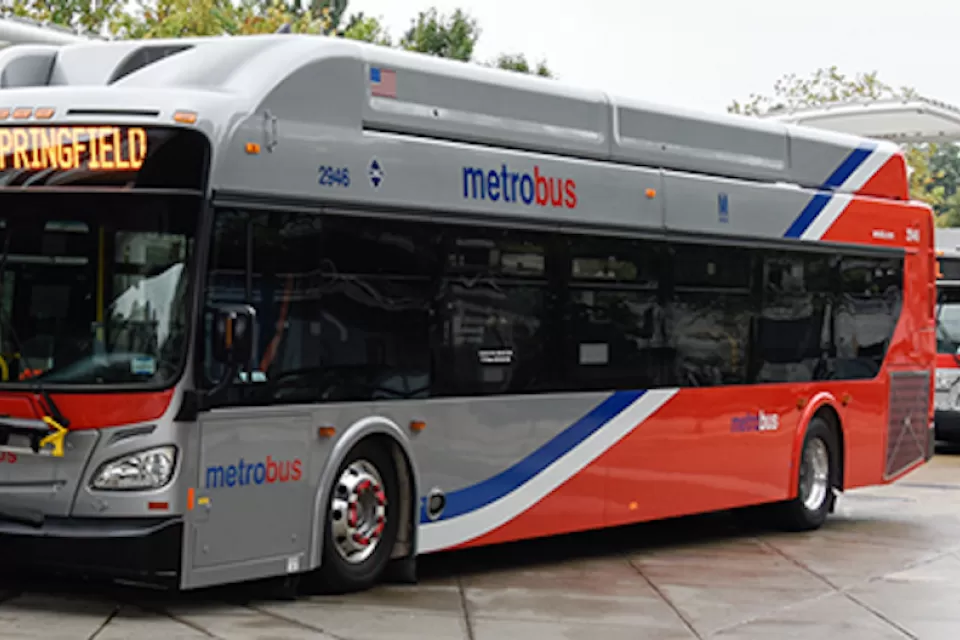 This six-course series explores essential urban design concepts using open source software and equips planners with the tools they need to participate fully in the urban design process.
Learn the tools for implementing Universal Design in planning regulations.
View More