Enhanced infrastructure finance districts allow regional cooperation on infrastructure investment and economic development.
---
California and its cities must find ways to fund infrastructure projects. Because General Obligation bonds (GO) increase general fund obligations, they cannot meet the enormous needs of the state's communities. Years of budget turmoil, with little spent on maintaining the state's transportation, communication, and other critical systems, combined with an ever-growing population [pdf] have escalated both needs and costs. Until Governor Jerry Brown signed legislation eliminating Redevelopment Agencies (RAs) in 2012, cities and counties could use tax increment financing (TIF)—the increase in tax revenues generated by development—to repay bonds issued to finance the necessary infrastructure and other improvements. The taxes paid by property owners who benefit from the improvements are an important municipal finance tool because they provide a new revenue source. Two recent laws allow cities, counties, and special districts to form Enhanced Infrastructure Finance Districts (EIFDs) and issue TIF bonds under specific circumstances.
Supporters of TIF focus on its potential as an economic development and job creation tool. Infrastructure is essential to economic development; EIFDs restore TIF so local government can finance infrastructure. The initial EIFD statute was SB 628 in 2014; AB 313 in 2015 added important refinements. The legislation updates an existing Infrastructure Finance District (IFD) law, approved in 1990, by expanding the types of projects that can be funded with EIFDs and lowering voter approval requirements. The 1990 version of IFDs was only used twice because it was difficult to meet the two-thirds public vote requirement to form an IFD as well as the two-thirds public vote requirement to issue debt. Voter approval is not required to form an EIFD, however there is a 55% requirement to authorize bonds. Where an IFD makes the tax increment available for up to 30 years, the EIFD extends that timeline to 45 years [pdf]. Assembly Bill 313 clarified the power of the EIFD legislation, written to align the state government's goals of promoting humanly and environmentally sustainable economic development.
An EIFD can finance traditional public works, such as transportation, transit, parks and libraries, water and sewer facilities, solid waste disposal, and flood control and drainage. The legislation emphasizes projects that support sustainable community goals, energy efficiency, and reducing the carbon footprint of California's economy. The text of SB 628 states that an EIFD may be used for "brownfield restoration and other environmental mitigation;" "the acquisition, construction, or rehabilitation of housing for persons of low and moderate income;" "transit priority projects;" and "projects to implement a sustainable communities strategy." Clarifications to SB 628 included in AB 313 enhanced the ability of local governments to achieve sustainability goals by removing a provision that limited EIFD participation to the entities that would receive the tax increments. Now special districts that receive fees, such as water districts and transit districts that receive some funding through sales taxes, may also be included in an EIFD's Joint Power Authority.
EIFDs are separate government entities, formed through a Joint Power Authority (JPA) consisting of cooperating cities, counties, and special districts. The new EIFD requires these entities to work together to make financing plans that combine a range of permitted funding sources, including tax increment bonds, that are the responsibility of all participants. Each participant must agree to the amount of tax increment that they will contribute, which allows funding flexibility. Community facilities bonds, California's Proposition 1 Water Bond funds, federal and state grants, fees from developer agreements, and hotel and sales taxes may be used. School district and community college district money may not be included.
The examples described here are all in preliminary stages, given the short time since the EIFD legislation was approved.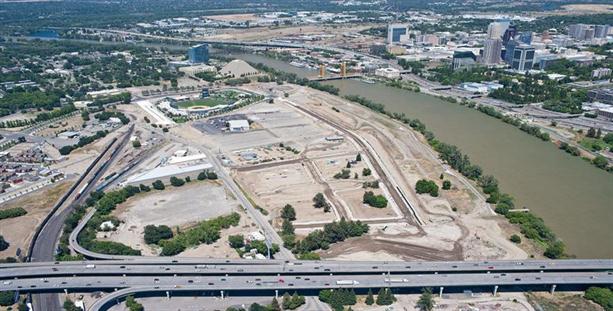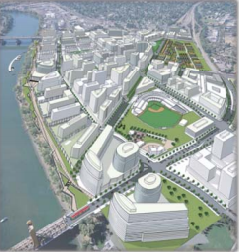 West Sacramento Bridge District Specific Plan (Courtesy of City of West Sacramento)
The city of West Sacramento is working with the city of Sacramento to construct the Broadway Bridge connecting West Sacramento with Sacramento. The cities have created an EIFD authorized to issue bonds secured by tax increment revenues to pay for the construction. The bridge is part of a 2009 Bridge District Specific Plan, covering a 188-acre former industrial and rail yard site. The plan includes 4,000 housing units and 5,000,000 square feet of commercial and retail space by 2035. The new Sacramento River crossing will accommodate motor vehicles; transit, including buses and a proposed light rail system; bikes; and pedestrians. The EIFD will implement Measure G, an advisory measure approved by voters that allows West Sacramento to use revenue received from the dissolution of its Redevelopment Agency to "continue funding community investment projects such as streets, bridges, transportation, parks, and public infrastructure."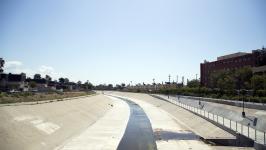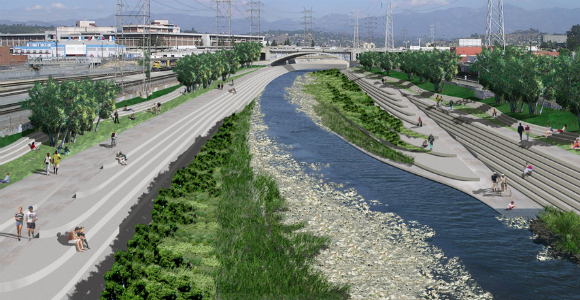 A $40 million Los Angeles River Revitalization EIFD is in the planning stage. The project area is an 11-mile segment of the 48-mile L.A. River, which includes Elysian Park Bridge, Broadway Arterial Green Street, the eastern end of the Los Angeles State Historic Park and the Cornfields site. The overall objective is to make the river a community amenity by investing in housing, commercial, and recreational developments [pdf].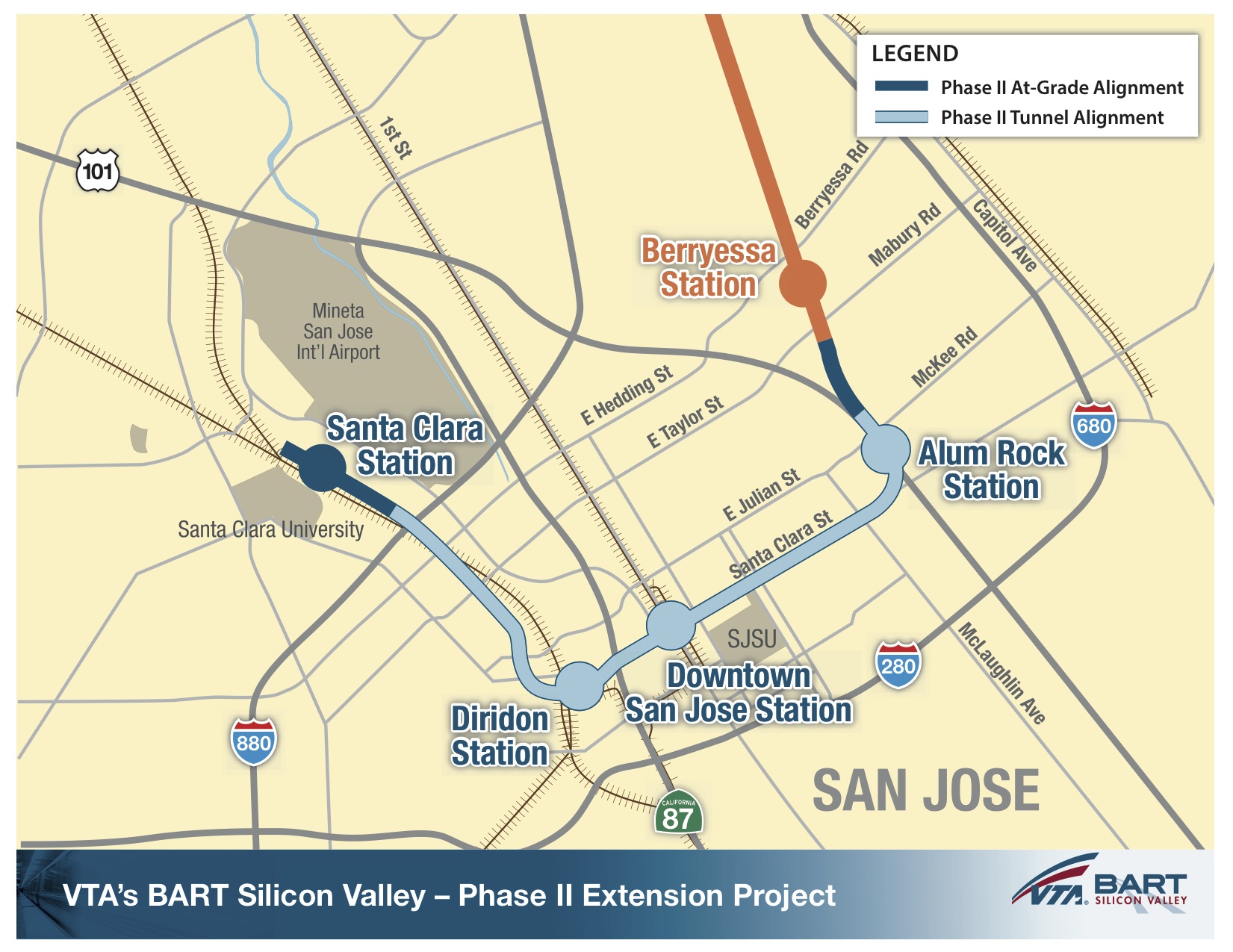 The Santa Clara Valley Transportation Authority (VTA) and Bay Area Rapid Transit (BART) are working to create an EIFD as part of the funding strategy for Phase II of the BART to Silicon Valley Extension plan. Phase II will build the four stations and five-mile tunnel through downtown San Jose that completes the 16-mile extension to San Jose. With a $4.7 billion cost and only $2.1 billion in identified funding, the EIFD is central to the Phase II funding strategy. Creating a Community Facilities District and forming an EIFD will begin in 2017. This EIFD, with the ability to issue TIF bonds, will use some of the growth in tax revenue [pdf] resulting from increased business activity and property value along the BART system to fund its expansion.
Cooperating on infrastructure is a way for regions to promote economic development. The economic boundaries of metropolitan areas do not correspond to political boundaries or to special district boundaries. Benefits accrue to the region and beyond. Creating an EIFD can be a big step toward regional cooperation among local governments and special districts. As Bill Fulton has noted in the California Planning & Development Report, about half of the state's property tax goes to schools, a third to counties, 15-17 percent to cities, and 10 percent to special districts. With an EIFD, capturing just the cooperating entities' portions of property tax can generate enough increment to bond against. With population and employment growth both in and beyond central cities, regional economies are ever more important. Whether it is a bridge that links population and jobs between cities, restoring a segment of a river that flows from the Simi Hills and Santa Susana Mountains through Los Angeles County to its mouth in Long Beach, or extending a rapid rail system to a major city within a region, creating an EIFD requires cooperation of the affected cities, counties, and special purpose districts. Cooperating to plan, fund, and implement infrastructure provides region-wide benefits.
---
The Right to Mobility
As we consider how to decarbonize transportation, preserving mobility, especially for lower- and middle-income people, must be a priority.
Early Sharrow Booster: 'I Was Wrong'
The lane marking was meant to raise awareness and instill shared respect among drivers and cyclists. But their inefficiency has led supporters to denounce sharrows, pushing instead for more robust bike infrastructure that truly protects riders.
This six-course series explores essential urban design concepts using open source software and equips planners with the tools they need to participate fully in the urban design process.
Learn the tools for implementing Universal Design in planning regulations.
View More