First Bicycle Traffic Signals Come to Los Angeles
The traffic signals are part of the Los Angeles Street 'full-featured' protected bike lane that also includes transit stop islands and two-stage turn queue boxes. Ribbon-cutting for the cycle track, the third in the city, was held Thursday.
[Updated 6-17-2017] Just over a year ago, the first parking-protected bike lane opened in Los Angeles on Reseda Boulevard. While the United States' second largest city may have been slow to get on the cycle track, it's making up for it now.
Another first for the City of Angels occurred on Thursday when it had a ribbon cutting for a "full-featured protected bike lane." The Los Angeles Street protected bike lane "will be the first L.A. protected bikeway facility to feature bike signals, and integrated transit stop islands," wrote Streetsblog L.A. editor, Joe Linton, in April when construction began on the Los Angeles Street protected bike lane.
Los Angeles Department of Transportation General Manager Seleta Reynolds describes the Los Angeles Street facility as a "laboratory" for testing out protected bike lane features. Though LADOT has implemented protected lanes in the Second Street tunnel and on Reseda Boulevard, Los Angeles Street will be the first L.A. protected bikeway facility to feature bike signals, and integrated transit stop islands.

[See May Planetizen post of interview of Ms. Reynolds.]
L.A.'s First Bike Traffic Signals
"Bike signals are not required for protected bike lane intersections; Long Beach uses them, Temple City's Rosemead Boulevard and L.A.'s Reseda Boulevard do not," writes Linton on Tuesday about the ribbon-cutting for the new bike lane to be held Thursday.
"Bicycle signals make crossing intersections safer for bicyclists by clarifying when to enter an intersection and by restricting conflicting vehicle movements," according to the National Association of City Transportation Officials.
Bike signals will advance cycling by tackling two issues: First, they address the general issue of increasing riding safety, perceived to be the largest barrier in an April 2015 People for Bikes survey:
Safety concerns are the biggest barrier for most people, even among active riders. Overall, 52% of the adults surveyed are worried about being hit by a motor vehicle.  
Second, they target the main location of bicycle crashes with motor vehicles, traffic intersections. According to the Federal Highway Administration, "Forty-one percent of [bicycle and pedestrian] crashes occurred at roadway intersections, and an additional 8 percent occurred in driveways or alley intersections. [Pedestrian and Bicycle Crash Types [PDF].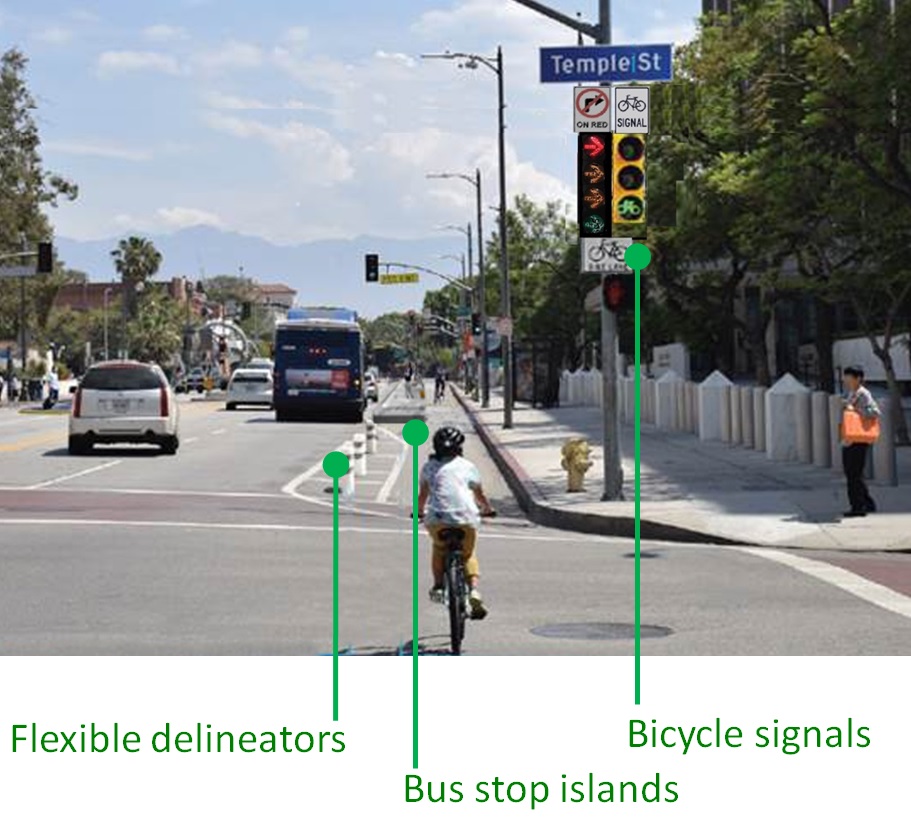 L.A.'s First Two-Phase Left Turn Markings 
More intersection safety is offered for cyclists who prefer not to make a left turn with motor vehicles from the left lane, or designated left turn lane. "The Los Angeles Street project also features green boxes that support cyclists' two-phase left turns," writes Linton.
Instead of stressful merging through car traffic to make a vehicular left turn, cyclists make a low-stress left turn similar to the way a pedestrian would.

Look for the box is in the bike lane, not the left-turning lane. It is also known as a "two-stage turn queue box."
L.A.'s First Protected Bikeway Transit Islands
Cyclists avoid conflict with buses, but they need to watch for transit passengers walking across the bike lane from the sidewalk or the transit island.
Linton includes lots of great photos of the Los Angeles Street bike lane. Take a 20-second tour of the new lane in this video.
Look for more protected bike lanes in Los Angeles to be opening on Venice Boulevard, Van Nuys Boulevard, and Figueroa Street, adds Linton.
[The post was updated to reflect the correct facilities on Temple City's Rosemead Boulevard.]
Published on Tuesday, June 14, 2016
in
Topics