Water has been an integral part of the designed landscape for centuries, but is it time to reevaluate its relevance?
---
In a recent interview posted on The Dirt, the Texas-based landscape architect Christy Ten Eyck talked about what she considers the "beauty of drought." In a profession that likes to celebrate lush and glamorous projects with hefty budgets, Ten Eyck has distinguished herself as a designer with the rare ability to create beautiful, award-winning landscapes using minimal financial and natural resources. In her world, design means conserving water. "Because of my experience in Arizona," she says in the interview, "I've learned to appreciate every drop of water and look for every little way to honor that memory of water in the landscape." Although she works primarily in Texas and the Desert Southwest, where water use is a huge issue, her way of thinking can—and should—be applied most anywhere.
"We need to come up with a new kind of beauty," she says, "a resilient, tough landscape that has a harsh beauty unique to its region." This message, that beauty needs to be redefined to meet changing conditions, is refreshing, resonant, and, in this era of climatic unpredictably, critically important. As we head toward a future where access to an abundance of water cannot be guaranteed—in any region—we need more people, especially landscape architects (and their clients), thinking the same way.
The impact of humans on the landscape has always involved the manipulation of water in some form. This was first as a necessity for survival, and then, over time, it became an element of ornamentation in increasingly civilized societies. Water has been inextricably linked to both the designed landscape and the profession of landscape architecture. Fountains, pools, ponds, and other water features became signs of wealth—think Versailles, the Alhambra, or picturesque English estates, and markers in civic spaces such as Piazza Navona and Trafalgar Square. It didn't take long for water features to become ubiquitous features in cities and neighborhoods around the world.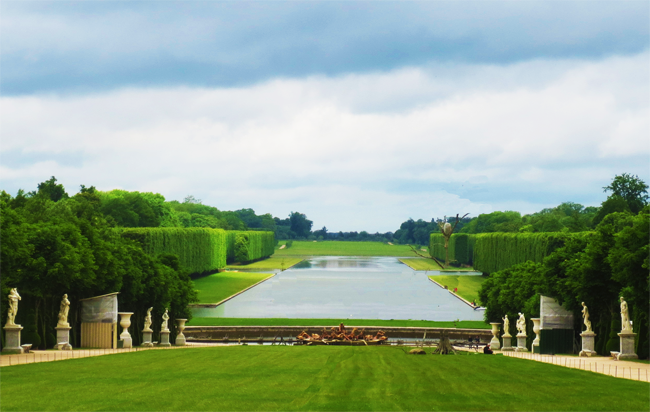 It is important to note that landscape architects have been leaders in sustainable design since long before it became a hot topic. Environmental stewardship is a core value of the profession, and designing with water in a responsible and beautiful manner is what we do. As the world's natural resources become depleted, however, I can't help but wonder if we are helping our clients adapt fast enough to keep up with the changing landscape.
This fall, at the annual conference of the American Society of Landscape Architects, I attended a session on the use of water in three high-profile projects: the U.S. Embassy in London, the Bill and Melinda Gates Foundation Campus in Seattle, and the Native Plant Garden at the N.Y. Botanical Garden in the Bronx. All three are great projects that use water in a very sustainable manner in terms of collection, treatment, and reuse—all well in line with currently accepted best practices for site design. It did, however, bother me a little that no one even mentioned the potential impact of drought or the unpredictability of climate change on these spaces that seem to have no fallback plan if the water runs dry.
Of course London, Seattle, and New York are not in danger of running out of water any time soon, but that is not my point. I just question whether we are past a time when building huge water features should be accepted as the norm—regardless of how little potable water they use. Municipal restrictions and regulations may be dictated at the local and/or watershed level, but we need to be thinking at a grander scale, since natural resources are, more than ever, globally integrated.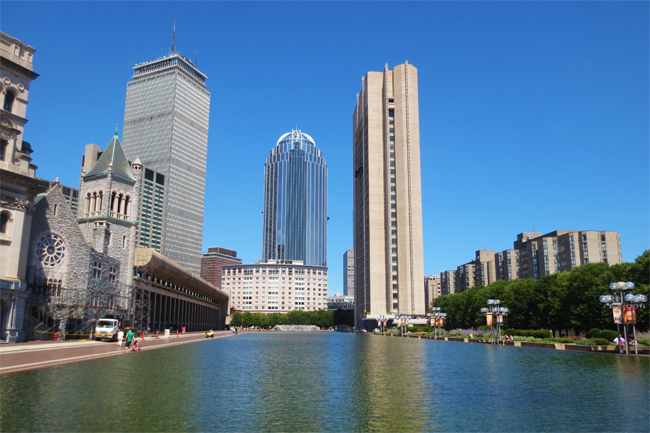 Landscape architects play an obvious role in designing the changing world, but it is civic leaders who are going to have to make the really tough decisions. Los Angeles is a prime example of this—both good and bad. Telling celebrities not to water their lawn is a good start, but then turning the restoration planning for the Los Angeles River—an environmentally-driven landscape project if there ever was one—over to an architect who has shown little interest in landscape or ecology in his work, is just mind boggling. Aesthetics certainly matter in cases such as this, but only when rooted in sound ecological practice.
In this country alone, there are already thousands of urban water features using billions of gallons of water—some more responsibly than others. Perhaps we should take the time to evaluate the future of these instead of designing a bunch of new ones. I love water, really, and I fully understand the value it brings to the landscape. It can be cooling, soothing, pretty to look at, fun, etc. But I also like fresh produce and clean drinking water. A balance will need to be struck between the needs and the wants at some point—it is already way beyond that in many parts of the world.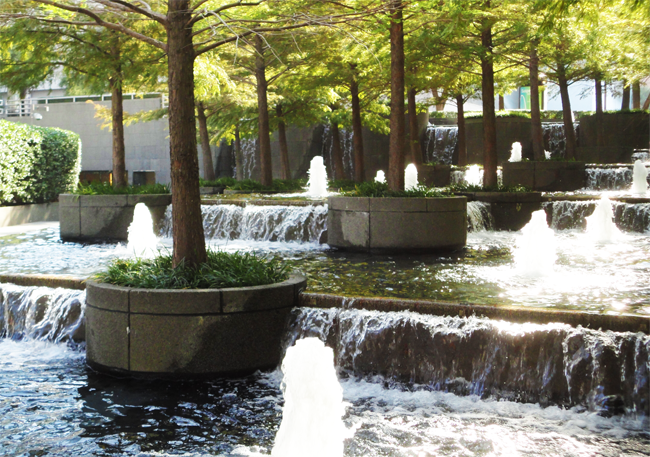 One of my favorite works of modern landscape architecture is Fountain Place in Dallas, designed by Dan Kiley. With over two acres (one million gallons!) of water and hundreds of jets spewing water into the evaporating Texas heat, it does exactly what it was intended to do: Create a cool oasis in the heart of the hot, concrete-laden downtown. It certainly made a lot more sense in the 1980s than it does today. Cultural significance aside, how can we continue to justify maintaining landscapes that use such a ridiculous amount of water?
I have no doubt they are going to have to turn the tap off at Fountain Place at some point…and the Bellagio Fountain in Las Vegas, and many other places like that. It's just too irresponsible not to. Cities are going to have to prioritize water use, and it is likely going to affect golf courses, suburban lawns, and urban water features first. El Niño has offered temporary relief to some drought-stricken parts of the country, but it is not likely to last.
Retrofitting and redesigning water hogs such as Fountain Place will someday be a big challenge assigned to landscape architects, who are uniquely qualified to do it right. I can only hope they hire ones who think like Christy Ten Eyck. 
---
European Cities Act on Density
The sprawling mass of suburbia has been a disaster for the environment. But now smaller, denser cities herald a renaissance in city living.
Nashville Sets Downtown Parking Maximums
Nashville is the latest city to enact a substantive change to the parking requirements set by the city's zoning code—doing away with parking minimums and setting parking maximums in the city's Urban Zoning Overlay.
This six-course series explores essential urban design concepts using open source software and equips planners with the tools they need to participate fully in the urban design process.
Learn the tools for implementing Universal Design in planning regulations.
View More