Women and men experience public spaces differently. It is all too common for women to experience street harassment when in public spaces. Nina Flores explores the ways that this issue is being combatted in the online public realm.
---
Warning: This blog post contains explicit language. 
We live in a culture where cat calls are routinely characterized in movies, television, and advertising. It's so pervasive that it even appears in children's movies, such as The Muppets Take Manhattan, when construction workers flirt with Miss Piggy. In 2014, the issue of street harassment caught national attention when a mother of three was murdered in Detroit after she rejected a male's advances in a public space. 
Nina Flores from the University of California at Los Angeles tackled the issue of street harassment, defined as unwanted in-person comments or physical contact usually sexual in nature. Flores argues that street harassment limits women's ability to access public spaces with the same freedom and ease of their male counterparts. A 2014 national survey found that 65 percent of women had experienced street harassment, with a disproportionate portion of persons of color and LGBTQ members experiencing harassment. Harassment can range from verbal to physical.
Even Jon Stewart's The Daily Show recognized the pervasiveness of street harassment. In the image shown below, the map illustrates that women can be harassed on any street. 
Flores decided to examine how virtual public spaces are being used to address and resist street harassment. She examined how twitter is being used to document and resist street harassment in public spaces and how Twitter is being used to contribute to movements against street harassment. Flores collected tweets over a three month period based on a series of keywords and hashtags and compared these to new stories and street harassment related events. 
The example below describes what is all too common, a person engaged in public harassment and no one stepped in to stop it. 
Flores searched Twitter using hashtags such as #StreetHarassment and #EndSH. It's important to note is the trending nature of hashtags, quickly rising in popularity and then fading. For example, when the #YouOkSis campaign started, tweets referencing this hashtag increased. She then went on to code and analyze the tweets to understand what people sought to communicate around street harassment. People were choosing to share their personal stories and experiences, such as:
"catcalling: in broad daylight = mostly a disrespectful nuisance. walking alone at night = scary reminder that you may get assaulted"

"You want to know how meet women? The answer is NOT approaching her on the street and following her for blocks at a time! #youOKsis"

"Two catcalls, been out for less than 15 mins. Thanks life. #fuckthis #streetharassment."
Street harassment also impacts students, who expressed frustration about their routes to school.
"I go to a school that cares more about seeing a sliver of my bra strap than the boys that are touching me and catcalling as I walk by"

"no, i will not 'call you when i get out of high school' mr. guy-in-terrifyingblack-truck. catcalling is NOT appreciated."

"Some female-identified students note that #streetharassment makes them feel insecure, uncomfortable & unsafe. These are eighth graders."
There were frequently calls to action with the #EndSH and #YouOKSis hashtags, such as:
"You have to pray 'I have a boyfriend' works, usually it doesn't. We all, men especially, need to look out for other women. #YouOKSis."

"Men, we need to change this. We need to fight against street harassment. #YouOKsis"

"Join us today as we work to #EndSH in Washington D.C.!"
There are also tweets of recognition and resistence. With people calling out incidents of street harassment, such as:
"Creeper on d6 bus taking pic of other rider. I am not sorry I sat down 

between you and her, you're lucky I didn't call you out."

"I made a #map of Day 1: my 2.5 blocks of #StreetHarassment on crutches #EndSH @StopStHarassmnt"

"Big thanks to @celebrityuser for telling his listeners that if they see "sexy" nurses, cops or whatever type costumes, don't harass them! #EndSH"
While those being harassed were at times vocal, so are those who are undertaking the harassment.
"wanna know why i don't care about catcalling and being called human? because catcalling is appart of the first amendment."

"these bitches complainin abt the catcalling shit don't exist irl and are only loser internet bitches who never got attention in high school."

"what's a polite, non harassing way to say 'I'd like to suck and fuck you for a few hours and maybe get some pizza' #YouOKSis"
Yes, street harassment happens, but why is this an issue planners should be concerned with? The fear of using public spaces prevents people from equally using the city. Flores research demonstrates that women feel a lack of safety in public, that power relations play out in public between men and women, and that harassment leads to a reduced right to the city. Planners pride themselves on creating vibrant public spaces. Yet, when these spaces cannot be enjoyed by all this creates inequality. Prevalence of street harassment makes our cities public spaces unfriendly and unsafe.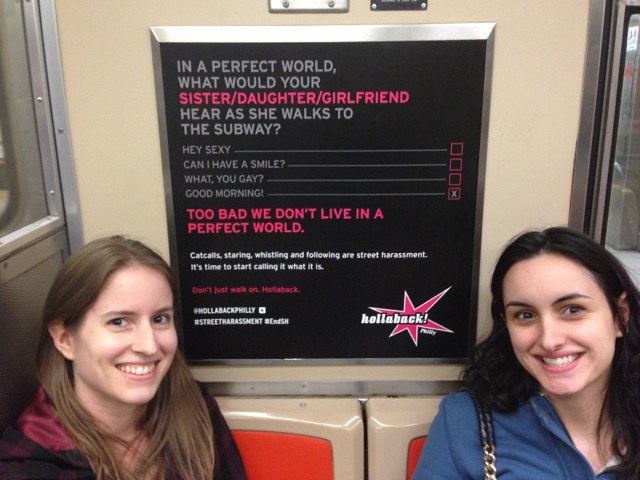 What role should planners have in minimizing street harassment? Los Angeles has recently undertaken efforts to minimize harassment in its transit system. The Design Action Collective in Oakland undertook a campaign to stop street harassment. In Philadelphia, Feminist Public Works undertook a transit ad campaign. What ideas do you have about how public spaces can be more inviting places for all? Have you seen or experienced street harassment in a public space in your city? 
---
The Hyperloop's Prospects Dim
The media is coming around to the idea that the hyperloop is not a near-term solution for the country's transportation woes. It's too little, too obvious, too late.
This six-course series explores essential urban design concepts using open source software and equips planners with the tools they need to participate fully in the urban design process.
This course aims to provide an introduction into Urban Design Sketching focused on how to hand draw master plans using a mix of colored markers.
View More