Pricey AirTrain To Oakland Airport Proves Popular with Riders
The eight-minute elevated, driverless tram costs twice as much as the AirBus shuttle it replaced, which riders aren't happy about, but you wouldn't know it from the ridership numbers. The new connector service opened just over four months ago.
"It costs too much," complained a San Francisco resident heading to Oakland Airport using BART, referring to the new Oakland Airport Connector. "But would she do again?" asks Andrew McGall of Bay Area News Group for the Contra Costa Times. "Probably, because it's quicker and a lot easier," she answers.
And it comes frequently, as the BART schedule shows below: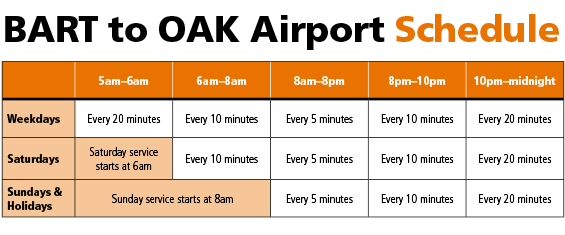 Opponents to the project also felt it cost too much, but they were referring to the $484 million price tag, not the fare. But riders are not deterred by the steep price, as the numbers show.
"February's average weekday shuttle ridership of 2,600 was about 36.9 percent higher than the ridership of the AirBART bus system during the same time last year, a (BART) spokesman said this week.

That's also close to the 2,745 average daily ridership BART staffers predicted would develop by July.
I had a similar experience hosting some friends from out-of-state. When they were ready to return to the East Bay from lunch at the Ferry Building in San Francisco, I helped them add cash to extra Clipper Cards I have for guests. The approximately 16-mile trip from Embarcadero BART Station to Oakland Coliseum Station (where you transfer to the Oakland Airport connector) costs $4.05. But if you go into the airport using the new AirTrain, a distance of 3.2 miles, add $6 to the Clipper.
The impressive ridership numbers may provide inspiration for Gov. Andrew Cuomo of New York who has been advocating for an AirTrain to LaGuardia Airport. New York transit advocates question the project, reminiscent of how Bay Area advocates opposed the Oakland Airport Connector, preferring improvements to the existing AirBART bus, similar to how their East Coast counterparts want improvements to the existing bus connections to LaGuardia Airport.
For the record, the connector, technically called an automated people-mover, is more like a cable car or funicular than a train, as we noted earlier, but it doesn't look like one!
Published on Saturday, March 28, 2015
in
Topics