Highway Trust Fund Ticker Updates Path Toward Insolvency
For those who haven't been following the Trust Fund's ticker, it's a bit like the deficit clock except that it runs in the opposite direction, going towards zero or insolvency. The ticker measures the balance in both the highway and transit accounts.
"Today (June 17), as we've been doing each month since January, the Department of Transportation (DOT) updated our Highway Trust Fund tickers. The tickers are charts showing how much money we have left to spend on roads, bridges, and transit --and how quickly it is running out," writes Secretary of Transportation Anthony Foxx in the Fast Lane.
Below is the graph depicting end-of-month balances for the Highway Account of the Highway Trust Fund. Note that it dips into negative numbers at the end of August, a full month before the transportation spending bill, MAP-21, expires on September 30.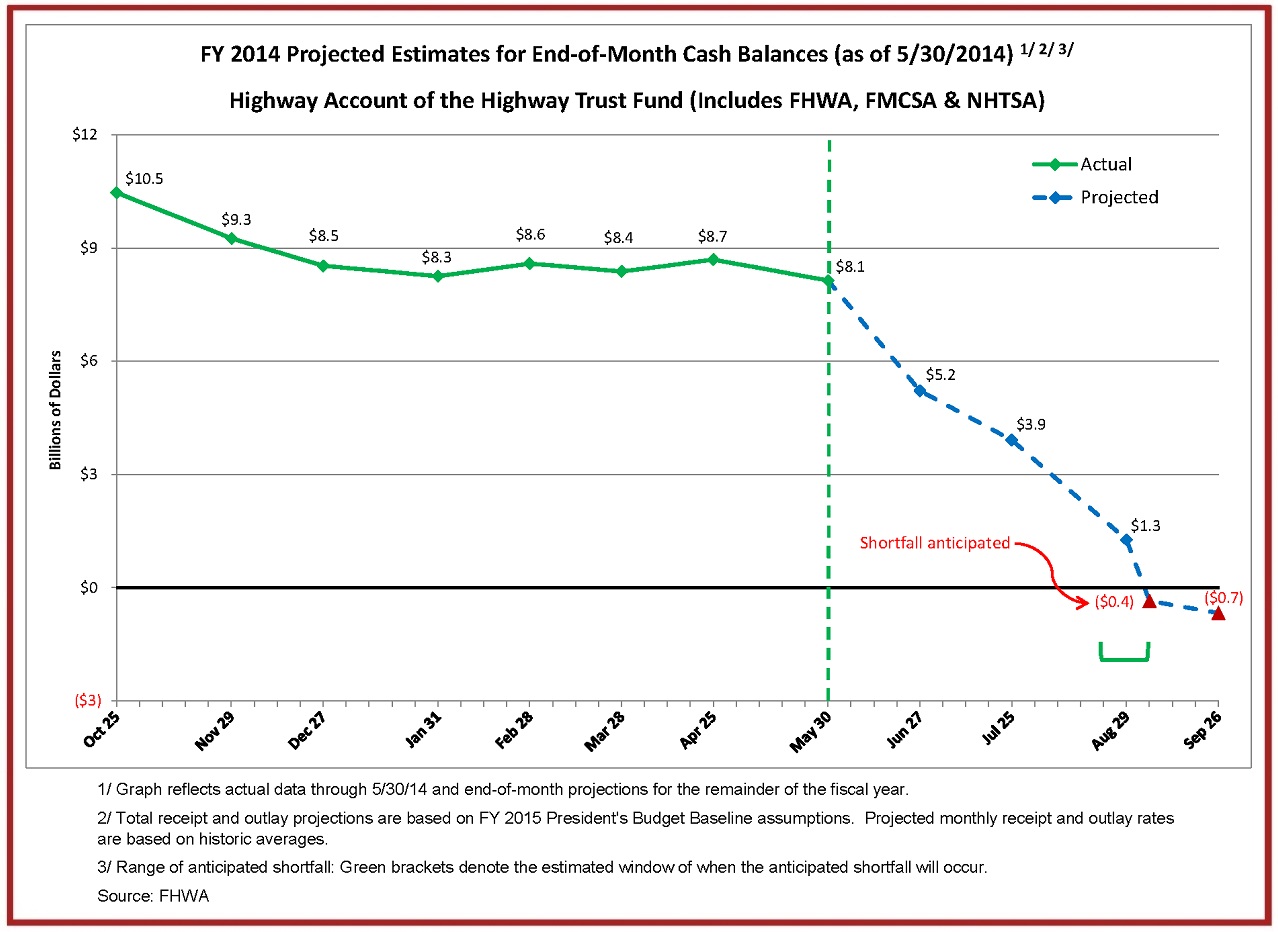 As we noted last month, "DOT prefers to keep a minimum of $4 billion in the highway account in order to properly manage day-to-day financial transactions." The highway account balance drops to that balance in late July, at which point state transportation departments may not receive timely reimbursements for work already done, explaining why some states are acting preemptively.
The mass transit account ticker shows a balance of $1 billion on September 30.
The impending insolvency leaves the Senate Finance Committee, chaired by Senator Ron Wyden (D-Ore.) with the dual task of finding short term funds to keep reimbursements flowing to state DOTs through the end of the fiscal year at a minimum, and six years worth of revenue to fund the Map-21 Reauthorization Act that passed the Environment and Public Works Committee on May 15. 
Notice of the ticker update was included in Adam Snider's Politico Morning Transportation of June 18.
Published on Tuesday, June 17, 2014
in
Topics