Three Quick Wins for Auckland (or Any City's) Walkability
The following "top three" relatively quick wins for a more walkable city, written below from the perspective of Brent's observations, reflect some relatively low-cost opportunities toward a more liveable & successful Auckland.
(The following article first appeared as a blog post on the "Shape Auckland" website of Auckland City Council, associated with the City's process to create a new city-wide Unitary Plan. It was co-authored by Brent, and Darren Davis, Principal Public Transport Planner, Network and Service Policy at Auckland Transport)
After six packed days working with staff from Auckland Council and Auckland Transport last month, it was very clear to our international urbanism consultant, and co-author of this article Brent Toderian, that there are a lot of great things happening in Auckland city-making! From a growing shared streets and spaces network and double-phased scramble intersection crossings on Queen Street, and the revitalization of the Britomart area following the return of rail to the downtown, to the high value, low-cost placemaking in the harbourside Wynyard Quarter, and the innovative redevelopment of a former airbase into the Hobsonville Point new urban community, Auckland is building great momentum around a culture of strong urban design. But that's not to say that tremendous work isn't still needed! If Auckland is to achieve its ambitious and admirable aspiration to become the world's most liveable city, another level of achievement is necessary.
Brent's work with staff covered the gambit of city-making issues large and small, from their new Unitary Plan and City Centre planning and implementation, to housing, transport, design, density & culture. Still, some of the most interesting work focused on how a liveable city for people often comes down to walkability. The following "top three" relatively quick wins for a more walkable city, written below from the perspective of Brent's observations, reflect some relatively low-cost opportunities toward a more liveable & successful Auckland.
1. Create "eye candy" for pedestrians!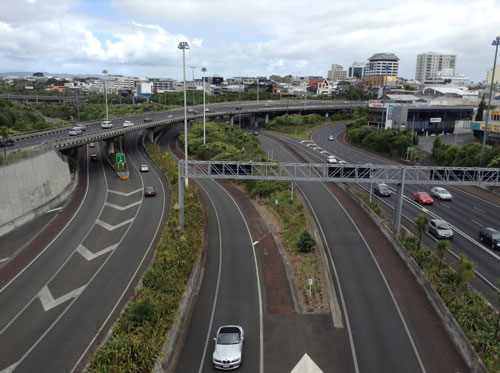 Auckland's motorway system has some of the best and lushest landscaping I've seen anywhere - what I call eye candy for car drivers! Unfortunately, I saw a lot less evidence of such attention and effort dedicated to improving the walking experience. It's time for more attention to the pedestrian at eye level, such as addressing all those blank walls, including all the glazing at street level that is misappropriated for advertising (which defeats its intended purpose of having eyes on the street, and providing something interesting for walkers to see).
The key to walkable streets is providing an interesting and engaging pedestrian experience. Although the horizontal details of public realm design are important, as discussed in the next section, the vertical view at eye level along the street wall is particularly critical to get right.
This could start with conducting a visual walker's audit of the downtown and inner-city, perhaps engaging the public to participate through a photographic competition, and committing to quickly address the 10 worst offenders.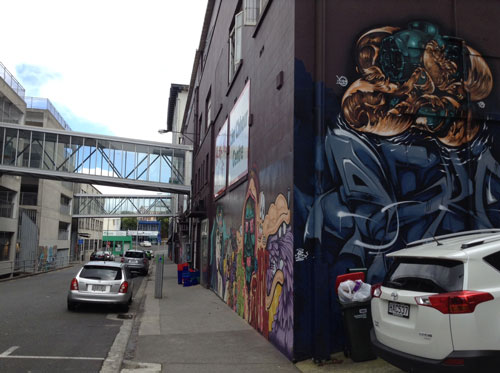 The blank walls could be seen as a canvas for artistic expression (and by this, I include commissioned or sanctioned graffiti). Another thought I've shared with staff - when the cut and cover section of the City Rail Link is built along Albert Street, why not let artists and kids loose on the inevitable construction hoarding, turning it into an arts project, and turning an eyesore and source of scowls into a creative and cultural opportunity and source of smiles?
2. Fix up the sidewalks!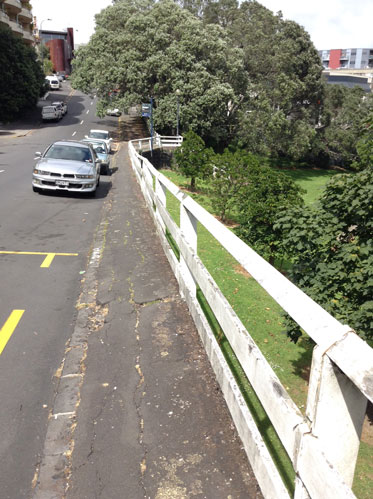 Even in the city centre, the quality of the walking environment is very much hit and miss, with some excellent pedestrian and "shared" streets in a rapidly connecting network, but plenty of mediocre areas and shoddy stand-out spots. Further out, walking through areas like Eden Terrace exhibits "billiard table" smooth road surfaces combined with narrow, uneven and poorly maintained sidewalks. On top of this, slip lanes with no provision, let alone priority, for pedestrians, reinforce the feeling that pedestrians come last in the mobility food chain.
It should be the other way around, putting pedestrians at the top of the hierarchy. Even balance will not do, as this is frequently code for business as usual. To be more specific, the prioritisation should be walking, biking, and transit, in that order, which makes the city work better for all modes of travel, including driving!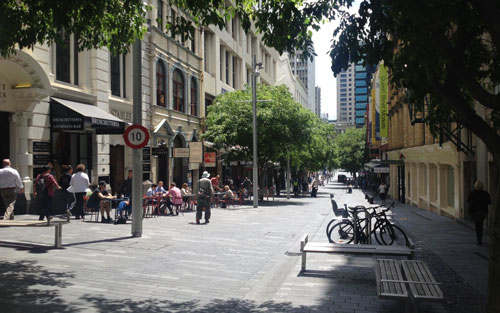 I've suggested walking audits of the pedestrian networks, building out from the most heavily walked streets in the city centre, to areas on the edge of the downtown, and then to the second tier centres, so that investment can be targeted at the most heavily walked areas. This could be in the form of an action plan of pedestrian improvements to be implemented within six months.
3. Activate & Get More Out of Streets!
Many streets in Auckland seem scaled for peak hour traffic (and sometimes apparently well beyond peak traffic, on streets such as Hobson & Nelson Streets). This means that for 20 hours a day (and perhaps 24 hours a day on weekends) they are over-scaled for the volume of traffic using them.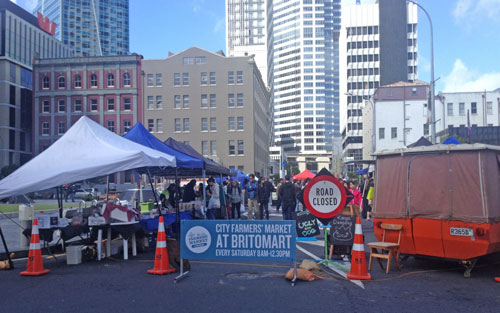 A simple way to strategically make use of such surplus car space for place-making and walkability is to convert it to other uses when not needed for peak car movements. A good example of this is the Saturday farmers market, which takes one city block at Britomart downtown, and positively contributes to the vitality and people-friendliness of the whole Britomart area. Such ideas could and should be used more widely - for example, activating parts of Queen Street on weekends.
New York City, a favourite city of mine, has powerfully shown what you can achieve with simple things like green paint and basic street furniture, in converting dull car-dominated areas into lively people-oriented places. The counter-intuitive irony of such improvements along Broadway in New York, is that they've delivered better outcomes not only for the people using the great new public spaces, but for all road user groups, including car drivers (and only 25% of Manhattan households own a car).
Vancouver has embraced this approach as well, through our "Viva Vancouver" street activation program that I formerly co-chaired. Building on the observation during the 2010 Winter Olympics that streets closed for civic celebration don't translate into the world ending, seasonal and pilot street installations, "parklet" transformations of parking spaces into public places, and other placemaking approaches are becoming common around the city. The streets have become our civic living rooms, our stages for civic life. It's nothing short of transformative.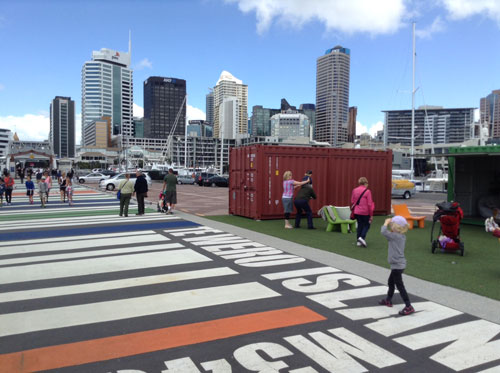 Auckland has shown it already understands this "lighter, quicker, cheaper" approach (as New York's Project for Public Spaces calls it) with many of its simple but powerful pilots and designs on the Auckland waterfront.
Similar treatments could start in streets such as Victoria Street as a precursor for the planned linear park in this street. Some may be put in as pilots, and others as "bridges" to a more permanent redevelopment. If they don't work for whatever reason, they can simply and inexpensively be pulled out. If they succeed, which frankly they usually do, they can be made permanent with more investment in the lasting design, when funding becomes available.
While my six days working in Auckland hardly qualify me as an expert on your city, my suggestions here are somewhat universal in idea (if not in application), and based on proven successes in cities around the world. Efforts to enhance walkability are being prioritised in many global cities as a key way of making them more people-friendly, while positively contributing to both liveability and economic success. My fervent hope is that Auckland will make some quick positive steps in these directions, amongst your many important city-making efforts!
Topics