New Library Making A Splash With Public Art
West Hollywood, California recently opened a new public library, hiring a number of prominent artists like Shepard Fairey to turn it into a local landmark.
Marissa Gluck reports on the library murals, and the collaboration struck between the city and the Museum of Contemporary Art to show work in the library space:
"...there are now three massive murals, by Fairey, Kenny Scharf, and the artist Retna, helping add life to the otherwise blank and unfriendly walls of the library's five-story parking garage: Fairey's massive 'peace elephant,' Retna's signature calligraphy, and Scharf's nod to animated cartoons."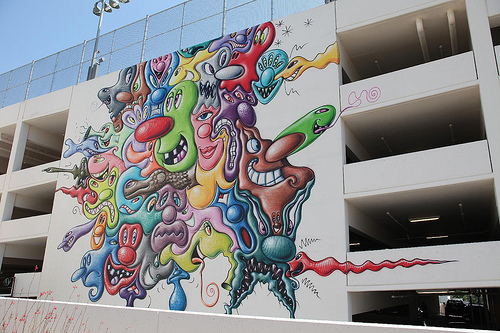 Kenny Scharf mural. PHOTO: City of West Hollywood.