When we think of sprawl, we usually picture suburban life. But inner cities also took on the character of sprawl when freeways came in and were buildings torn down, say Christopher T. McCahill and Norman Garrick.
---
Sprawl is a term most often associated with the far reaches of suburbia and primarily those areas that have been built up over the last 60 years. However, many older American city centers have also been affected by sprawl, progressively reshaped and transformed in an effort to make them more competitive with their burgeoning suburbs. Norman Garrick and myself are part of a research team at the University of Connecticut looking at what happens when automobile-oriented suburban policies and standards are applied on a consistent basis to once dense mixed-use downtowns.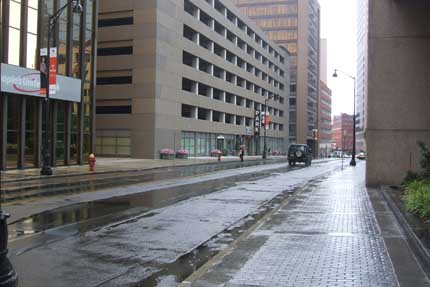 In the case of Hartford, Connecticut, what we found was a fundamental change not just in the look and configuration of the city, but also in how it functions from a transportation point of view. The term sprawl does not really describe the end result of the gradual process of reconfiguration that was observed in Hartford, but the city we ended up with is far from the mixed-use urban place that it was 60 years ago. In fact, our analysis suggests that what has been created in places like downtown Hartford is a hybrid urban form that functions more like suburban sprawl than a traditional urban place. To understand this transformation from traditional urban downtown to an urban-sprawl hybrid, we compiled historical data from Hartford going back to 1960, looking at municipal records, maps of land use, and travel data. The results reveal a city in which policy-makers struggled to develop a clear vision of the city's role within an increasingly suburban region and they illustrate the consequences of the policy path chosen.
For much of its existence until the 1950s, downtown Hartford consisted of a dense network of medium-rise, mixed-use buildings, which supported a vibrant economy built on insurance and precision manufacturing. Beginning in the mid-1950s, flush with federal grants, the city and state razed a large portion of the downtown, replacing the lost streets and buildings with high-rise modernist buildings in superblocks. Concurrently, two major interstate highways were constructed through the heart of downtown. These highways required the razing of even more city blocks and the destruction of notable architectural landmarks including the Victorian masterpiece that was Hartford High School – a loss that the city has never quite forgotten. The highways not only replaced buildings, they also created a divide that is still as harmful today as it was when it was built. As dramatic as these upheavals were, however, they were only the beginning in terms of the change to the urban fabric of the city that was to come. Our analysis of the city maps showed that in 1960 the fabric of the downtown core was still largely intact, with only 15,000 parking spaces; by 2000 that number had grown to 46,000, resulting in a downtown that is now a hollow shell of what it once was.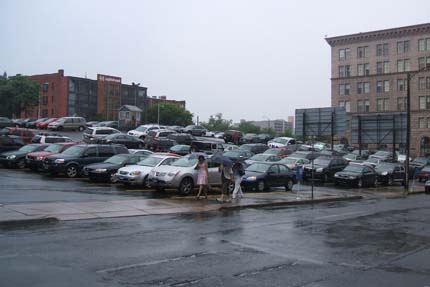 As the construction of parking and the widening of roads continued, policymakers came to mixed conclusions on how they impacted the city. As early as 1962, the City Plan Commission in Hartford acknowledged that, given the city's limited land, "careful, intensive study of the impact of highway takings and parking facilities was needed if these takings are not to result in strangulation of the City." From the vantage point of hindsight, this language now seems remarkable prescient in understanding the danger to the urban form that lay in allocating more and more land to the movement and storage of automobiles. Over the following decades, similar concerns continued to resurface. However, the municipal record shows that the perceived need for parking won out, and buildings were removed for surface parking, and multistory garages were built throughout the downtown.
As a fundamental component of our study, we used historical aerial photographs to map these changes in parking provision over the fifty-year study period. The roughly 46,000 parking spaces in the city today include 21,000 spaces in surface parking lots and another 21,000 in parking garages – in total, 22 percent of the land area downtown is devoted to parking. It is also worth emphasizing that during the period that the amount of parking was increased threefold, the city lost 25 percent of its residents, employment plummeted and the retail trade downtown was all but wiped out.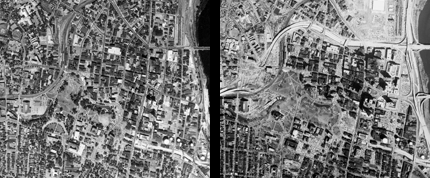 The numbers indicate the extent to which automobiles have become the keystone of the city's transportation system. In fact, the share of commuters living in Hartford who traveled by automobile increased from 53 percent in 1960 to 74 percent in 2000. The parking numbers also show a transformation of the city's built environment from one that had a dense mix of uses to one with more sparsely arranged high-rise buildings complemented and surrounded by parking facilities. This new urban form – one that has strong overtones of the automobile-oriented office parks found throughout the suburbs – seems to have discouraged walking or an active public life on the streets of the city. This is illustrated by the fact that between 1960 and 2000, the share of commuters in Hartford who walk or use a bicycle dropped precipitously from 16 to 6 percent.
In our research, we also looked at Cambridge, Massachusetts, where parking was heavily regulated and the dense, mixed-use urban form in that city had largely survived over the last six decades. In Cambridge, the number of commuters walking or bicycling to work actually increased since the 1960s and is now at more than 25 percent. As we have presented these results around the country, a number of observers have, not surprisingly, questioned the appropriateness of comparing these two cities. One of the objections that they point to is that these cities are so vastly different in terms of economic vitality. But what is often forgotten is that in 1960 the difference between these cities was not so evident. At that time, both cities were relatively prosperous but declining New England cities. The really interesting thing in comparing Cambridge and Hartford is in discovering the extent to which their economic paths have diverged. More work is needed to fully understand the role that policy choices played in the contrasting economic fate of these cities, but it is undeniable that Cambridge chose a path that largely protected its urban fabric and facilitated non-motorized modes of travel.
The lesson that is emerging from this study suggests that when suburban policies are adopted in an urban environment, the resulting urban-sprawl hybrid may fail to reap the benefits of either city or suburb. By trying to accommodate as many automobiles in Hartford as there were residents, commuters, and visitors, the city has been left with a disconnected urban space where land for non-transportation use continues to shrink, as more land must be used each year for storing vehicles.
This is not to say, however, that the city of Hartford has damaged its urban character to a point that is beyond repair. Many of the city's historical buildings and most of its original street network are still intact. There is also evidence that the city's transportation system has remained more diverse and adaptable than in the suburbs. An example of this adaptability is that employers in Hartford that charge for parking have witnessed a significant number of employees shifting to non-automobile travel, though such a shift may not be realistic in more automobile-oriented areas. At the Travelers Companies, Inc. – an insurance company in the downtown where employees are charged between 70 and 125 dollars per month for parking – only 71 percent of employees choose to drive alone to work. In contrast, at enterprises where employee parking is free and ample (including the both the city and the state government offices in Downtown), between 83 and 95 percent drive alone to work.
If the city were to emulate even the modest transportation demand management strategies of the Travelers Company on a citywide basis, our research suggests that they could start to reverse the cycle of decay that has so damaged the urban fabric of the city and its ability to function as a vital urban center. Some of the changes that could help include a rethinking of regulations governing parking accommodations in the city. However, what is first needed is a clear recognition and understanding by policy-makers that a city's greatest advantage lies in embracing rather that negating its urbanity.
Christopher T. McCahill is currently a PhD student in transportation and urban engineering at the University of Connecticut. His research focuses on multi-modal urban transportation systems and the interactions between transportation and land use.
---
Norman Garrick, PhD is an associate professor of civil and environmental engineering at the University of Connecticut. He is also a board member of the Congress for the New Urbanism.
Results from this study will be published in an upcoming Transportation Research Record report and in a Congress for the New Urbanism paper that will be presented at CNU 18 in Atlanta in May. The study is currently being expanded to cover eight other cities around the United States.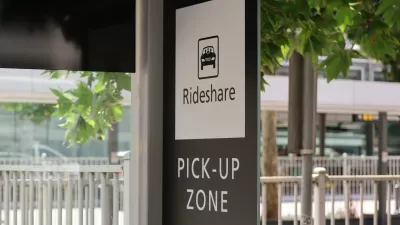 The Slow Death of Ride Sharing
From the beginning, TNCs like Lyft and Uber touted shared rides as their key product. Now, Lyft is ending the practice.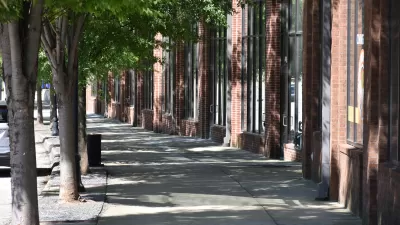 Cool Walkability Planning
Shadeways (covered sidewalks) and pedways (enclosed, climate controlled walkways) can provide comfortable walkability in hot climates. The Cool Walkshed Index can help plan these facilities.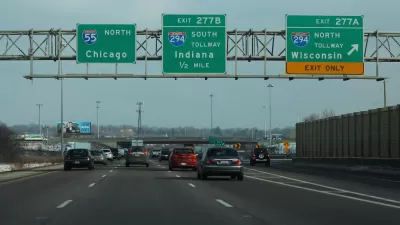 How San Diego Camping Ban Could Impact Neighborhoods
An ordinance supported by the city's mayor would bar people from sleeping on the street near shelters or services, but critics say it will simply push people to other neighborhoods and put them farther away from the supportive services they need.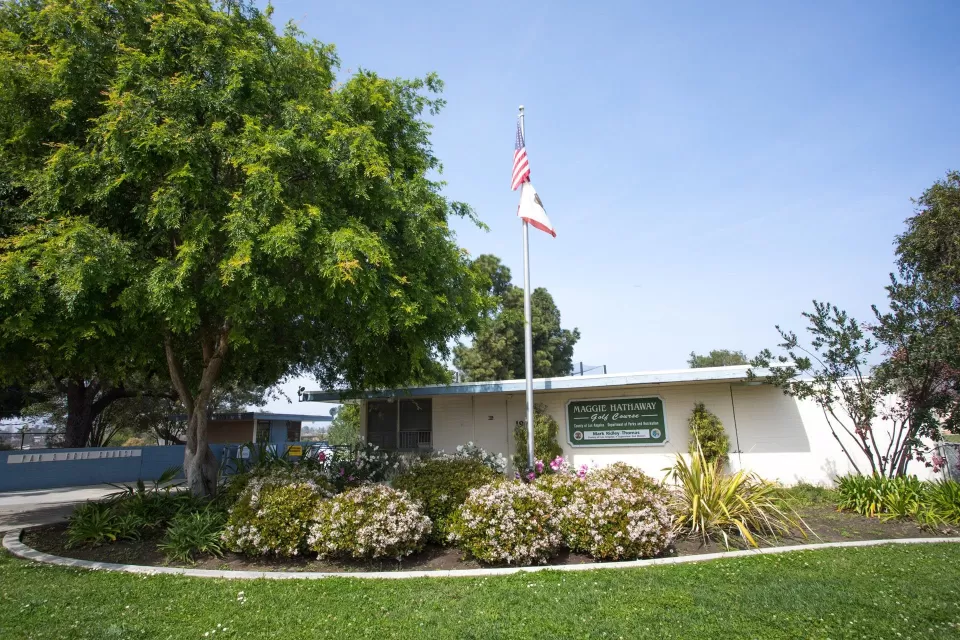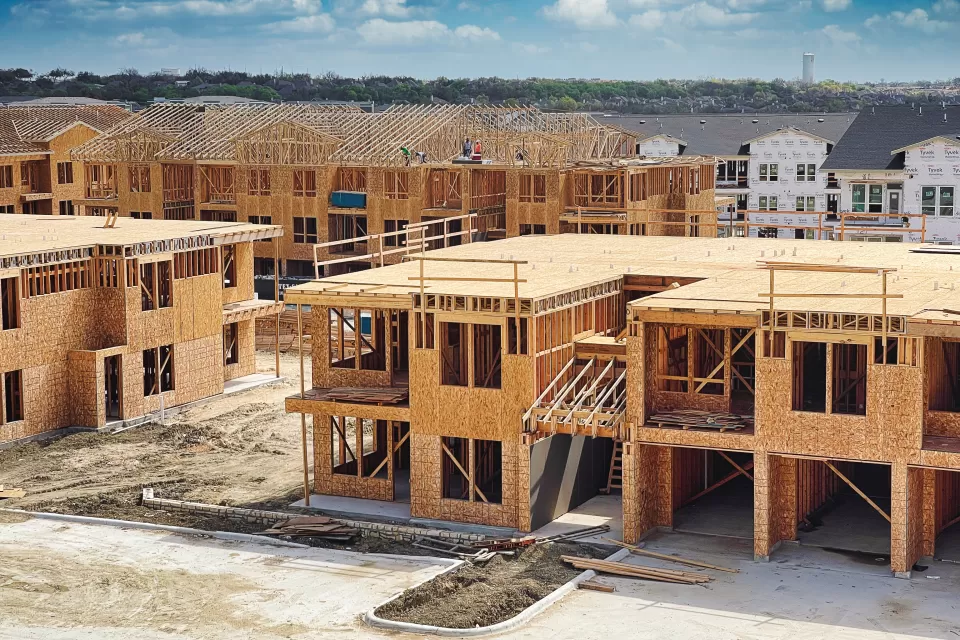 This six-course series explores essential urban design concepts using open source software and equips planners with the tools they need to participate fully in the urban design process.
Learn the tools for implementing Universal Design in planning regulations.
View More