As America's metropolitan areas meld into "megaregions", officials and policymakers will need to figure out how to deal with their shared and growing infrastructure problems. Consider the ball rolling.
---
The growing population of America is creating major metropolitan regions that can span state lines and encompass tens of millions of people. These emerging regions are projected to continue to grow, and as they do, their infrastructure is expected to struggle to keep up with the pace of expansion. In areas like transportation, energy and water, how these regions meet the needs of the near future is a question nobody quite knows how to answer.
What's needed is a "third century vision", says Mark Pisano, West Coast Director of America 2050, an effort to develop a nationwide infrastructure strategy. The group has been holding collaborative conferences with policymakers in each of the 11 "megaregions" forming in the U.S. to try to jumpstart regional thinking and cooperation . Due to their cross-border nature, these megaregions are seen by the group as stepping stones towards development of a national policy on infrastructure.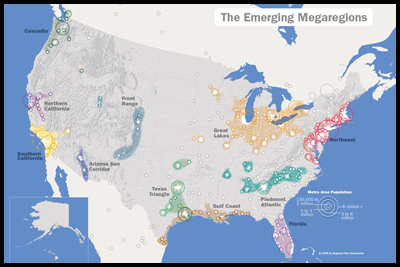 And while crumbling infrastructure is not necessarily a new problem for cities, continued growth will create a greater reliance on these interconnecting systems. Traffic congestion does not stop at city borders, nor do depleted water sources. Energy transmission lines may not be up to the task of fulfilling the needs of larger populations, and may not even reach some newer areas.
"Each of these systems is under environmental stress. Each of these systems is increasingly unreliable as we move to the future," said John Kirlin, Executive Director of the State of California's Delta Vision Foundation at a recent America 2050 forum on devising infrastructure strategies for the "Southwest Megaregion." Kirlin was part of a panel focusing on the three key infrastructure areas: transportation, energy and water.
Beyond the specifics of what's not working in each region, the overarching problem many at the forum saw is the lack of clear national leadership.
"Megaregions don't have representation in congress," argued Polly Trottenberg, executive director of Building America's Future, a bi-partisan coalition of elected officials working for greater investment in infrastructure. Officials need to start recognizing the cross-jurisdictional issues that affect them as a region, according to Trottenberg, who was recently nominated as assistant secretary for policy at the federal Department of Transportation. "We're not institutionally prepared to do it yet," said Kirlin.
Key among these issues is water.
"Water is without a home in the federal policy structure. There's a Department of Transportation, a Department of Energy. Is there a Department of Water? No," said Timothy F. Brick, Chairman of the Metropolitan Water District of Southern California.
Brick argued that many of the decisions about water and water policy happen at a very local level. But many of those local areas receive their water from far-off places, especially in the arid Southwest. With water being transported from Northern to Southern California, oversubscription to supplies from the Colorado River, and plans to build a North-South water pipeline to feed Las Vegas, the problem of water is one already steeped in cross-jurisdictional politics. But generating funding for projects that are built in specific cities or areas but which have cross-state benefits and implications is not an easy prospect.
"We have all kinds of things where if we had the money we'd spend it tomorrow," said Nevada State Assemblyman Tick Segerblom. Convincing Northern Nevada to invest in a water pipeline serving Las Vegas has been a challenge, however, so the money just isn't there.
The idea behind America 2050 is that places within these megaregions already rely on each other, and unless they start acting -- and investing -- like it, the fall of one place could likely result in the fall of many others. As the group pulls together the ideas and advice of officials and policymakers from these 11 megaregions, they hope to plot out a way to argue that case – a move many hope will spark a more unified approach for addressing the infrastructural needs of America.
San Francisco Just Ended Single-Family Zoning
The San Francisco Board of Supervisors voted to Tuesday to eliminate single-family zoning, but pro-development advocates say additional changes are needed to unleash a wave of construction.
This six-course series explores essential urban design concepts using open source software and equips planners with the tools they need to participate fully in the urban design process.
This course aims to provide an introduction into Urban Design Sketching focused on how to hand draw master plans using a mix of colored markers.
View More