Can Retail Be Reinvented?
The recession is bad news for retail developers, and a recent gathering of them was rife with concern about the field and its future. But amid the uncertainty is an air of hope -- and an understanding that to survive, the face of retail development must adapt. 
"Retail real estate has probably lost 25-30% of its value, and 15% of the retail base is in jeopardy of closing," says Lee H. Wagman, CEO of The Martin Group. His dire prediction kicked off the Urban Land Institute's February conference on "Reinventing Retail and Mixed-Use: Surviving, Thriving, and Positioning for the Future."
The economy was on everyone's mind as the mood ranged from bleak to bleaker. Introducing his panel, Wagman said, "We're all 'developers', and I use the quotation marks deliberately, because I suspect none of us are actually developing this year." Indeed, every member of the high-level group confirmed that they wouldn't be breaking any ground in 2009. And as The New York Times reportedduring the 2nd day of the event, sales for the entire retail industry fell nearly 1.8% percent last month alone.
Everyone agreed that the economy is wreaking havoc on retail - on retailers who can't get loans, and on consumers, who have less to spend. But the financial crisis is just one problem among many that have been plaguing retail development. The traditional anchors of shopping centers and malls -- the Macy's, Mervyn's, and Marshall Fields -- have declined in popularity or gone bust. The malls built between the 1960s and the 80s are crumbling and unpopular. Internet sales are taking a sizable bite out of the market that once belonged exclusively to bricks-and-mortar. Today's retail developers have had their eye on smart growth and infill development for some time now as they look for new ways to attract customers.
Placemaking is a key consideration for this crowd. Ken Wong, Vice Chairman at The Related Companies, explained, "We need to get back to basics, real markets and real people, create a sense of place, a sense of belonging." Developers, architects and designers are working to integrate shopping into communities by taking big lots from former malls and replacing them with smaller shops on a street grid.
Entertainment is another driving force. Today, state-of-the-art cinemas and high-end restaurants are picking up the slack where department stores have failed. One site in Dubai combines a mall and an indoor ski slope -- illustrative of a future where shopping and entertainment are one, according to Chris Letourneur of MXD Development Strategists.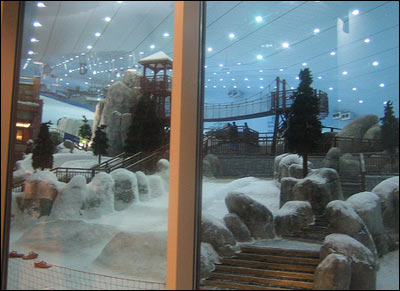 Others believe social media like Twitter and Facebook are creating a new expectation of interactivity from retail. Henry Beers of Communication Arts is working with IBM on a new shopping concept they're calling "Arendi", which promises to involve the physical shopper in an information-rich retail space not unlike surfing the web. "Shopping is social networking," according to Beers.
And finally, developers report that they are looking to fill the gaps in traditional downtown districts. "The suburbanization of America is over," said Morgan Dene Oliver, CEO of OliverMcMillan. "Infill development is going to be an important evolution as our economy changes. And it's going to be good business. When the spigot turns back on, it's going to be funding infill projects."
Mixed-use is a popular watchword for this crowd, but residential is still seen as a sticky wicket. When Costco wants to unload their trucks at 4am, how do you keep the residents living upstairs from complaining about the beep-beep-beep as the trucks back up?
In the end, more than one developer emphasized that they are at the mercy of their tenants. "The retailer is your customer- don't try to force them to do things they wouldn't do," said Randy Brandt of Macerich Properties. "The best retailers are often the most difficult to deal with." Among all of the smart ideas for the future presented here, this may be the most difficult truth of all.
---
Tim Halbur is managing editor of Planetizen.