<p style="margin: 0in 0in 10pt; line-height: normal" class="MsoNormal"> <span style="font-family: 'Arial','sans-serif'"><span style="font-size: small">Transportation and its relationship to the economy have been headline media topics for most of 2008 as we have seen unprecedented swings in fuel prices and travelers responding with declines in vehicle miles of travel (VMT) and unprecedented slowing in new vehicle sales.  Transit and Amtrak have seen noticeable ridership growth and there have been cutbacks in demand for and supply of airline capacity.  What is increasingly looking like an historic recession combined with a plummeting of gas prices late in 2008 has confounded the diagnosis of energy price impacts on travel.  </span></span> </p>
---
Transportation and its relationship to the economy have been headline media topics for most of 2008 as we have seen unprecedented swings in fuel prices and travelers responding with declines in vehicle miles of travel (VMT) and unprecedented slowing in new vehicle sales.  Transit and Amtrak have seen noticeable ridership growth and there have been cutbacks in demand for and supply of airline capacity.  What is increasingly looking like an historic recession combined with a plummeting of gas prices late in 2008 has confounded the diagnosis of energy price impacts on travel. 
Throw in a new administration, pending reauthorization, call for gas tax increases or VMT charges, credit crises, stimulus package discussions, and climate change concerns.  Add a dose of vested interest posturing, partisan bickering and greater uncertainty than has ever been witnessed by most professional planners, and we have nirvana for transportation policy wonks - but a highly uncertain future to plan for.   This and subsequent years will likely provide a rich set of data and experiences to use to more fully understand personal travel trends and the publics' reactions to various conditions.  However, as major decisions are in discussion, it is not too soon to offer a few preliminary observations.  The data in the table below outlines some interesting trends on vehicle travel and vehicle purchases.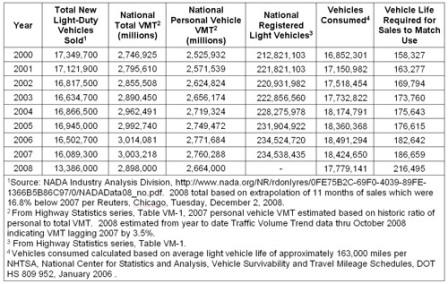 Perhaps most obvious is that the decline in vehicle sales is far more precipitous than the decline in vehicle travel.  However, even new vehicle sales have not declined as precipitously as one might presume if you are a news junkie overwhelmed with the media reports.  The decline, nearly 17% below 2007, outpaces the 3.5% decline in VMT.  While one might think VMT fell precipitously, what I find most startling is that it did not decline much more.  Given the huge run up in fuel prices and the slowdown in the economy and immigration, it is amazing how resilient vehicle travel has been.  Given that traveler responses include making fewer trips, chaining trips, making shorter trips, sharing rides, and shifting to other modes - it is obvious that the individual changes are relatively modest.  Analysis of transit data reveals that transit absorbed a few percent of the reduced VMT but lack of all but anecdotal data make it currently impossible to diagnose the change in vehicle occupancies, trip lengths, trip rates and shifts to walk or bike modes.   
The steeper drop in vehicle purchases also suggests that we are consuming our vehicle fleet significantly faster than we are reinvesting in it.  This means we are either building up a latent demand for new vehicles or will have to maintain vehicles such that their current 163,000 mile average operating life will have to increase.  In fact, the available data suggests we have not been purchasing vehicles as rapidly as we have been consuming them for several years.  Prognostications for continued slow vehicle sales, if realized, could create a significant fleet depreciation.  In as much as we seem to under invest in other infrastructure, perhaps this is to be anticipated in an economic slowdown.  Others have speculated that household travel budgets shifted from new vehicle payments to higher fuel costs.   Based on the data in the table, lower 2008 VMT could account for consuming approximately 645,000 fewer vehicles in 2008 whereas actual sales are running 4.3 million below the levels required to maintain the fleet status (in terms of remaining vehicle life based on 163,000 mile average light vehicle life). 
Since 2000 we have consumed approximately 12.7 million more vehicles than we have purchased if one assumes vehicles have a fixed life of 163,000 miles.  Alternatively the average vehicle will have to last nearly 9,000 miles longer to absorb the deficit in replacement purchases (maybe manufacturers will be offering 200,000 mile warrantees in the future).   As the government moves ahead with an auto manufacturer stimulus package, a couple of observations are in order.  Unless there is a dramatic decline in travel we will ultimately need to replace aging vehicles.  The actual tradeoffs in terms of employment and economic impact between new vehicles sales and more intensive maintenance of the existing fleet might merit closer scrutiny.  However, over the long term it is unlikely that we will have a huge disconnect between auto transportation related employment and auto travel levels.   
And speaking of questions for planners: What is the infrastructure needs impact of slowing VMT?  What is the economic impact of the shifts between modes?  Which modal investments have the most economic stimulus if we account for impacts on other modes?  Which modal investments impact overall productivity?  It might be fun to know more about these issues as we contemplate rather dramatic transportation policy and investment initiatives.   
In this time of dramatic change it is important to carefully watch the various trends, informing policy decisions with factual data and not just perceptions or preferences.   Policy shouldn't overact to short term trends nor should it be oblivious to what may be more fundamental demographic or economic changes that affect travel.   2009 promises to be an interesting year for transportation observers.  Happy New Year. 
---
Inclusive Prosperity: No Displacement Necessary
Recent analysis identifies nearly 200 U.S. neighborhoods that have achieved the highly-sought-after goal of increasing the prosperity of residents without displacing the existing community.
Making Healthy Places
The editors of the book "Making Healthy Places," recently published in a second edition by Island Press, discuss the intersections of public health and planning, including key concepts such as green gentrification, health impact assessments, and AI.
This six-course series explores essential urban design concepts using open source software and equips planners with the tools they need to participate fully in the urban design process.
This course aims to provide an introduction into Urban Design Sketching focused on how to hand draw master plans using a mix of colored markers.
View More