Oil is running out and the climate is changing. How this impacts cities will largely be determined by how the urban design field reacts.
---
By name, the field of urban design is only about 50 years old. It was born at the 1958 "Conference on Urban Design Criticism" held at the University of Pennsylvania, attended by such legendary urban thinkers as Jane Jacobs, Kevin Lynch, Lewis Mumford, Ian McHarg and Louis Khan – each before publishing the seminal works that cemented their places in the history of urban planning practice and theory. They gathered together to discuss a new vision for American cities, one in response to the wide-scale urban renewal focus that was destroying communities across the country. But the field this historic conference created was nothing especially new. Many of the principles it endorsed -- from the importance of public space to the need for equitable housing -- were already being considered by planners, architects and designers, albeit from outside the encompassing shadow of that which we now call urban design.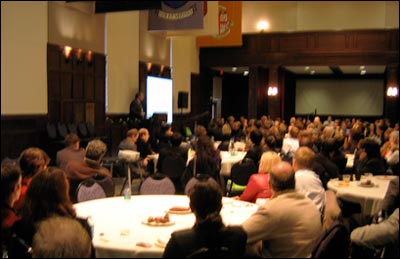 Today, as the world struggles with escalating energy demand and wildly fluctuating prices, increasing temperatures and a changing natural environment, new questions and challenges confront the field. Like the 1958 conference before it, a recent symposium at the University of Pennsylvania sought to define those challenges, and provide a manifesto for approaching them. "Re-Imagining Cities: Urban Design After the Age of Oil" solidly established that designing urban places in an era of climate change will require major ideological and technological shifts.
But as much of the symposium discourse illustrated, these shifts are already occurring. In the same way that urban design existed before it had that name, urban design for a changing climate and post-oil world already exists -- though often only in separate pieces and standalone projects. But now with a manifesto being drafted by hundreds of the field's brightest thinkers, a more formal and directed discussion can begin on unifying the goals of urban design to address these major issues.
The challenges are immense. We've all heard that more than half of the world's population now lives in urban areas, a figure that will rise to three-quarters by 2050. That's almost 7 billion of the future world's 9 billion people living in urban areas. Many in the urbanist camp will herald this demographic shift, as cities are often seen as the most sustainable places to live. But they're going to have to get a lot more sustainable if they want to be able to maintain anything similar to the quality of life they've been able to muster over the last 100, 50, or even 10 years. Cities are not going anywhere, but without some major paradigm shifts, they're going to continue to guzzle resources and sprawl out their ecological footprints until they can no longer sustain the billions who are going to inhabit them.
Planners, architects, designers, landscape architects and policymakers are going to have to get on the same page to make sure these shifts occur. That's pretty easy to say. But it can also be easy to do -- there just needs to be a better understanding of the scope and scale of the problem.
One of the most important themes discussed during the recent symposium was fusion. Planners are going to have to be architects are going to have to be urban designers. To properly address the problems that envelop these distinct fields, practitioners will need to break free from their silos and forge a better understanding of the interrelatedness of these fields. A building is a building, but it is also part of a neighborhood and part of a city and part of an ecosystem. Pulling out to take a holistic view of the building's place on the block, in the city, in the world will provide context for urban designers to think about the impact of their work at each of those scales. None can be ignored.
The fusion of these fields should reflect the global nature of the issue. Climate and natural resources are shared around the world. Addressing climate change at the city-level is great, but if the city next door does nothing, it's harder to achieve those goals. Because the problems are shared, the solutions and the paths to those solutions should also be shared.
Towards that end, a guiding manifesto is in the works. It will surely include many specifics, but the main theme is that urban design must evolve to address climate issues, and soon. This evolution should start with education, where students need to hear up front that unless they understand how their work integrates into the grander urban system, they could be contributing to the environmental problems they've grown up opposing. This perspective should then reveal itself in the work of practitioners to develop a built environment that actively and outspokenly combats the wastefulness and gluttony that has characterized our urban development for decades. And maybe most importantly, this evolution and the paradigm shifts behind it must be clearly communicated to the intended beneficiary: the public. The biggest challenge has always been convincing people to change their lifestyles, but by being better communicators of the direct impacts of today's problems – and by making focused efforts to solve them – the public will surely buy in.
Of course, this is a simplification of the problems we're facing. But by framing complex problems in a simple way, we can build the basic framework to begin addressing them. Nonetheless, the challenges that face the planet are incredible. There is much critical work that needs to be done, quickly, at all stages of the design process -- from education to policy to implementation to communication. The discussion has only started. It must continue.
---
Nate Berg is assistant editor of Planetizen.
He was among a group of bloggers writing about this event as it happened, November 6-8, 2008. Other bloggers include Lloyd Alter (Treehugger), Ryan Avent (Grist), Andrew Blum (Wired), Randy Crane (Urban Planning Research), Elizabeth Evitts Dickinson (Metropolis), and Diana Lind (Next American City). All of the live blogs from the symposium are available on Next American City's website.
The Right to Mobility
As we consider how to decarbonize transportation, preserving mobility, especially for lower- and middle-income people, must be a priority.
Early Sharrow Booster: 'I Was Wrong'
The lane marking was meant to raise awareness and instill shared respect among drivers and cyclists. But their inefficiency has led supporters to denounce sharrows, pushing instead for more robust bike infrastructure that truly protects riders.
Tacoma Developing New Housing Policy
The city's Home in Tacoma plan is designed to address the region's growth and rising housing prices, but faces local backlash over density and affordability concerns.
A New Paradigm for Stormwater Management
Rather than shuttling stormwater away from the city and into the ocean as quickly as possible, Los Angeles is now—slowly—moving toward a 'city-as-sponge' approach that would capture and reclaim more water to recharge crucial reservoirs.
This six-course series explores essential urban design concepts using open source software and equips planners with the tools they need to participate fully in the urban design process.
Learn the tools for implementing Universal Design in planning regulations.
View More