Bandwidth-Oriented Development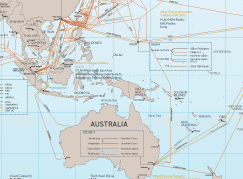 So how do you permit and build a 4,000-mile undersea communication cable system? And why do we care?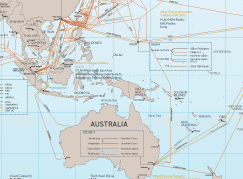 So how do you permit and build a 4,000-mile undersea communication cable system? And why do we care?
I freely admit it. I'm one of the very few people who are fascinated by the arcane intersection of planning, technology and infrastructure -- even when the infrastructure is 5,000 fathoms deep. That's why I couldn't help noticing an
article
on Slashdot about an Australian company that is not only developing a $188M undersea cable linking three countries but also maintaining a
blog
to chronicle its progress.
First, it's important to understand the importance of undersea cables and their place in the pantheon of infrastructure.
It's not uncommon to get excited about infrastructure like rail and airports. But a lot of the reasons why airports excite us are the same reasons why cables should make us downright giddy. Global telecommunications is at the same time both commonplace and revolutionary. The ability to transfer massive amounts of data -- pictures, videos, audio, this blog post -- over thousands of miles of ocean, with no loss of quality, is astounding, as is the extent to which this ability has spread across the globe. It is a vast network, but every bit as fragile as, well, bridges and levees.
As of 2003,
undersea cables
(or submarine cables) link all of the continents in the world except Antarctica. And lest you think this is trivial stuff, consider the late January (2008) accidental cutting of two submarine cables that linked Egypt and India, resulting in a
weeklong disruption
of Internet access for much of the Middle East.

But we haven't covered the globe yet. PIPE Networks is preparing to bridge one extant gap with a 4,288-mile undersea cable linking Sydney, Australia, to the communications hub of Guam with a spur connecting Madang, Papua New Guinea. The company's blog and
online progress report
allows visitors to watch the myriad of tasks involved in permitting, planning, and constructing the cable, called PPC1.
It is easy enough to assume that undersea cables are little more than big wires dropped on to the bottom of the ocean, but that's hardly the case. They are complex, technologically sophisticated feats of engineering. They require planning that is no less precise than that which takes place on land (though a giant squid is probably less fearsome than your average NIMBY). Fortunately, PIPE Networks takes enough pride in its work that the company is willing to educate the general public (or at least the world's planning and technology geeks) via the PPC1 blog.
You can learn about the different types of cable installed in 'benign' and 'aggressive' seabed conditions", or that the Australian Communications and Media Authority (ACMA), has created three national '
Submarine Protection Zones
' where they want terrestrial-bound submarine cables to land (1 zone off Perth in Western Australia and 2 zones off Sydney).
If you broaden your search, you can actually watch a
video
, courtesy of Alcatel, about the process of actually placing undersea cables, or repairing them when they are broken (usually by a ship accidentally dragging its anchor across the cable). Or, if you're into maps, you can see (or even purchase) a worldwide undersea
cable map
.
And to be sure, as we learned from the movie
Chinatown
, no large infrastructure project is complete without its own backroom intrigue. A quote by PIPE's CEO offers a promising glimpse into the intrigue-filled world of undersea cable operations:
"PIPE Networks Managing Director and CEO, Bevan Slattery said this was an exciting new international business for the Company: 'Sure this is a large piece of infrastructure, but it is vital to break the stranglehold the Gang-of-Four have on capacity into Australia. PPC-1 will be the first submarine cable into Australia that will actually provide cost effective high speed connectivity to enable business and consumers to access increasing bandwidth required to engage in the global information revolution.' "

Whatever the benefit to Australia, the effects on the other ends of the cables are bound to be profound as well. And those effects are likely to be most evident in the nearby cities that can easily take advantage of the benefits – such as increased bandwidth – of these new cables.
We've all heard of transit-oriented development (TOD), where development tends to occur around public transport. We're now beginning to see the technology-equivalent: Bandwidth-oriented development. You can be sure that Guam, for one, recognizes this competitive benefit:
"Guam is considered the telecommunications hub of the Western Pacific, all transpacific undersea cables pass through Guam to and from Asia. Guam has a telecommunications infrastructure in place far exceeding most communities with equivalent population. Guam's fixed line, mobile, cable and satellite communications infrastructure support a full range of domestic and international services encompassing voice, video, data, internet and other advance communication services."

 
Topics