Researchers at the University of Iowa analyzed COVID-19 death data in rural and metropolitan counties and found that rural Americans have died at twice the rate as those living in more urbanized counties. The health divide will only widen.
---
When the novel coronavirus first surfaced in the New York metropolitan area in March 2020 and became the global epicenter of the pandemic, cities, particularly dense ones, were linked intrinsically to infections. But health experts knew it was a matter of time before the virus would hit America's rural heartland.
"The virus not only doesn't respect national or state borders, but it also doesn't limit itself to just cities," said Dr. Ashish Jha, then-director of the Harvard Global Health Institute. [Cited from the related post, "Will the Coronavirus Spare Rural America? April 13, 2020].
"Obviously suburbs and rural areas are less dense, and that doesn't mean that the virus isn't coming, it just means it's going to come a little later, and that it's going to spread a bit more slowly."
Referring to the rural areas, that time came last fall, initially in the Midwest, particularly North Dakota, but would eventually overtake most of the nation in both metro and no-nmetro areas during the deadly winter surge.
Rural Policy Research Institute
Keeping track of the rural spread of the virus and comparing it to metropolitan spread has been the Rural Policy Research Institute, located in the College of Public Health at the University of Iowa.
It released its initial white paper on March 26, 2020, a week after California Gov. Gavin Newsom issued the nation's first stay-at-home order to mitigate the spread of the coronavirus. The white paper launched a series of weekly data briefs to track the "nonmetropolitan and metropolitan spread of the disease."
Lauren Weber, the Midwest correspondent for Kaiser Health News, makes the institute's data painfully clear to her readers. She reports on the institute's latest rural data brief [pdf] dated Oct.1.
Rural Americans are dying of covid at more than twice the rate of their urban counterparts — a divide that health experts say is likely to widen as access to medical care shrinks for a population that tends to be older, sicker, heavier, poorer and less vaccinated.

Since the pandemic began, about 1 in 434 rural Americans have died of covid, compared with roughly 1 in 513 urban Americans, the institute's data shows. And though vaccines have reduced overall covid death rates since the winter peak, rural mortality rates are now more than double urban rates — and accelerating quickly.
The analysis compared the Covid incidence rates of non-metropolitan, or rural, areas and metropolitan, or urban, areas, adds Weber.
Part of the problem is that covid incidence rates in September were roughly 54% higher in rural areas than elsewhere, said Fred Ullrich, a University of Iowa College of Public Health research analyst who co-authored the institute's report. He said the analysis compared the rates of nonmetropolitan, or rural, areas and metropolitan, or urban, areas. In 39 states, he added, rural counties had higher rates of covid than their urban counterparts.
COVID Kill Boxes
Subways were initially linked to coronavirus transmission early in the pandemic. In the highly infectious and deadly Delta surge, the spotlight has changed to rural areas.
"There is a national disconnect between perception and reality when it comes to covid in rural America," said Alan Morgan, head of the National Rural Health Association. "We've turned many rural communities into kill boxes. And there's no movement towards addressing what we're seeing in many of these communities, either among the public or among governing officials."
Rural/Urban Vaccination Rates
Weber also reports on the analysis of vaccination rates in metro and non-metro counties by The Daily Yonder, a digital news website published by the nonprofit, nonpartisan Center for Rural Strategies. Lower vaccination rates in rural counties make residents vulnerable to worse health outcomes than their urban counterparts and likely increases transmission rates.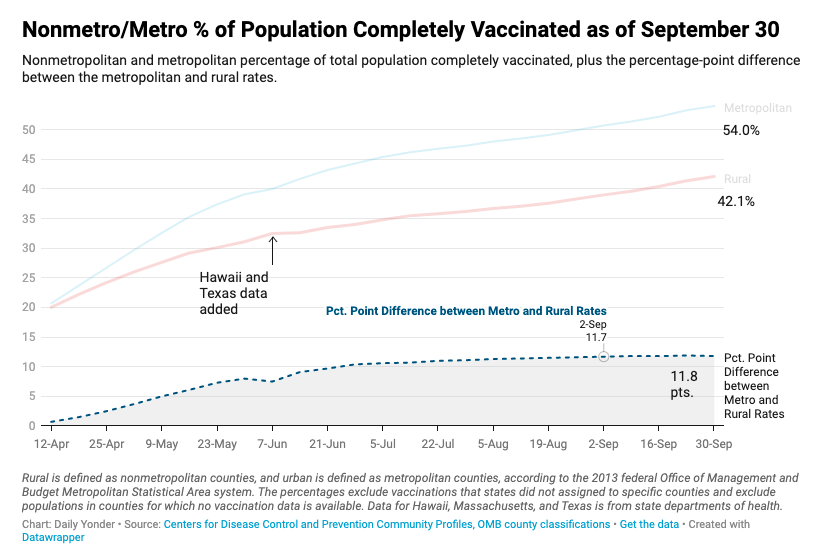 "As of September 30, 42.1% of the nation's rural population was fully vaccinated," write Tim Murphy and Tim Marema in their analysis dated October 4, 2021.
In metropolitan counties, 54.0% of the population is fully vaccinated.  The gap between the rural and metropolitan vaccination rates remained steady at about 11.8 percentage points.
In the table titled, "Vaccination Rates as of September 30," all but four states (Massachusetts, Arizona, New Hampshire, and Alaska) among the 47 states with metropolitan and non-metropolitan counties had higher percentages of fully vaccinated residents in metropolitan counties.
Weber reports on the other factors affecting access to health care in rural areas. 
[S]ince 2005, 181 rural hospitals have closed. A 2020 Kaiser Health News analysis found that more than half of U.S. counties, many of them largely rural, don't have a hospital with intensive care unit beds.
Another factor is nursing shortages which ironically may be exacerbated by the Biden administration's new vaccine mandates that apply to health care facilities that receive Medicare and Medicaid reimbursement. Weber cites one rural hospital in northeasternTexas where the vaccination level among staff is 50%, though it's 13 points higher than the county.
Hat tip to Stephanie Soucheray of CIDRAP News who also reported on the Rural Policy Research Institute's analysis.
Related in Planetizen:
FULL STORY: Covid Is Killing Rural Americans at Twice the Rate of Urbanites
The Right to Mobility
As we consider how to decarbonize transportation, preserving mobility, especially for lower- and middle-income people, must be a priority.
Where Pandemic Bike Improvements Won Out
While some cities are reverting back to pre-pandemic street configurations, others are taking advantage of the momentum for bike and pedestrian infrastructure to make pandemic-era projects permanent.
This six-course series explores essential urban design concepts using open source software and equips planners with the tools they need to participate fully in the urban design process.
Learn the tools for implementing Universal Design in planning regulations.
View More