During the second presidential debate Democratic candidate Hillary Clinton claimed that the "U.S. was energy independent." Some in the media, including Politifact, were quick to report that claim as "false." And the news just got worse.
---
"The question came from town hall audience member [and media sensation] Ken Bone," reports energy historian Ellen R. Wald for Forbes on the Oct. 9 debate held at Washington University in St. Louis. "He asked the candidates to discuss how their policies would strive to meet U.S. energy demands while simultaneously protecting the environment and preventing job loss in the fossil fuel industry."
Hillary Clinton's answer revealed serious misconceptions about so called American energy independence whereas Donald Trump's answer showed a more astute understanding of the U.S. energy situation.

Hillary Clinton said, "You know that we are now for the first time energy independent. We are not dependent on the Middle East, but the Middle East controls a lot of prices." [See CNBC video covering energy policy and jobs]. 

She is wrong about U.S. energy independence but right about oil prices.
"The United States imported 9.4 million barrels [per day, or bpd] of crude and petroleum products in 2015, and imports are on the rise this year, according to U.S. Energy Information Administration [EIA] data," writes Tom DiChristopher for CNBC. "Of the 2015 total, 2.9 million [bpd] came from OPEC countries, and 1.5 million [bpd] came from Persian Gulf countries."
[By comparison, China, the next largest oil-consuming nation, with 4.26 times as many people as the U.S., consumed 10.86 million bpd in 2015.] 
New EIA report reveals backslide in move toward energy independence
"During the first half of the year, the U.S. Energy Information Administration, part of the Energy Department, said total crude oil imports increased 7 percent year-on-year," reports Daniel J. Graeber for United Press International (UPI) on the data posted Oct. 21. "The increase marks a first since 2010, when imports started to decline in response to rising domestic output."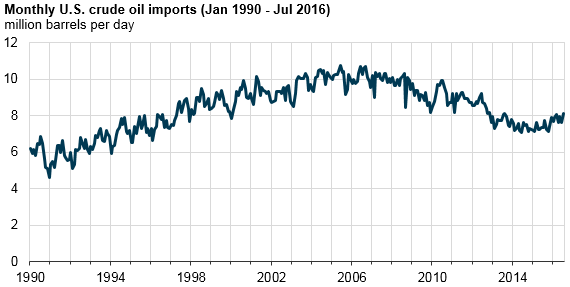 Source: U.S. Energy Information Administration, Petroleum Supply Monthly 
One reason political leaders have made energy independence a priority to be less reliant on unstable Mideast oil sources, as well as other OPEC nations that can control prices, as Clinton correctly claimed on Oct. 9. But the news is even worse in that regard, as the largest increase came from those sources.
"[I]mports from members of the Organization of Petroleum Exporting Countries increased by 504,000 barrels per day, making up the bulk of the new oil entering the U.S. economy," adds Graeber.
The reason for the increased imports is that a narrowing in the "price differences between U.S. crudes and international benchmarks provided an incentive for increased imports by refiners in areas where imported crudes now had a delivered cost advantage relative to similar domestic crudes," according to the EIA.
In addition, domestic production declined "by about 500,000 barrels per day on average between the first half of last year and the first half of this year," adds Graeber. "Under pressure from lower crude oil prices and weaker demand, U.S. crude oil production is expected to decline through the end of the decade."
In other words, Saudi Arabia's decision to let oil prices slide (at a November 2014 OPEC meeting) in order to maintain market share is working.
PolitiFact 
The Pulitzer Prize-winning website was kinder toward Clinton than Forbes' Wald. While rating Clinton's claim as 'false', it included an EIA reference that showed that when considering all energy sources, Clinton's claim might be achieved, but not during her term should she be elected.
"Projections in EIA's Annual Energy Outlook 2015 (AEO2015), released April 14, [2015] show the potential to eliminate net U.S. energy imports sometime between 2020 and 2030," according to an EIA report dated April 15, 2015.
Energy independence will be achieved in one form of energy in 2017
Had Clinton just referred to natural gas, her claim would have been correct. Furthermore, thanks to Liquefied Natural Gas, exports will increase greatly.
"Sometime in 2017, for the first time in 60 years, the U.S. will likely sell more natural gas to the world than it buys," reports Naureen Malik for Bloomberg Businessweek. "Next year, capacity to export liquefied natural gas from the lower 48 states, chilled to –260F so it can be shipped by tanker, will more than double, to 3.2 billion cubic feet per day."
Hat tip to Alan Drake.
FULL STORY: Getting it Right on U.S Energy Independence
The Right to Mobility
As we consider how to decarbonize transportation, preserving mobility, especially for lower- and middle-income people, must be a priority.
Early Sharrow Booster: 'I Was Wrong'
The lane marking was meant to raise awareness and instill shared respect among drivers and cyclists. But their inefficiency has led supporters to denounce sharrows, pushing instead for more robust bike infrastructure that truly protects riders.
U.S. Transit Agencies Face a Financial Crisis
Transit providers around the country are scrambling to find new sources of revenue to replace lagging ridership and reorienting their systems to a future less dependent on daily commuters.
This six-course series explores essential urban design concepts using open source software and equips planners with the tools they need to participate fully in the urban design process.
Learn the tools for implementing Universal Design in planning regulations.
View More