Bay Area City Rejects Crude-by-Rail Terminal, Could Set Precedent
Crude-by-rail opponents are hoping that Benicia's rejection of a proposed rail terminal for a Valero refinery will set a precedent: it was enabled by a U.S. Surface Transportation Board decision allowing the city to have the final word.
Planetizen has covered many oil train explosions, from the horrific conflagration in July 2013 of a section of downtown Lac Mégantic, Quebec that killed 47 people, to last June's fiery derailment in the Columbia River Gorge near Mosier, Oregon. Regardless of how deadly the explosion, cities have been restricted in their ability to regulate the shipment of crude-by-rail because it falls under federal regulation. 
Benicia, Calif., a city of 27,000 people in Solano County, 36 miles northeast of San Francisco, is highly financially dependent on a Valero refinery, which made the city council's unanimous vote on Sept. 20 to oppose Valero's application for a rail terminal to receive Bakken crude from North Dakota all the more significant.
"The vote directly hit the city's pocketbook," reports Kurtis Alexander for the San Francisco Chronicle. 
Nearly 25 percent of Benicia's budget comes from taxes on the oil giant, and the city coffers stood to grow with more crude. The refinery employs about 500 people, according to city records.
The letters that the U.S. Surface Transportation Board received from Union Pacific [PDF] and Canadian National [PDF] railroads were not enough to sway the independent federal agency that "Valero, based in Texas, was not a railroad company and that the proposed rail terminal fell under city jurisdiction," wrote Alexander on the STB decision.
Companies like Valero have contended that railroad issues are matter of interstate commerce — and hence are the purview of the federal government.
Project opponents hail STB decision
Jackie Prange, a staff attorney for the Natural Resources Defense Council, said this week's finding by the Surface Transportation Board gives cities the confidence to reject the proposed oil trains, if they wish to do so.

"It reaffirms the power of local government to protect their citizens from these dangerous projects," she said.
"The STB's decision has impacts far beyond the borders of Benicia, or even California," wrote Ethan Buckner, extreme oil campaigner for the group Stand. "It means that refinery communities across the US considering whether or not to grant oil train permits to Big Oil will have the freedom to say NO."
Crude-by-Rail on the decline
The decision comes as shipments of crude-by-rail have been declining after years of skyrocketing shipments due to fracking and lack of pipelines. The decline follows plummeting oil prices resulting from a November 2014 OPEC meeting, making domestic oil less competitive with low-priced imported oil for East and West Coast refineries.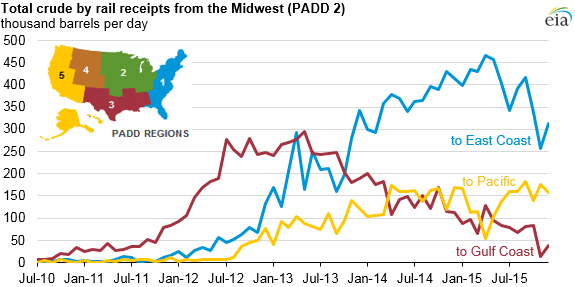 "Since October 2015, crude-by-rail volumes have declined as production has slowed, as crude oil price spreads have narrowed, and as more pipelines have come online," according to EIA.
However, oil consumption is not declining in California, nor the U.S., notwithstanding such a claim made by one of the project opponents in the article. 
Benicia's main concern: public safety
[T]he city's environmental study showed that oil trains presented a hazard. The document concluded that an accident was possible on the nearly 70 miles of track between Roseville (Placer County) and the refinery, though the likelihood was only one event every 111 years.
As hazardous as shipping crude-by-rail may be, restricting shipments (as opposed to adding tighter regulations) only ensures more imports from abroad for refineries with access to ports, which has an economic impact on energy-dependent states experiencing higher unemployment.
Ironically, the same day that the Chronicle published Alexander's article on the Benicia decision to deny the Valero refinery access to Bakken crude-by-rail, it also reported that "U.S. Coast Guard and cleanup crews from multiple state agencies worked Wednesday to contain two sprawling oil slicks in San Pablo Bay that are believed to be crude oil spilled by a tanker berthed at the Phillips 66 refinery in Rodeo, officials said."
The two refineries are within 13 miles of each other. 
Look for a decision from the San Luis Obispo, Calif. planning commission on Oct. 6 regarding a similar rail terminal application for the Phillips 66 Santa Maria Refinery, reports KCBX on Sept. 22.
Related Planetizen coverage:
Published on Wednesday, September 21, 2016
in