What Is Popular Planning? 13 Years of Planetizen
A chronicle of the evolution of popular planning, drawn from data collected from the long history of Planetizen as a forum for discussion and reporting.
The rise of popular planning media over the last decade is truly striking. Some of the largest news outlets in the world now have dedicated city-oriented websites that cover all manner of urban geekdom from transportation to sustainability, community development, open data, and beyond. One site, Planetizen has been preaching the gospel of cities long before the others, going all the way back to August 1st, 2000
The purpose of this article is to chronicle the evolution of popular planning, and like cities themselves, it's likely that the most interesting trends are those that emerged over time.
To do so, my colleague Karl Daily and I scraped more than 48,000 articles posted to Planetizen from August of 2000 until the end of 2013 and put them into a database, which I then analyzed using R and ArcGIS.
My initial hypothesis was that revolutionary new ideas like bike share, open data and green roofs had, over the last decade, usurped more traditional themes like community/economic development, poverty alleviation, and suburbanization.
The analysis below proved these preconceived notions only partially true and that the latter set of issues is still very much at the fore of planning. The trove of Planetizen article data collected for this analysis helps us understand which themes are gaining in popularity and which have waned over the last 13 years.
So first, a bit about how the data were collected. Check out the url of this article—http://www.planetizen.com/node/67457. Each article posted to Planetizen is catalogued by a node number (some nodes don't have articles), which we used to capture article-related data by way of a "bot" that went from node to node and page to page, downloading the date, url, title, author and a set of keywords that Planetizen uses to categorize its many articles.
Each page follows a common template, which makes the scraping process relatively straightforward, but because this template was not designed explicitly for scraping, the data we collected were a bit messy.
Figure 1 was created by compiling a giant frequency table of individual words used in Planetizen titles. After removing common words ("the," "and," etc.), this 'word cloud' (think about it as a visual histogram) shows the top 100 terms that appeared titles over the last 13 years.
Although the title words are useful, the article keywords have been standardized and assigned to articles going back all the way to the beginning of the site. This allows for the analysis of trends over time.
In total, there were 20,020 unique keywords, but 92.4% of these were used just ten times or less.
While most keywords are fairly standard, some were weirder than others. Like 'rails-to-trails' or 'farm-to-table.' My favorite was 'Toilet-to-tap.' The most frequent keyword occurrence was 'United States,' used in 25,732 articles, followed by 'California,' used in 14,171 articles.
This heavy California presence at Planetizen might stem from the fact that California is the center of so many crucial planning-related debates, but it might also simply represent the fact that Planetizen is headquartered in Los Angeles.
It is worth noting that the site's content is driven by range of authors and contributors (708 to be exact), which means, as illustrated below, a diversity of cities and places are represented. To get a better sense of these spatial patterns, Figure 2 maps the frequency of state keywords.

There's an interesting mix of places represented here, from states with larger cities traditionally focused on community and economic development initiatives, to those like Florida, Texas and others who regularly wrestle with land use and environmental concerns.
There are keywords at even higher spatial resolutions as well. Figure 3 is a histogram of the top non-state and non-county geographic keywords.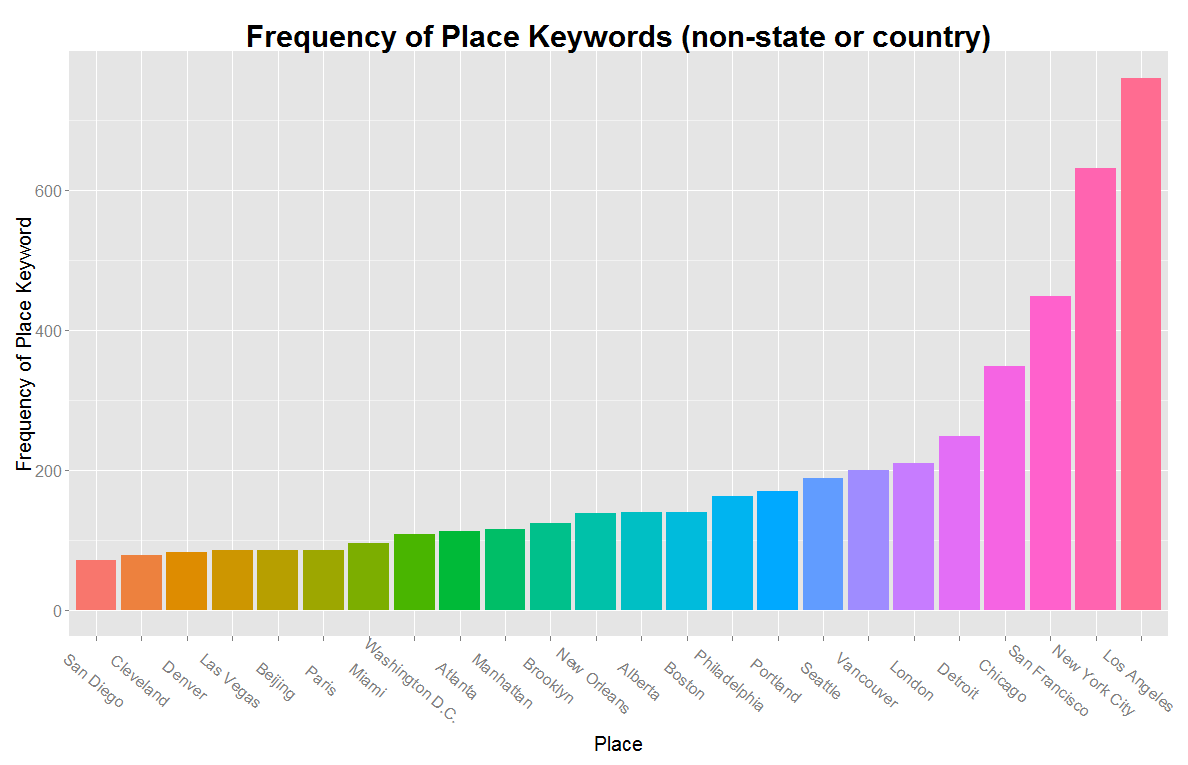 Perhaps not surprisingly, cited in 800 articles, Los Angeles takes the top spot. What is surprising is that although this list is loosely correlated with population, there are notable American big-city exclusions, including Houston, Phoenix and San Antonio.
Could it be that although these cities have been successful in luring residents, they've been less successful in either adopting or publicizing the kinds of interventions that typically garner the attention of the popular planning community?
Let me now turn to some of the emerging trends in popular planning. As I mentioned at the onset, the real power of these data is that they make it possible to track the change in keyword usage over time.
Figure 4 plots the top 20 non-geographic article keywords as a percentage of total articles in a given year. The sum of these 20 keywords comprises 26.5% of the total keywords used in all Planetizen articles between 2000 and 2013.
Initially these data were summarized at monthly intervals, but at such a high temporal resolution, there were too many peaks and troughs to get a sense of change over time, so the data is presented on an annual basis.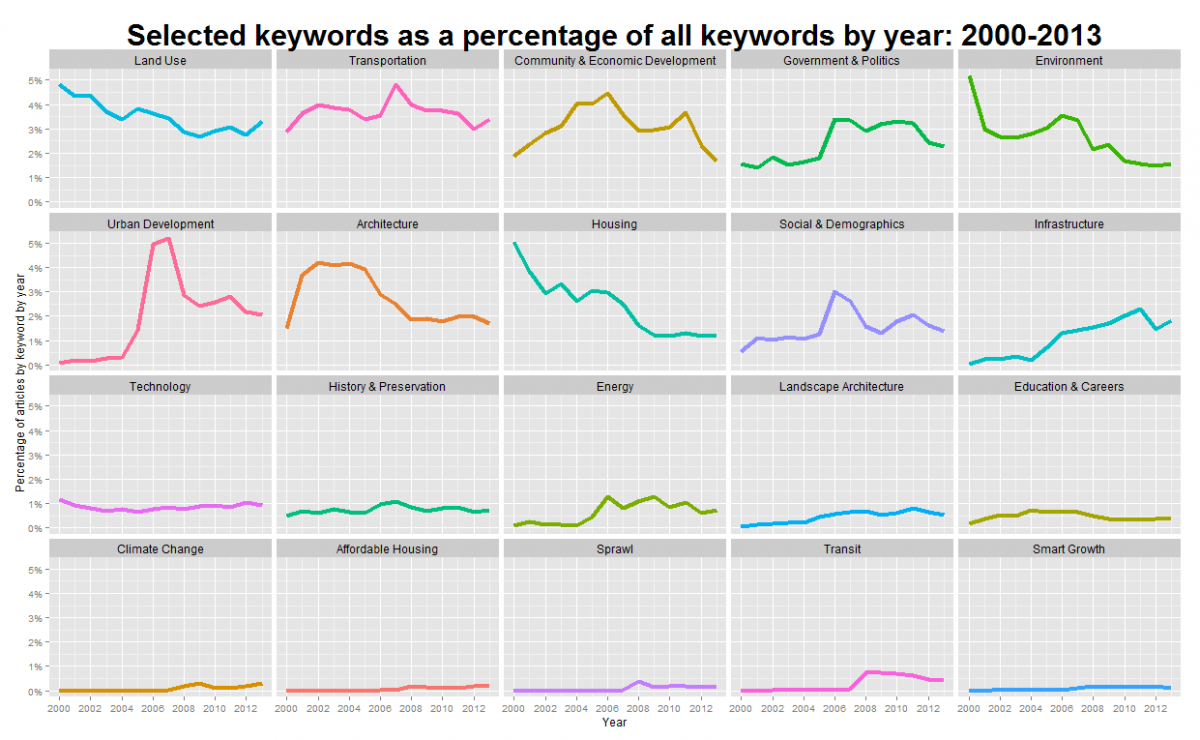 Although 'Land Use' was initially the most frequently used keyword, its influence waned significantly. This trend may be attributable to a change in etymology. It's possible that 'Land Use' is being replaced in the planning lexicon by more specific keywords like 'Smart Growth,' 'Sprawl' and 'Urban Development.'
One great surprise was the seemingly momentous decline of 'Environment,' which went from appearing in more than 5% of articles in 2000 to roughly 1.5% by the end of 2013. Although the term was still Planetizen's fifth most commonly used keyword overall, its descent is puzzling given the emergence of themes like climate change, resilience and energy. It is indeed the case that 'Climate Change' and 'Energy' both saw an uptick over the study period.
'Housing' also took a tumble, but 'Affordable Housing,' 'Urban Development' and the like too may have replaced it. 'Suburbs' (not pictured) was actually the 21st most prevalent non-geographic keyword and saw a steep increase throughout the study period.
Perhaps more interesting than themes that declined are those that proliferated over the last 13 years. It's probably no surprise that 'Transit' saw increased prevalence, with a noticeable jump in 2007. In fact, 2007 appears to be a watershed moment for transit and transportation related themes in Planetizen articles.
The below graph shows the emergence of several transit-related keywords. Amidst a torrent of new technologies reshaping the built environment, it's remarkable that something so conventional as the bicycle can have such a transformational effect.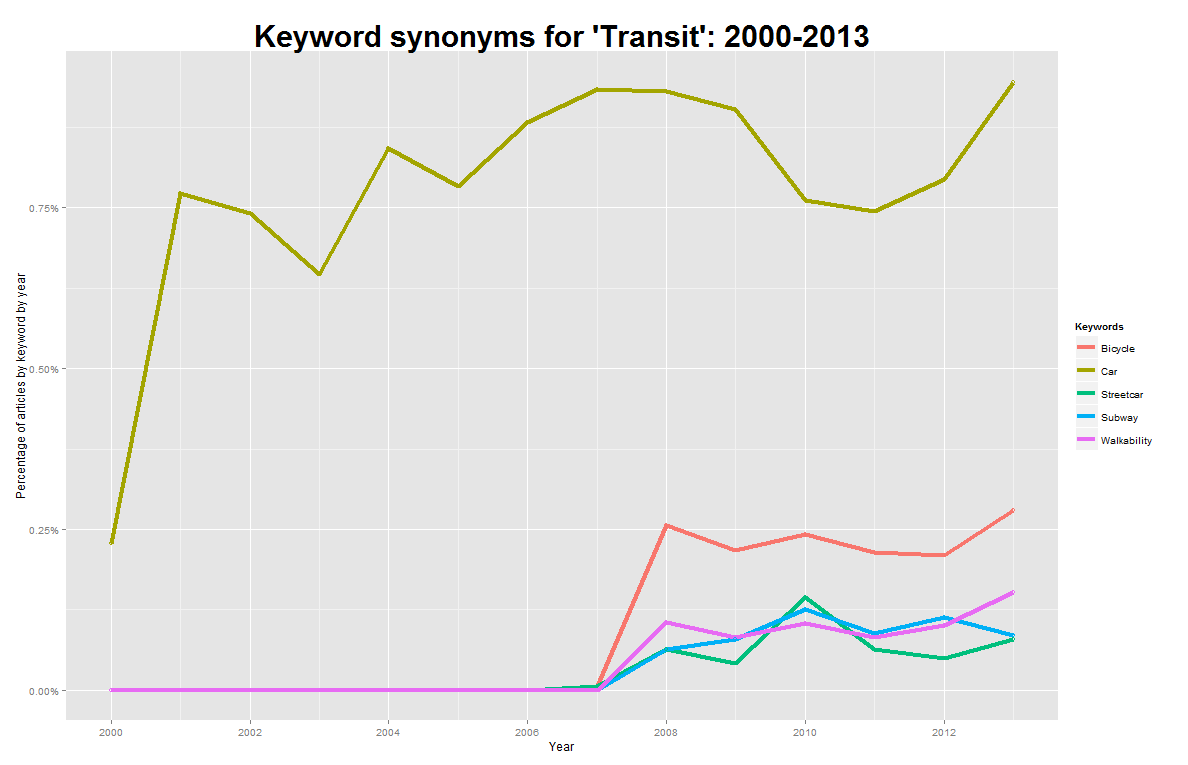 Finally, although my initial hypothesis was that more traditional governance and policy-related themes had become less important, I was encouraged to discover that 'Government & Politics' and 'Social & Demographics' both trended upward over the course of the study period.
To me this represents an understanding that overcoming some of our formidable challenges requires more than just innovation—it requires the knowledge and consensus of people with a shared interest in the future vitality of cities.
The role of governance is paramount in academia—the domain of planning I am most familiar with. Interestingly, a similar meta-analysis of planning-related trends was recently published on Planetizen by Professor Tom Sanchez at Virginia Tech. I thought his findings might complement those discussed herein—thus the final piece of this analysis compares current trends in popular and scholarly planning.
The data used in Tom's analysis came from a guide to planning education published in 2011 by the Association of Collegiate Schools of Planning. To deal with the same issues of keyword ambiguity I wrestled with in my analysis, Tom employs a wonderfully creative network typology for understanding that say, 'Economic Development' is synonymous with 'Economic Development Planning.'
From this, Tom tags the top 20 "core topics" reportedly focused on by planning professors (Table 1 in his analysis). To get a sense of the comparative importance of certain keywords across the academic and popular planning domains, Figure 6compares the relative prevalence of selected core topics to the relative prevalence of Planetizen keywords.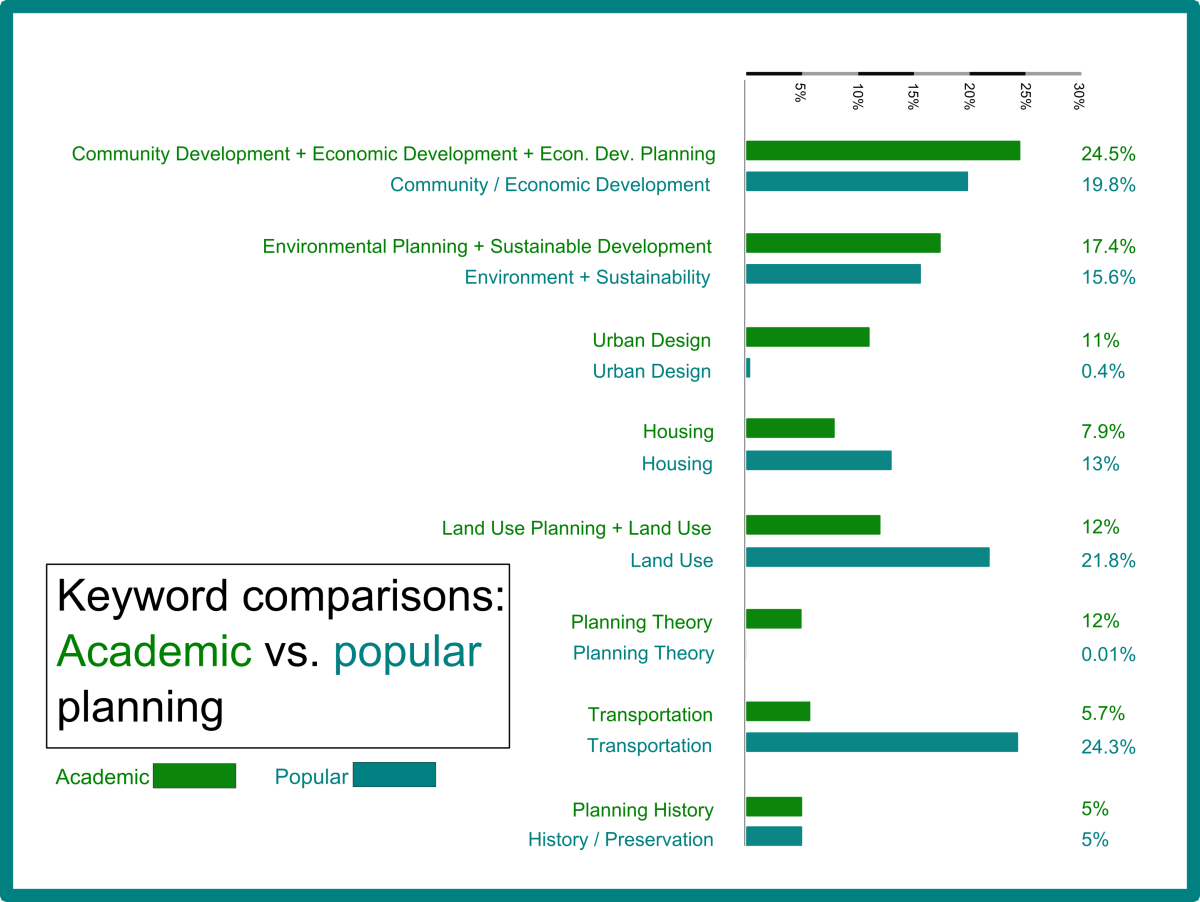 Similar core topics were grouped together, and methods-related core topics like GIS, etc. were removed because so few Planetizen articles deal explicitly with quantitative techniques.
Given the eight themes that remain, some interesting patterns emerge. It's clear that Community/Economic Development and Environmental issues are important to scholarly and popular planning audiences alike.
At the same time however, urban design and planning theory appear to be disproportionally favored by academics. Conversely, it appears as though popular planning authors focus much more on issues of transportation than their academic counterparts.
Transportation is an important theme throughout this analysis, leading back to my initial hypothesis that more 'traditional' planning themes may be losing ground in favor of others. Transportation might be good example of this.
Transportation is related to zoning, density, sprawl, climate change, infrastructure and beyond—and although it's very much a thriving discipline in academia, it may be that the scientific nature of academic discourse prevents scholars from dreaming aloud about its transformative potential.
That is unlike the throngs of bloggers, journalists and citizen planners for whom websites like Planetizen offer a forum to reimagine the city of the future. Thirteen years of Planetizen has brought nearly 50,000 articles about hundreds of places worldwide. The site is a gazetteer in this respect—a living history, updated daily, during a time of immense transformation.
This analysis can offer only a brief synopsis, but it does portray the great diversity that characterizes the field of planning. Thirteen years ago, could we have imagined that keywords like 'Bike Lanes,' 'Green Building' and 'Bus-Rapid Transit' would be the buzz words of contemporary urbanism?
What keywords will come to define the next 13 years of planning?
Ken Steif is a Doctoral Candidate in the Graduate Group of the City & Regional Planning Program at the University of Pennsylvania. You can follow him on Twitter @KenSteif.