Two events held in the same week in the historic heart of Paris show just how serious the city is about its contemporary urban landscape.
---
By happy coincidence, a recent trip of mine to Paris corresponded with two public events held in celebration of quirky changes to the city's beautiful (yet sometimes dreadfully staid) urban landscape. These events put on vivid display the love Parisians have for landscape of all kinds. They also show how major cities are investing in dynamic open space in their dense cores to attract the hordes of urban-loving, money-spending tourists with increasingly discriminating tastes and criteria for what makes cities worth visiting.
The first of these events was the grand opening of a major – and majorly expensive – contemporary redo of the Place de la République, one of Paris's most famous open spaces on the northern edge of the Marais district. The space has a long history dating back to its 14th century role as a bastion of the gate in the wall that once surrounded the city. Its current form grew out of the urban design plan drawn up in the mid-1800s by Baron Georges-Eugène Haussmann to address French Republic president Napoleon III's mandate to modernize a Paris that had been clearly surpassed by the already industrialized London.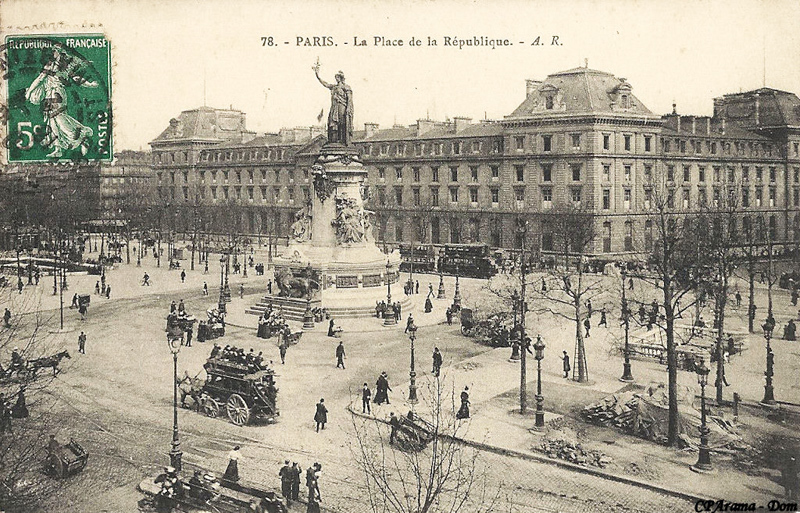 Haussmann's plan led to new parks, a vastly improved sanitation system, rebuilt neighborhoods and, most dramatically, a series of wide boulevards designed to impose a sense of structure and gridded order to what had been a tangled mess of Medieval streets – the kind we all find so charming but are impractical for effectively handling modern urban life. At the intersection of these new great streets, squares such as République were formed. Over time, as cars took over Paris like they did most cities, the space devolved into a disorganized, free-for-all roundabout that limited pedestrians to the perimeter edges and two, basically useless, fragments of open space floating in a sea of asphalt and heavy traffic.
When the soon to be outgoing mayor Bertrand Delanoë was running for reelection in 2008, he made renovating the space and giving it back to the people one of his campaign promises. Fulfilling that promise ultimately cost nearly 30 million US dollars. "My predecessors handed the square over to the car," he said at the opening. "We wanted to put beauty, the values of the République, and a joie de vivre at the heart of this transformation." From an urban place-making perspective, the new square is a smashing, multi-modal success. What was previously a car-dominated environment has been transformed into a pedestrian wonderland, with casual strollers and harried commuters intermingling in precision with bikes, scooters, skateboards and public transit. It is what we all aspire to create in dense urban areas.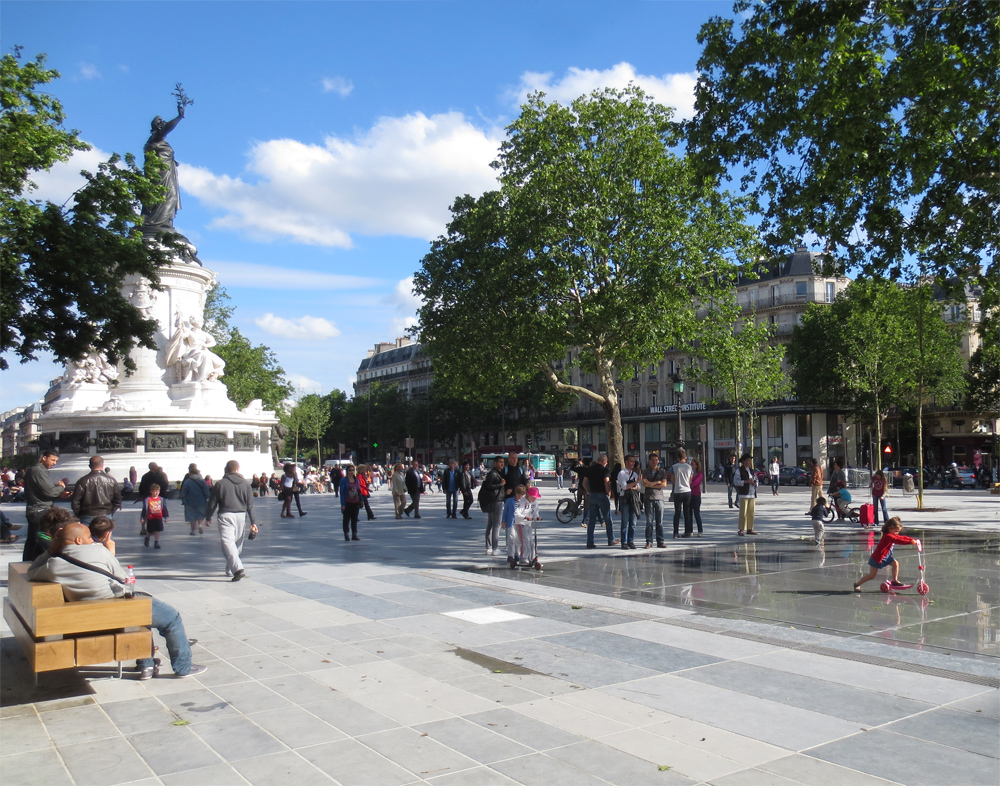 From a design point of view, however, the space falls a little flat. There is such a banal familiarity to the selection and use of furniture and materials that it will likely follow the lead of too many designed public spaces – and buildings, for the matter – and end up being merely a reflection of its time rather than conveying a sense of timelessness such as the space deserves. It, by no means, needs to be historicist; there is plenty of history in Paris already.  But if it is going to reflect contemporary design ideals, it should at least be somewhat original and take a risk or two. Admittedly, such critique is nitpicking considering that the pluses way outweigh the minuses, but it is legitimate to expect equally high quality in the details as in the planning.
The stakes aren't nearly as high with the other project that opened while I was there – a funky pop-up park set up in front of city hall in the typically stark Place de l'Hôtel de Ville. The goal of the park is to promote the importance of green open spaces in cities, and even though it will only be up for a month, the event has the potential to influence a lot of people who pass through the popular space.  
Called La Nouveaux Paysages de la Metropole (which I translate as "New Urban Landscapes"), the event presents the value of incorporating landscape of all kinds into cities – parks, gardens, urban agriculture, and other green spaces – as well as tout the major landscapes that have been constructed in and around Paris over the past few years, and provide unique, and perhaps unexpected, opportunities for using urban open space.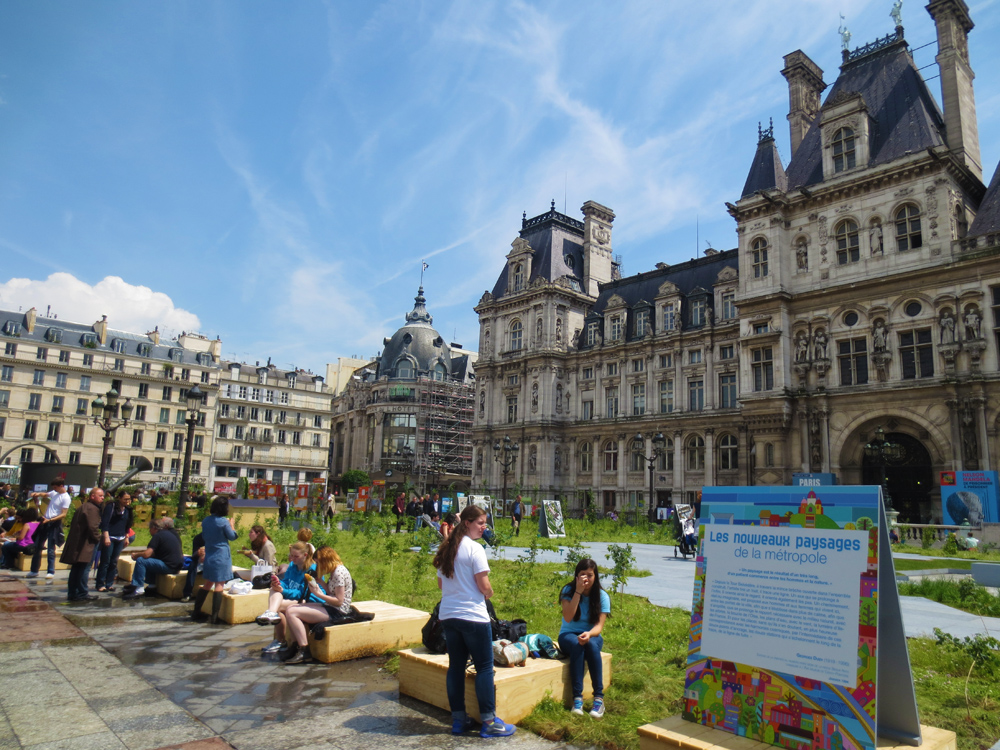 The project's genius is that it is so unexpected. The space is filled with Day-Glo interpretative signage, contemporary seating options, and a swath of planting so informal that it is a bit shocking (and totally refreshing!) in contrast to the oppressively conservative buildings and hardscape. Whereas you might expect expertly clipped hedges, crisp parterres or rows of pollarded trees in the French style, the palette of scrubby grasses, weeds and seedling trees spread across the plaza, creates an early stage successional forest that challenges people to rethink what urban landscape means…and should look like.
Even though it conveys a fun and whimsical spirit, the ephemeral garden takes very seriously its broader message that the urban landscape is not just about decoration. It succeeds as a platform for showing the masses how landscape is a critical element for both the human and ecological health of our cities. Even those as densely built as Paris can take advantage of any number of ways to maximize and celebrate whatever open space they have, to the benefit of all.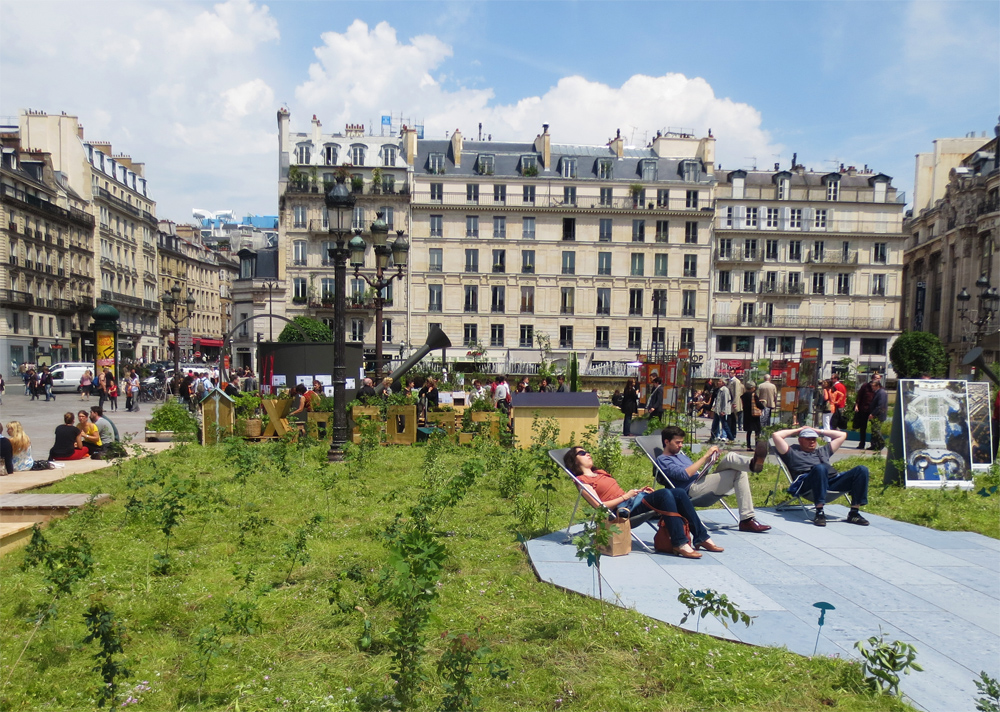 ---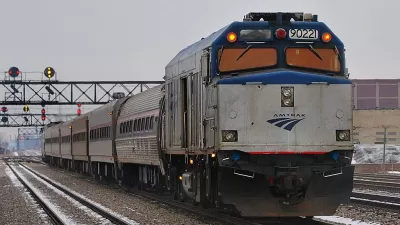 Amtrak Ramping Up Infrastructure Projects
Thanks to federal funding from the 2021 infrastructure act, the agency plans to triple its investment in infrastructure improvements and new routes in the next two years.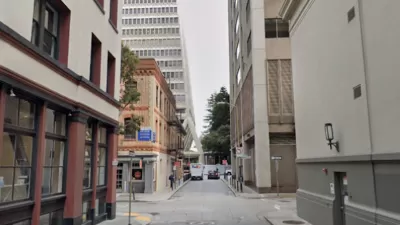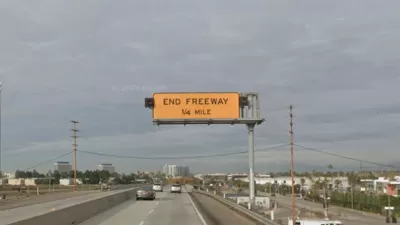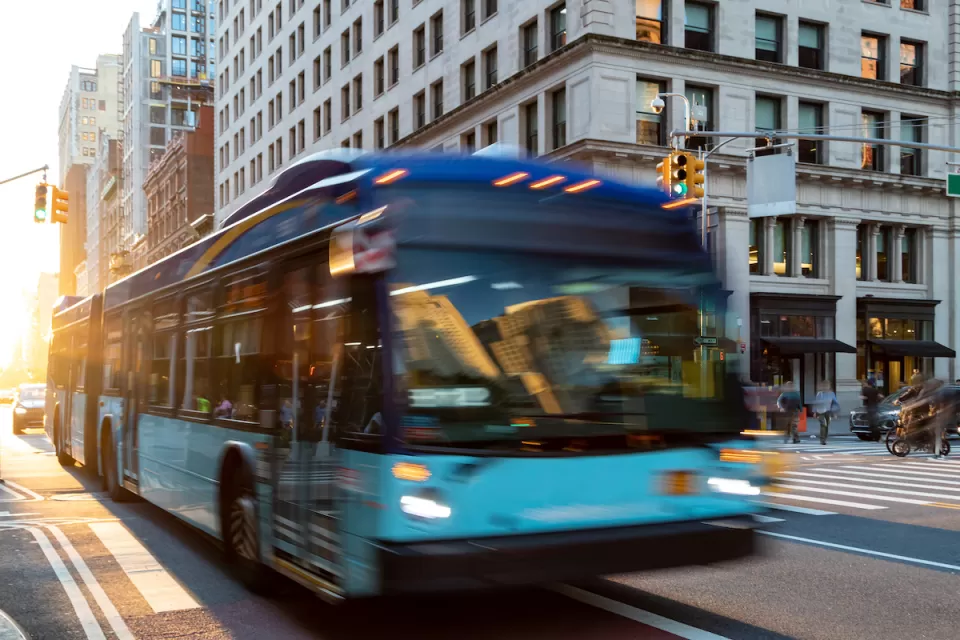 How to Measure Transit Equity
A new report highlights the need to go beyond traditional equity metrics to assess how public transit systems are serving the lowest-income and most disadvantaged riders.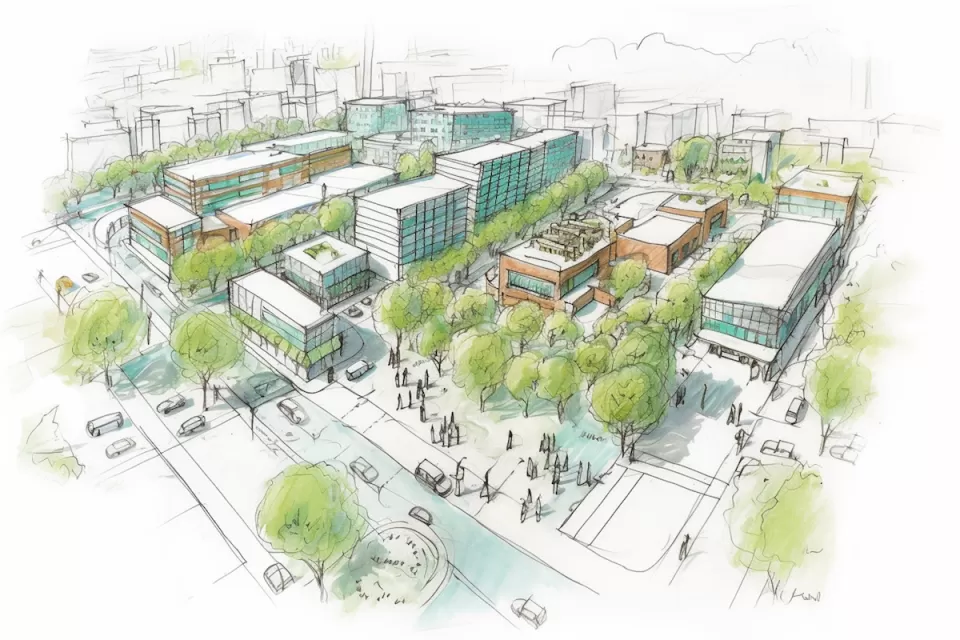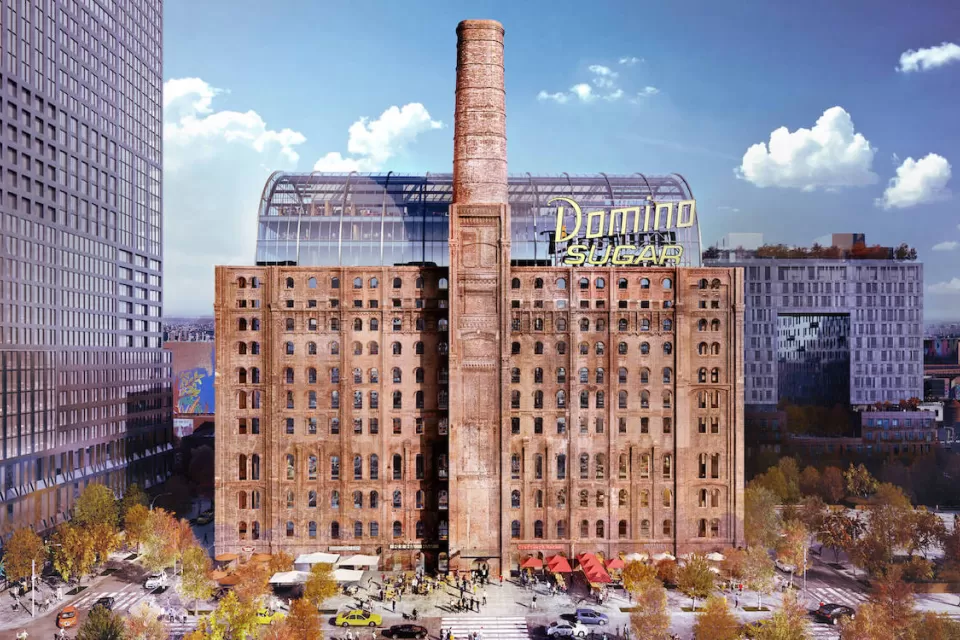 This six-course series explores essential urban design concepts using open source software and equips planners with the tools they need to participate fully in the urban design process.
Learn the tools for implementing Universal Design in planning regulations.
View More