One of Bucky Fuller's Most Realized Domes, Revitalized
25 miles east of Cleveland you'll find a futuristic-looking office building featuring a gigantic geodesic dome. Metropolis Magazine looks at the building's history and the preservation efforts that recently restored it.
The building was designed in 1959 by Cleveland architect John Terence Kelly, but the dome is pure Buckminster Fuller. William Hunt Eisenman, one of the founding members of ASM International, hired Fuller to design the dome for the organization's office building.
"A $7 million restoration and renovation of Kelly's office building, completed last August, has not only returned the ASM complex to its 1959 appearance, but may well be a harbinger of how federal and state historic-preservation tax credits can be used to revitalize midcentury modern buildings," writes Steven Litt.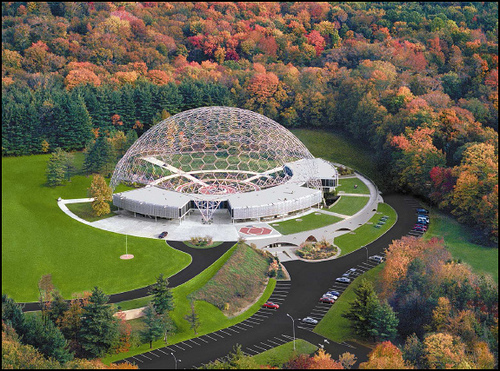 Photo:Ohio Office of Redevelopment.