"Parklets" Pop Up in Vancouver
Transplanting the wildly popular pilot projects in NYC and SF across the northern border, the City launches VIVA Vancouver program that converts parts of eight streets into public spaces.
According to the web site, the goals of VIVA Vancouver are to "create a variety of public spaces for a mix of engaging activities [...], increase neighborhood liveability [...], and encourage sustainable and active transportation by creating more safe and interesting spaces for walking and cycling."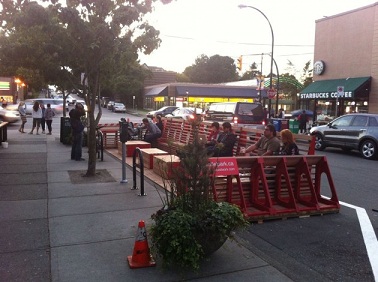 Referring to a recent New York Times article, The Dirt reports, "turning underused transportation infrastructure into new public spaces isn't just happening at the small scale either. With the success of the second phase of The High Line park [...], cities like Chicago, Philadelphia, Atlanta, and St. Louis are also now looking at how to reuse their own abandoned railways."
Topics