The moribund state of the Los Angeles River reflects the zeitgeist of the city that it runs through, says The Economist. A mile wide but an inch deep, revitalization proposals are too conceptual at best and too feeble at worst.
"Once it emerges from the San Fernando Valley to run through downtown Los Angeles and various industrial cities before spilling into the Pacific near the port of Long Beach, the 'river' is really a pathetic trickle composed almost entirely of treated sewage. It runs in a concrete channel under freeways and along railway tracks, invisible to most people. Graffiti mark the turfs of rival gangs. It smells not of fresh water but of hobo urine, slaughterhouses and factories. [...] A Parisian, Londoner or New Yorker might find this sad-no quays, cafés, promenades, boat cruises," states the article.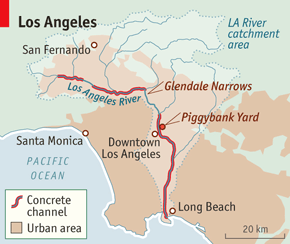 "Nothing about it is natural; and yet nature constantly reclaims parts of it. In a city that worships, without irony, organic, local food grown with distant water and bodies simultaneously toned by holistic yoga and cosmetic surgery, the river mirrors what it runs through."
Topics