How the Other Half Lives in Hong Kong
For a city of over 16,000 people per square mile, less than 7% of Hong Kong's land is designated for residential use. Subdivided apartments - aka "coffin units" - totaling 150 square feet aren't uncommon, reports The Wall Street Journal.
That Hong Kong appears to be completely insulated from the pervasive global housing crisis exacerbates the problem of overinflated real estate value. To the extent that its housing market reflects China's formidable economy, home prices in Hong Kong show no sign of attrition, having skyrocketed nearly 80% since 2008.
Polly Hui writes, "With demand for housing so hot, landlords are scrambling to take advantage. Subdivided apartments aren't illegal in Hong Kong, but they are subject to structural and fire-safety regulations," which are quite lax at best as evident by frequent fire incidents.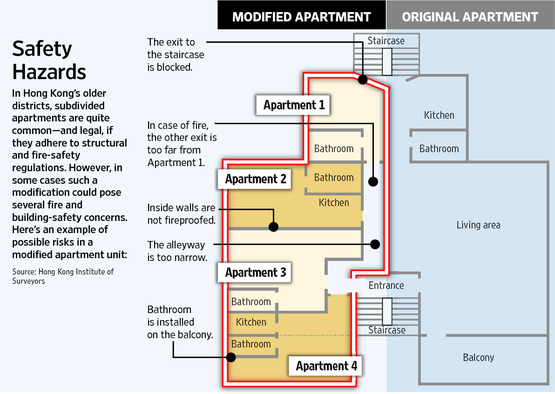 "Hong Kong isn't short of land. Our land-use design has failed to catch up with the changes in society," explains University of Hong Kong's professor Chau Kwong-wing in the article.
Published on Wednesday, July 20, 2011
in
Topics