Rethinking the Streetspace: What's Next?
Two years ago, Georgia Sheridan and Amber Hawkes wrote a series of articles for Planetizen on how cities were "rethinking the streetspace." Revisiting the same cities today, they discovered significant advances in street planning, and some new challenges as well.
As urban planners and as community members, we are taking part in a massive shift, moving from cities that are "convenient" to cities that are "livable," and from streets that are "fast" to streets that are "complete." These are our industry's buzzwords. City leaders like Janette Sadik-Khan of New York City or Enrique Peñalosa of Bogota, Columbia, have inspired an almost cult-like following, and thus becoming living symbols of a new era of civic streetspace. While having a face for the movement is key, the real engines behind this massive shift are the planners, designers, policymakers, community members, and others who are working every day to shake out the dust that has settled over our city planning process, tackling zoning changes, chasing down policy modifications, updating city processes, and cultivating community acceptance.
In 2009, our "Rethinking the Streetspace" series looked at the process of drafting new street standards and guidelines by following several cities - San Francisco, Los Angeles, Seattle, and New York City - to learn from their processes and to better understand the obstacles they faced. To successfully revamp street standards, we learned that cities must take an interdisciplinary approach since many different city departments and community groups have a stake in the streetspace. Having partnerships in various departments and advocates from a range of disciplines made for a much smoother process.
It has been almost two years since the cities we spoke with released their Draft Street Design Manuals. New York City will have an update to its Street Design Manual by this fall; Seattle updated its Right-of-Way Improvement Manual in May and is expecting to do another round of edits by 2013; San Francisco adopted its Better Streets Plan in December 2010; and "newcomer" Boston hopes to have a full draft of its new Complete Streets Manual by July. Now is a good time to check back in and hear how these manuals and guidelines are being used, what the next steps are in the process, and what challenges remain in the years ahead.
From our conversations with city planners in New York City, Seattle, San Francisco and Boston, we have found that in many ways, the story has not changed: interdisciplinary relationships and partnerships are still critical elements of successful street standards reform. Now that these relationships have been established, cities are using their inter-departmental communication networks to take their livable streets programs to the next level, getting deeper into process-related improvements at city hall, seeking out new funding partnerships, trying out social media tools, and encouraging the standardization of livable streets concepts across city departments by integrating the guidelines into city regulations and documents.
Here are some lessons we can learn from these cities:
1. What challenges do cities face in updating their street design manuals?
The number one challenge for cities was creating a process that enables the street design manual to be a "living" document that evolves over time. For most cities, the first draft of the street manual served primarily as guiding document stating new goals and objectives for the streetspace. The manual must also serve as a clearinghouse for all sorts of street-related rules and regulations with technical information attached. As technology advances and cities learn more from demonstration projects, the street manual must be regularly updated to reflect the newest, best practice street design strategies. To do this, cities have had to establish and maintain feedback loops with developers, stakeholders, policymakers, advisory groups, and other city departments to provide constant input.
New York City released a survey and held one-on-one interviews to get feedback on its first draft. Seattle gathered input from one-on-one interviews, summarizing the issues through internal "white papers" with action items along with stakeholders outreach. San Francisco also focused on one-on-one meetings with city department leaders to hear how they are struggling with certain issues. In addition, all of the cities we spoke with have set up outside advisory groups with working professionals from the community to provide feedback on manuals and related program initiatives. Having a well-defined feedback loop that gathers input from both the city and community at large is the first step to ensuring the design manual is a living document.
Another major challenge for cities is deciding when to make a street design concept a standard and when to make it a guideline. New standards can cause major ripple effects across the departments (e.g., Water and Power, Parks and Recreation, Engineering, etc.), and may also affect the legal language of guiding documents such as the General Plans, Specific Plans, City Charters, etc. It is not always clear how the street standards will relate to, and interact with, other planning standards until issues arise through new projects.
Incorporating the manual's principles into regulatory systems is fundamental to making change happen. While San Francisco focused on integrating its Better Streets Plan into the city's regulatory framework upfront and is now making sure each department's guidelines and standards are consistent with the plan. New York City first released its Street Design Manual as a guiding document and is now turning the attention to solidifying it through everyday enforcement. Integrating new street design concepts into the existing zoning and synthesizing the efforts of city departments take time and careful planning, but they are essential parts of the job.
The third challenge is understanding and allotting time for new principles and processes to trickle down into departments (or rise up to department heads, depending on where the pressure for change is coming from) so that concepts are being used at the planning counter, integrated into construction drawings, and enforced during site inspections. Seattle, which was one of the first cities to implement a street design manual of sort, is now crafting the permeable paving standards after years of learning from pilot programs and working on the exact language that will streamline the process across city departments. As Vineet Gupta, Boston's Director of Planning and Policy explained, it's not just about "getting the buy-in from staff," but getting everyone to believe that this process will make their day-to-day work better.
Fourth, the larger policy framework at the federal and state levels still presents a challenge for cities wanting to initiate and nurture livable streets programs. New York's state laws, for example, are seen by some as unfriendly to multi-modal street reforms sought out by New York City. No matter where you live in the country, you still have to refer to the AASHTO "Green Book," which was last updated in 2004 and is largely geared toward rural and suburban contexts. Until this is modified federally, city planners must come up with creative solutions to work within this structure.
Lastly, cities are struggling with ways to establish quantitative indicators to measure and understand the impact of new street standards. Seattle expects to revisit its white paper series to help decide what to include in the next Right-of-Way Manual update. San Francisco is measuring outcomes through multiple demonstration projects (including Valencia Street and Leland Avenue) and partnering with the Department of Public Works and San Francisco Public Utilities Commission to examine if and how street infrastructure improvements affect stormwater. This issue of measurable outcomes is something city planners are beginning to address in their updates now that the "visions" for more livable streets are established.
2. What's New? How are cities using technology for smart sites and smart streets?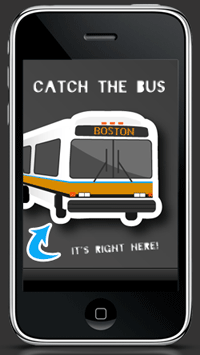 Virtual technologies are playing a bigger role in how people use the streetspace, as well as how cities share information about street design standards and programs. As cities move into the digital era, maintaining and growing a web presence is essential. "Building a website to make it easy to understand the street improvement process and relevant guidelines is one of the key next steps," says Adam Varat, Project Manager of the Better Streets Plan. Based on our discussions with city planners, simply creating a website to download the latest versions of the street manuals is "not enough." Websites serve as public information portals, but also as marketing interfaces in a time when cities are more concerned with "branding." This market-savvy attitude is translating into increasingly interactive city websites with zippy graphics that provide information on the street manual, as well as pilot programs, educational materials (e.g. PowerPoints, YouTube videos, etc.), links to community groups, Flickr pages, Facebook, Twitter, blogs, etc. Having jettisoned the hard copy format, Boston is now developing a web-based manual with a set of guidelines that can be uploaded, downloaded, and reordered to reflect the "living document" nature of the city's evolving street standards. While Boston has been doing livable-streets type of projects for years, it was the branding of the efforts through the city's website, graphics, and a new name, that was key to its success.
It is not surprising that Boston, located in one of the largest university/tech hubs in the country, is blazing the trail for "smart street" standards. To that end, the city is partnering with MIT to envision "mobility hubs" along key streets where you can "plug-in" to charge your device, gather information, or text, tweet, and post your location by scanning a QR tag at a city bus stop, explains Vineet Gupta. As part of Boston's "smart street" strategy, the city is working with smart phone app developers to provide (and gather) real-time information along public streets through user-friendly apps like "Catch The Bus," which tells you the time your bus will arrive at your stop using GPS trackers on each bus, or "Street Bump," an app designed to sense when your car hits a big pothole, geo-tag the location using GPS, then forward it to the responsible agencies.
The growing ubiquity of smart phones and mobile devices is changing the way people travel by providing greater access to information on transit times, location, parking, bicycle routes and facilities, etc. These devices offer a great opportunity to make cities easier to navigate, transit easier to use, parking easier to find, and perhaps potholes easier to fix. At their best, smart phones could inspire a new generation of civic entrepreneurialism where the public is able to upload or post valuable data to the city; i.e., ask not what your city streets can do for you, but what you can do for your city streets. At their worst, these devices could flood our ever-growing inboxes with too much data that needs to be filtered, vetted, and categorized before it can be used.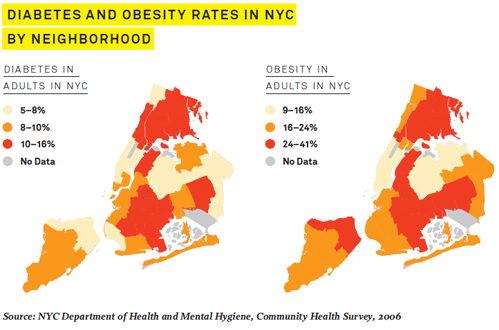 3. How are cities leveraging new partnerships to make their complete streets a reality?
Partnerships with the public health community are proving to be a boon for forward-thinking planning departments. Today's news is full of reports on the negative consequences of obesity and our physical inactivity. The Center for Disease Control and the public health community are some of the leading advocates for complete streets and are providing the cash-strapped planning community with some attractive partnerships and funding opportunities.
San Francisco, Boston, New York, and Seattle are working with their respective public health commissions on complete street programs. San Francisco recently created WalkFirst, a program that attempts to map good walking routes to prioritize street improvements based on land use indicators, safety, transit use, and public input via an on-line survey where people can draw common pedestrian routes. This program, a spin-off from the Better Streets Plan, represents a joint effort between the San Francisco Planning Department, Department of Public Health, Municipal Transportation Agency, and the California Office of Traffic Safety.
Boston's public health partnership has led to a neighborhood outreach program, where the Public Health Commission is visiting neighborhoods to educate residents about the importance of good streets for healthy communities. This program seeks to build champions for the new complete streets program in different parts of the city to minimize roadblocks to implementation.
New York City received praise for its Active Design Guidelines (January 2010) that present urban design strategies to "encourage walking, bicycling, and active transportation and recreation." The document was developed by an inter-departmental partnership that included the Design and Construction, Health and Mental Hygiene, Transportation, City Planning, Green Codes Task Force, and Office of Management and Budget, as well as professional groups including the AIA.
Seattle recently partnered with a University of Washington class to create a Health Impact Assessment for a Transportation Hub Study, which focused on health equity, safety and injury, and physical activity. This assessment came during the prioritization phase of the project, and influenced the final hub strategy. These partnerships demonstrate the evolving dialogue within the streetspace and the continued importance of interdisciplinary action.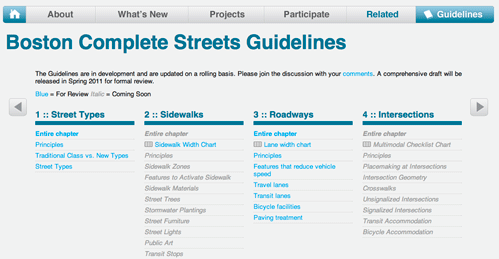 4. What's Next? What sorts of manual updates are in the cards?
Adding more detailed information on process and procedures into the design manuals is the obvious next step for all of the cities with which we spoke. While the first versions of the manuals tended to focus on outlining bold goals and visions for better streets, the updates are getting deeper into the nitty-gritty, providing process-oriented information about how to get things done. The manuals are being enhanced with process flow charts and descriptions for developers and designers on permitting, inspections, plan approvals, etc. Many cities are also providing easier access on the web to detailed specifications for street design components, including materials, dimensions, and design details.
Green streets and sustainability are another focus area that some cities are addressing in the next manual updates. San Francisco's December 2010 update provided more information on green infrastructure and stormwater standards and guidelines. Similarly, NYC's update to the Street Design Manual (due in fall 2011) will include a chapter on landscaping that focuses on environmental performance and stormwater. Seattle's update earlier this year provided a new permit process for permeable paving.
Boston, the newest kid on the block, provides an entire section on "smart streets" that outlines the guidelines for "intelligent signals, smart meters, electric vehicle charging, car and bicycle-sharing, way-finding and social networks for greater system efficiencies and user convenience." Based on our discussions with these cities, it is clear that the next round of edits will not be the last as cities expand the definition of "complete streets" by testing out new designs, materials, and technologies.
As we look to spread the words of livable streets and introduce new standards into planning documents, we must make sure that we are not "over-promising" livability through new street design standards. The fact of the matter is most cities will not become walkable and livable overnight because not every city has the transit infrastructure, urban form, and land use mix to support an instant regeneration. Change takes time, and reminding ourselves and our communities of this will help us build support that can be sustained for the long haul. As planners living and working in Los Angeles, a city known for its car-clogged streets, we recognize the importance of steady work and patience to complement the big picture vision. As the old adage goes, "it takes a village." Cultivating a new street culture takes vision, time, and most of all partnerships and collaborations.
---
Amber Hawkes is an urban designer working in Downtown Los Angeles at Melendrez, an urban planning, design, and landscape architecture firm. Georgia Sheridan is an urban planner and designer working in Downtown Los Angeles at Torti Gallas and Partners. They have lectured at conferences and universities and have worked in a variety of capacities that inform their planning and design work, from behavioral art therapy, social work, and historic preservation, to health law policy, green building policy, and journalism.
Thanks to Nicholas Peterson and Michael Flynn (City of New York), Barbara Gray and Darby Watson (City of Seattle), Adam Varat (City of San Francisco), and Vineet Gupta (City of Boston) for their insights in this installation of the "Rethinking the Streetspace" series.