Are Championship runs good for a city's urbanism?
 As I heard a national reporter put it recently, it's not often that an entire city is focused on one thing. In Vancouver it happened during the 2010 Winter Olympics. A year and a half later here, it's happening again. 
 As I heard a national reporter put it recently, it's not often that an entire city is focused on one thing. In Vancouver it happened during the 2010 Winter Olympics. A year and a half later here, it's happening again. 
The entire city is buzzing - more than buzzing, more like increasingly obsessed - as we gear up for the NHL Stanley Cup championship series, between our Vancouver Canucks, and the storied Boston Bruins. Some readers might be more interested in the NBA championships that are also starting, between Miami and Dallas, and this post could just as easily speak of that example. But I write this from the perspective of my front row seat in a series host-city... and besides, we're Canadian after all, and nothing seems to galvanize us as people and a nation more than hockey. 
Throughout our Canucks playoff run over the anxious first three rounds, its been exciting watching the effect of the playoff process on our civic swagger, public realm and urbanism. The past weeks have seen a rapid activation of our city and many of its streets, spaces, restaurants and bars, infected with Canucks fever and a strong dose of civic pride.  The atmosphere around Rogers Arena has been electric on game days to be sure(an effect facilitated by the integration of the arena into the urban fabric), but the City has really facilitated things in a much broader way by closing down streets and setting up an increasing number of big screens on streets and in plazas, drawing huge crowds. And we're not alone - our suburban neighbours, and other cities and towns across British Columbia have been doing the same, energizing their downtowns, public spaces, shopping streets and the like. A whole province's public realm, activated by hockey mania.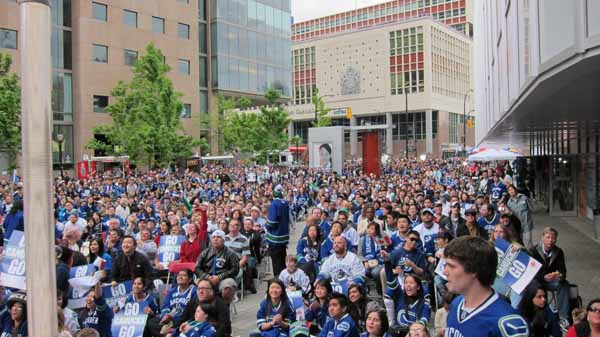 (big crowds watch a playoff game on closed Hamilton Street)
It's been fun watching the city's transformation, once again confirming my long-held theory that winning (or even competing for) cups and other such championships can be very positive for a city's urbanism.  
How so? Well, as noted above, they can change the public's use and  perception of the public realm, particularly on key streets or in key districts. Often this happens in a planned way, as with our City's recent initiatives, and sometimes it happens in ways a city couldn't anticipate. Sometimes celebrations happen spontaneously, when the public realm design is there to facilitate it. My un-scientific observations suggest that related crowds tend to gravitate to more urban places, financially supporting businesses in urban settings that facilitate public celebrations after the home team wins.  
Sometimes this effect can be so powerful, that it forever re-brands a  public space. I saw this first-hand in my last planning post in Calgary, where the iconic 50,000+ crowds taking over 17th Avenue after each win,  during the 2004 Stanley Cup run, forever re-branded the street as "the Red Mile", at least during hockey season.  
Playoff runs can also spark debates on what streets are worthy of such celebrations, and the eventual victory parade. Cities might ask, "if such a street doesn't exist, perhaps we should plan one?" In one of his great video essays on Vancouver's Stanley Cup dreams, Stephen Brunt makes the joke that when they celebrated the Calgary 2004 run, they did it on the "Red Mile". In 2006 in Edmonton, they did it on "the Whyte Mile", or Whyte Ave. But when the Ottawa Senators were in the 2007 Stanley Cup playoffs, a team that plays in an arena in the deep suburbs, he joked that "they must have done something - maybe they walked around the Home Depot in Kanata..." 
Some might note that the public realm may also be the stage for bad things to happen, if fans are disappointed with their team's results. Vancouver saw this back in 1994 when the Canucks lost game 7 to the New York Rangers, and the infamous riot ensued. On top of critical factors like the public realm design itself, the city's management and strategies for such events and the approach and experience of police, a big factor in whether positive or negative outcomes occur if the home-team loses may be the general experience and maturity of the city in hosting events and parties in the public realm. This is perhaps even more important than whether the city has experience winning or losing championship series' specifically. To be sure, there are cities that have much more experience than us in championship runs; our opponents, Boston, have just in the last 10 years celebrated an NBA championship, two World Series wins, and three Super Bowls.  But what we lack in sports-related experience, we make up for in civic celebration experience. Again, I saw this in Calgary when the devastating game 7 loss in 2004 still led to a huge good-natured crowd with thousands of high-fives and hugs, albeit through tears, along the Red Mile. I think this was the case, because of the city's extensive experience in public celebration, whether it's from the 1988 Winter Olympics, or the annual Calgary Stampede festivities that energize the city.  
Here in Vancouver, our remarkable transformation and success in the public realm during the 2010 Olympic Games and the experience it afforded us in every category, has substantially changed our maturity and experience throwing a great civic party, win or lose.   
(2010 Olympics)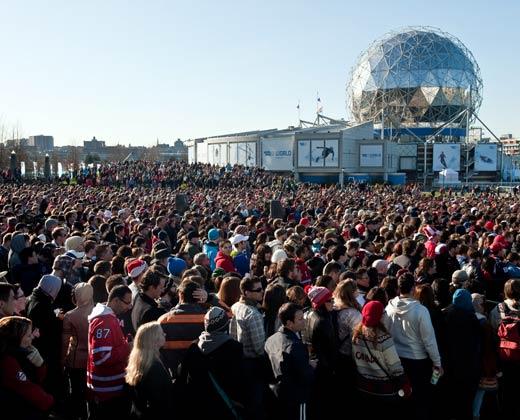 (2010 Olympics )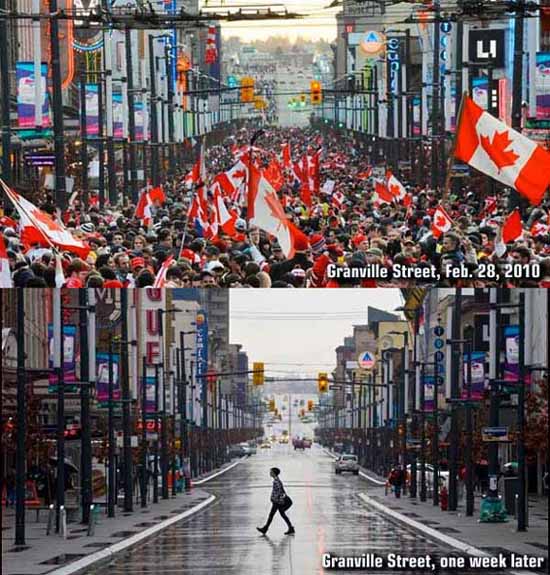 (2010 Olympics)
Even since the Olympics, we've been using the public realm to celebrate other sporting events to great success, such as the 2010 World Cup
I have complete confidence in our City's readiness to leverage this playoff run into huge fun for Vancouverites, and a great success for our city. 
I'm sure there are many other obvious, and less obvious benefits to a city from sports success, in the areas of city-branding, economic development, tourism, civic pride and so on. Perhaps readers will contribute comments on their own observations, or links to related studies. I'll end with the anecdote shared with me by a visiting urbanist, here to speak at an architectural conference this past week. He shared that he was talking about Vancouver with some young professionals after the long conference day. One young lady was a student from Iran, and she noted how the excitement of the playoffs has been making her feel like a real part of the Vancouver community. The group all noted how proud it makes them feel when they pan the crowd at a Canucks game, or in a street-crowd, and you see so many nationalities sharing in this common event. To them, the biggest success is really about celebrating civic pride and feeling part of a community. My friend said to me, "Canada's cities are so much about welcoming people from around the globe, rich and poor. Anything that brings us together as a community is a great thing for a city's urbanism." 
I couldn't agree more. And with apologies to my good friend Kairos Shen, chief planner for Boston, I can't wait to celebrate our Stanley Cup win with our diverse and hockey-crazy Vancouver community, out in the public realm.