Officials in Santa Fe have announced plans to demolish an amphitheater designed by architect Paolo Soleri, the visionary behind the as-yet-unfinished Arcosanti project. David Licata says it deserves to be saved.
---
In 1968, 45 years after it was completed, Frank Lloyd Wright's Imperial Hotel in Tokyo was demolished in the name of urban development; the façade and pool were saved and relocated to Inuyama, but other than that it exists now only in photographs and a few person's memories.
In the mid-Sixties, a one-time apprentice to Frank Lloyd Wright, Paolo Soleri, an architect who was employing green building practices fifty years before the word "green" means what it does today, was commissioned by the Institute of American Indian Arts to design an amphitheater on its Santa Fe campus. Last week it was officially announced that the amphitheater would be razed by the end of the summer.
The Paolo Soleri Amphitheater is respectfully situated and brilliantly integrated into its landscape; it provides a unique atmosphere to witness any kind of event, from a rock concert to a high school graduation. It looks more like earth art than a theater, a piece of sculpture where the event is part of a larger experience. Its comparison to the Red Rocks Amphitheater is not inappropriate.
The theater is on land that belongs to the Santa Fe Indian School (SFIS), governed by the All Indian Pueblo Council. As a sovereign state, they have the right to demolish any building and cut down any vegetation on their land, and have done so in the past. Their stated reasons are economic and educational. Repairing it and bringing the building up to code is estimated to cost $578,000, with an annual cost of $100,000. All Indian Pueblo Council Chairman, Joe Garcia, claims the "school's progressive educational agenda cannot be met if the (amphitheater) remains on campus." The "progressive educational agenda" has not been revealed, and one can't argue against improving schools, but it seems to me that such a remarkable theater on a campus can be utilized for educational purposes.
New Mexicans love this amphitheater, and many consider it their state's premiere venue to hear music. But I want to suggest that this does not only concern the people in the Land of Enchantment, but anyone who appreciates art and architecture. The Guggenheim Museum is in Manhattan, but if it were gone, would only Manhattanites suffer from its loss?
The groundswell of support from SFIS alumni, the architecture community, and the people of Santa Fe, and its location in one very wealthy city, leads me to believe that the money to bring the theater up to snuff could be raised. The annual cost could be covered and then some if the 2,700-seat theater were properly managed and acts thoughtfully booked and vigorously promoted, perhaps jointly by the current governing body and the city of Santa Fe or an outside agency.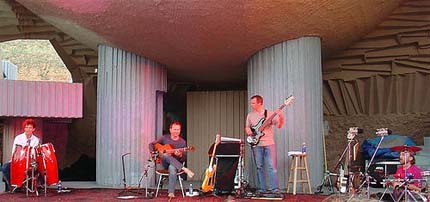 I can't blame the council if they don't want to be forthcoming about their intentions for the land, and for doing with it whatever the hell it pleases. They represent a people that have endured a holocaust and continue to be disenfranchised. If they can make more money by erecting a casino, well then, why not?
But here is an opportunity not to destroy, but to preserve, not to divide a community, but to bring it together. Just because the council has the right to raze the Soleri Amphitheater doesn't mean it's the right thing to do. There is still time for them to reconsider the demolition, still time for the space to live on as a vibrant, essential part of a community and not just in photographs and people's fading memories.
---
David Licata is a writer and filmmaker. His documentary, A Life's Work, about four people engaged in projects they may not complete in their lifetime, features Paolo Soleri as one of its subjects. David lives in New York City.
The Right to Mobility
As we consider how to decarbonize transportation, preserving mobility, especially for lower- and middle-income people, must be a priority.
This six-course series explores essential urban design concepts using open source software and equips planners with the tools they need to participate fully in the urban design process.
Learn the tools for implementing Universal Design in planning regulations.
View More