The neighborhood is the basic building block of human society, and successful efforts to make the world a better place often start right there, says Jay Walljasper.
---
The neighborhood is the basic building block of human society, and successful efforts to make the world a better place often start right there.
This might strike you as archaic, a throwback to the time when men wore fedoras and everyone walked to church on Sunday mornings. Yet the age of globalization actually makes neighborhoods more important than ever. After spending all day connecting with Facebook friends in Madrid, Manila and Maquoketa, even the most zealous virtual globetrotters are eager for face-to-face contact in a real place, like a local coffee shop, pub or park.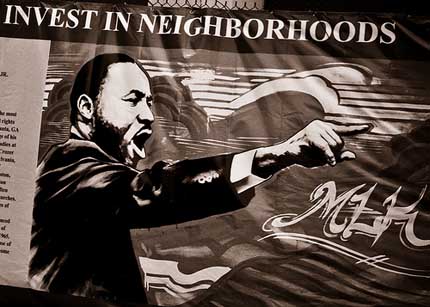 Neighborhoods - whether in cities, suburbs or small towns - are the level of social organization at which people interact most regularly and naturally, providing a ready-made forum for tackling serious issues. Even if the neighbors abhor our political views or artistic tastes, we nonetheless share a bond. When a crisis occurs (a rash of burglaries) or opportunities arise (plans to revitalize the park), these are the people who stand beside us to make improvements for the future.
In an era when what's wrong in the world can seem complicated and daunting, neighborhoods offer hope that we can still make a difference. What's overwhelming at the international, national or even municipal level often can be fixed closer to home, without large sums of money or strong political connections. And in an era of instantaneous global communications, no great idea stays in one place for long:
- The Dudley Street neighborhood in Boston's beleaguered Roxbury ghetto, for instance, was dogged by all the usual urban ills: poverty, crime, drugs, unemployment, racial discrimination, inadequate public services, deteriorating housing and poor schools. These problems - inextricably linked with global economics and national policies - felt insurmountable. But the residents of Dudley Street, assisted by a small grant from a local foundation, forged a vision for their future and went to work. They created a town common, built a community center, started youth programs, launched a farmers market and promoted locally owned businesses. These efforts sparked a new sense of possibility for the community and brought genuine improvements to the lives of Dudley Street residents, which has inspired similar efforts around the country.
- Grandmothers at the Yesler Terrace public housing project in Seattle drove drug dealers out of their community by camping out in lawn chairs at a street corner notorious for the crack trade. They simply sat there knitting, and shamed the dealers into moving elsewhere. The idea that ordinary people can take back the streets has been successfully tested in Chicago, Minneapolis and other communities.
- In Porto Alegre, Brazil (population 1.3 million), local officials enlisted the wisdom of neighborhood residents to figure out how to best spend everyone's tax money. Citizens gathered in neighborhood assemblies to decide what was most needed in their part of town, and then elected representatives to advise the city council on budget priorities. This "participatory budgeting" process has been credited with lowering unemployment, improving sanitary conditions and revitalizing Porto Alegre's poorest neighborhoods. More than 1,200 cities across the world have now adopted the idea.
This all goes to show, when you get together with the neighbors to solve a problem or seize an opportunity, almost anything is possible. That's because the people who live in a particular locale are the experts on that place, with the wisdom and commitment to get things done. And when you add up all that's happening in neighborhoods everywhere, it amounts to significant progress. You truly can begin to change the world on your own block.
This six-course series explores essential urban design concepts using open source software and equips planners with the tools they need to participate fully in the urban design process.
Learn the tools for implementing Universal Design in planning regulations.
View More