An interview with Seattle Planning Director Sam Assefa for the latest installment of the "Planners Across America" series.
---
With the possible exception of their fondness for coffee, few places have less in common than Seattle and Ethiopia. One of America's great capitals of technology, sustainability, maritime rain, pop culture, and, grunge music scarcely resembles an ancient, landlocked African nation. And yet, as Seattle Planning Director Sam Assefa notes, Ethiopia is, arguably, no less diverse than Seattle is—if not more diverse. This global perspective is a point of pride for Assefa and, he argues, an asset to his work as he guides one of the nation's fastest-growing, most progressive, and, sometimes, most argumentative cities.
Assefa came to Seattle in 2016, appointed by Mayor Ed Murray. He previously served in San Francisco and Boulder, Colorado—kindred exemplars of West Coast progressivism. Those cities also share concerns about gentrification, housing costs, traffic, and anxieties about living up to their own ideals. Foremost among those ideals is equity, an old-fashioned concept threatened by the rise of the tech economy. Assefa spoke with Josh Stephens for Planetizen's "Planners Across America" series.
What got you into planning?
I came to planning through architecture, initially in Chicago. After practicing for a few years I decided that I needed more. That's when I decided to pursue city planning at the graduate level. I then moved to San Francisco, doing architecture. Eventually I found a firm in San Francisco that was starting a planning function within a firm that had interior design and architecture. That's where I cut my teeth in city planning, in the early 1990s.
I initially started working on pro bono work in the Hunters Point Shipyard to help educate residents there about the potential for a 500-acre site right next door to them. Karen Altshuler, one of the principals, came to the firm to start a planning practice. She had done some pro bono work with community groups to start thinking about what the place could be and how they could inform that process. We created a planning game to help lay audiences understand complex planning issues.
What's it like to be a newcomer as a planning director as opposed to a staffer who worked up the ranks?
I helped build the planning practice within that firm and eventually moved to the public sector, initially with San Francisco, Chicago, and Boulder for about six years.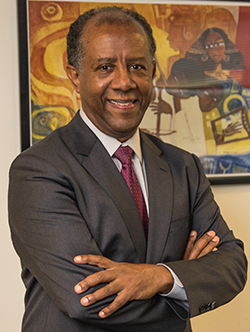 When I was contacted about the Seattle position what interested me is the previous mayor had created a new Executive Planning Office, charged with addressing the unprecedented new growth that Seattle is facing and how we plan for the next ten years, how we address that growth through an equity lens, and how, as an executive office, this department can help coordinate multiple city departments that have a lot of impact on the built environment.
The way the office was envisioned attracted me, and of course, Seattle is one of the cities that I've always followed.
One of the attractions was the recognition that the challenges Seattle faces are not very different from what many other cities have been facing. The growth—which is positive, with people moving back to center cities and the shift in the economy—and the benefits and challenges that come with it are not dissimilar from places like Boulder, San Francisco, or other major urban areas.
The mayor was interested in a fresh perspective and also a global perspective. That was the impetus, from what I understood. Coming here, it was important to bring ideas from other places because it gives the local context a different perspective. It's not to say that you replicate what happens somewhere else. You have to be cognizant of the unique conditions, cultural, political, and physical. When you're designing a town or city or building, you always have a different perspective when you put it on a wall and walk away from a distance and look at the bigger picture.
People who are anxious about Seattle's rate of development say the city is losing its soul. How do you define the soul of Seattle amid growth?
You could change the cities in the headlines about how people feel about a city "losing its soul" and the stories would be the same in a lot of the cities I've mentioned.
I don't believe Seattle is losing its soul per se. But, yes, there are new things and new changes. When you're in the midst of it it's very hard to see the fact that change really does happen all the time. A significant amount of the city is not going to change from a physical perspective, in the urban core primarily. Yes, there are a lot of new people. There is a sad history as well that is playing out specifically in the African-American community. They're the ones who are most impacted. The central area, where most of Seattle's African-Americans lived, historically has been redlined, with a lot of restrictive covenants and a lot of ugly history. Now, unfortunately, people in the central area are paying the biggest burden. Seventy percent of the population there in the '70s and '80s was African-American. They're down to about 15 percent now. It is losing its character from that perspective.
At the same time, you have a lot more immigrants. The city technically has become more diverse. But they are different kinds of people, with a large number of East African and Asian immigrants.
That change is inevitable. What we haven't really figured out as planners is how to respond to that in a timely manner and address some of the negative impacts that people experience.
You yourself are an immigrant from Africa. What is your relationship like with the African-American community and the immigrant communities?
I think it's more an understanding of where that community comes from. For example, from a policy perspective it's easier to group a large group of people in one category, say "East African immigrants." There are so many distinct differences even within the East African community, even within the Ethiopian community, where you have 80 different languages spoken and two major religions. If you categorize it under "East African immigrants," you miss some of the nuances. Within the central area, there is a mix of African immigrants, mostly Ethiopians, who came in the ''70s, '80s, and '90s making that area their home. It's amazing how the groups are working together.
I'm able to have a conversation with the different groups because I can understand where they are coming from. I established a new division within my department: Equitable Development Strategies. It targets areas where displacement risks are highest and where access to opportunity are the lowest, like Rainier Beach and South Seattle. A lot of them are immigrant communities.
Reports indicate that car ownership in Seattle households has dipped, by about 2.9 percent. Is that a success story?
It is a success story, especially when you look at it in the context of something like 60,000 new people in the downtown area in the last seven to eight years. With that significant increase in population, which was intentionally designed through the urban village policies that the city has had for quite some time, we're concentrating a significant amount of growth in a very small percentage of the land. In Downtown, the South Lake Union area is taking a significant amount of growth, yet single auto use has been reduced significantly. It's a combination of the land use policy and significant improvements in transportation infrastructure, including light rail, coming online. As a whole, there's a significant increase in alternative modes of transportation, and it's a result of a lot of the planning and transportation policies that the city put in place over the last few years.
The perception is slightly different for people commuting from outside the city. I choose to live downtown. It's much easier for me to get to work. That's not the case for a significant number of people who come from out of town. There is traffic congestion, and the city is trying to catch up from an infrastructure perspective.
A lot of housing activists want to see more housing, in part to increase supply and, presumably, reduce prices. Given Seattle's building boom, what do you think of that approach?
Seattle has a long history in terms of affordable housing in general. It has had an incentive program. It is one of the major cities that never had any affordable housing requirement. It used to be voluntary. For the first time we're putting that as a mandatory requirement so that any new development must pay for or incorporate inclusionary housing.
From the supply side, there is no question that the demand is significant when you have 600, 700, 800 people a week moving into the city. The supply hasn't caught up at all. There is no question for the need for all types of housing just in terms of sheer numbers.
Even in the last few months we've seen a slight reduction in rent prices because a lot of the units that are in the pipeline are coming on to the market, something in the neighborhood of 2.5 to 2.9 percent reduction.
It's not black and white, though. Supply alone is not going to do it.
My office is implementing one of the largest, most ambitions housing programs in the city, called the Housing Affordability and Livability Agenda. That goal is 30,000 new additional market rate and 20,000 affordable units over ten years. Out of that, about 6,000 are targeted through mandatory requirements. The rest of them will come through various other mechanisms. That is a recognition that you not only need the supply to catch up but you also need a number of other programs to retain some of the naturally occurring affordable housing. It is a very ambitious program. It requires rezoning and giving capacity in order to the exact the mandatory requirement.
In five to seven years we may be caught up, but the way technology and the planning profession is changing so fast, it's hard to predict in seven to eight years what new ideas will be in place. You need to be agile to change and shift your policies.
Twenty other cities want to become the next Seattle. Whichever one Amazon chooses for "HQ2," what is your advice for making the most of that relationship?
From the beginning, be clear about the value that that company brings. At the same time, be clear about what is unique to your specific place, whether it's Chicago or Atlanta or whatever city. They have to make it relevant to their cities in terms of the benefits that they need to extract out of that relationship, above and beyond just the taxes and economic and employment benefits. There's no question about the significant benefits that high-paying jobs bring to the city. Build it as a partnership to address some of the challenges that those cities may want to address.
In Seattle, obviously Amazon continues as a great asset for the city. We are working with them to figure out what other public-private benefits we can consider.
Are there any scholars, books, fellow or former practitioners that you look to for inspiration?
I look at Planetizen. I like to read and skim through new ideas in a number of planning magazines. I also bounce back to old foundational books and architecture books from people like Louis Mumford to some of Daniel Burnham's ideas in terms of great city planning to Jane Jacobs and some of her ideas about what urban places ought to be. They're not all perfect. It's important to take some kernels from some of those who have done it in the past.
And some young and creative ones that are pretty exciting in terms of problem solving for city living. I also created a program within the city called the Urban Innovation Series, where we bring a lot of great thinkers, nationally and internationally, to help inform my staff. We have an urban innovation speaker series focusing on indigenous people and what we can learn from them as well. We're also having a series of engagements with native to see if there are new perspectives that we need to bring to our everyday function as city planners.
[Conducted in March 2018, this interview has been condensed and edited for clarity. A longer version of this interview will appear in the forthcoming book Planners Across America, to be published by Planetizen Press.]
---
Red Cities, Blue Cities, and Crime
Homicides rose across the nation in 2020 and 2021. But did they rise equally in all cities, or was the situation worse in some than in others?
Tolling All Lanes
Bay Area transportation planners are studying a radical idea to reduce traffic congestion and fund driving alternatives: tolling all lanes on a freeway. Even more radical, the plan considers tolling parallel roads.
This six-course series explores essential urban design concepts using open source software and equips planners with the tools they need to participate fully in the urban design process.
Learn the tools for implementing Universal Design in planning regulations.
View More