Planopedia
Clear, accessible definitions for common urban planning terms.
---
What Is Micromobility?
Micromobility is an umbrella term encompassing a variety of small, generally low-speed vehicles and conveyances that can be electric or human-powered and privately owned or part of shared fleets.
---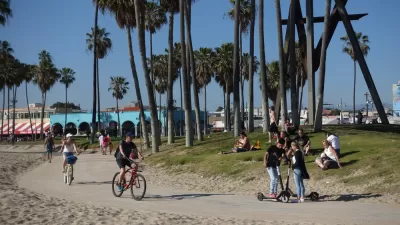 Micromobility devices include most small, predominantly one-person vehicles that operate at low speeds and are not gas-powered. Most micromobility devices fit within a standard bike lane or sidewalk and weigh less than 100 pounds. Although the term applies to everything from skateboards to wheelchairs, the term, coined by Horace Dediu, gained popularity when fleets of bikes and scooters flooded city streets in the 2010s, kicking off a revolutionary trend that has altered the way planners and policymakers think about and regulate street space in many cities. 
Municipal bike share dates back to 1965, when Amsterdam introduced what is widely known as the world's first bike share system. The "white bikes," as they were known, operated on a simple honor system at no charge to users, with no mechanical lock or tracking mechanism. Later, locking racks and payment systems made bike share systems more secure and sustainable. After Bird stealthily launched its fleet of app-based, shared electric kick scooters in Santa Monica in 2017, the industry shifted focus from micromobility as public transit to mobility as a private service (also known as MaaS). The number of bike share systems grew sharply in the 2000s, jumping from just 13 systems in 2004 to 855 in 2014. 'Dockless' bike share took off in 2015, with companies like BlueGoGo, ofo, and Lime competing to drop massive fleets of bicycles in cities around the world, later adding scooters to their offerings. The industry garnered strong interest from tech giants and venture capitalists as developers built increasingly sophisticated software and tools to complement the vehicles. Since then, cities have struggled to regulate the devices and define their role in urban transportation systems, resulting in a patchwork of regulations that vary by jurisdiction.
When supported by safe and accessible infrastructure, micromobility devices can bridge the gap between public transit options, replace cars for short trips, and complement larger delivery vehicles by providing last-mile services in dense neighborhoods. Shared fleets can eliminate the cost of private ownership and the hassle of bringing devices onto public transit while connecting urban residents to their destinations. Cities like Austin and Los Angeles are integrating their bike share systems into their broader public transit infrastructure and taking an active role in managing them, while private operators supplement municipal systems with electric scooters and other devices. A study from the New Zealand Transport Agency found that an estimated 3-11% of all urban trips could be made by micromodes in that country by 2030. Stateside, a pilot program in Seattle that used electric cargo bikes to deliver packages reduced carbon emissions by 30% per package and promises a reduction in congestion and pollution in urban centers where curb space is at a premium and large delivery trucks put a strain on aging infrastructure.
More planning terms