In Autononorama, Peter Norton argues that autonomous vehicles may be neither feasible nor desirable.
---
Over the past few years, a variety of media sources have informed us again and again that automated vehicles (AVs) (more colloquially known as "robocars" or "self-driving cars") are the wave of the future. According to this conventional wisdom, AVs will make public transit obsolete, as even the least mobile among us are whisked away by cars that drive themselves. For example, one 2020 book, Driverless America, claims: "By the 2030s, no one outside of New York and a few other big U.S. cities will be investing much in bus or rail transit any longer." Some suggest that these cars will be directed by safety-conscious computers, making car crashes and congestion a thing of the past.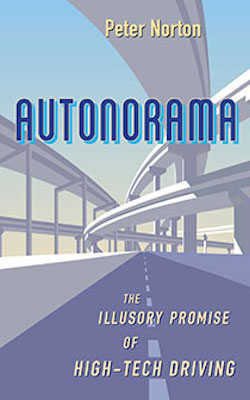 In Autonorama, University of Virginia professor Peter Norton criticizes these claims. In the first half of the book, he shows that the auto industry and its advocates have again and again claimed that AVs were right around the corner—and again and again, they have been wrong. Near the end, Norton argues that even if AVs became feasible in our lifetimes, they are unlikely to lead to the desirable results promised by their proponents.
As early as the 1950s, the automobile industry and sympathetic business groups (or, as Norton calls them, "motordom") were promising AVs. For example, in 1955 a film published by the U.S. Chamber of Commerce promised that in 20 years, cars would have "an automatic brain that will park the car" and electronic warning devices that would "eliminate the need for a driver once the car is on the highway." In a 1958 television show sponsored by the Portland Cement Association, the narrator claims that in the future, electronics would "take over complete control [of cars]… With no driving responsibility, the family relaxes together."
In the 1990s, highway advocates continued to beat the drum for AVs, promising "intelligent vehicles." In 1992, intelligent vehicle lobbyist James Constantino predicted that "within 30 years, drivers may be superfluous as sensor-laden, computer-controlled vehicles cruise highways." In 1997, Buick executive Mike Doble promised that automated highways would make drivers "free to do other things, such as writing or reading." In sum, it appears that AVs are the technology of the future—and perhaps always will be.
Norton then attacks claims that AVs will reduce congestion; he suggests that by making driving easier and more desirable, AVs will actually increase auto travel and thus congestion. And if AVs make it easier for people to live far from jobs, they will lead to increased sprawl, thus reducing opportunities for nondrivers. Norton has history on his side: over the past century, American politicians have built more and more highways to kill congestion, with not-terribly-impressive results.
Norton also criticizes claims that AVs will be safer than existing vehicles. Even if AVs are error-free on a limited-access highway surrounded by nothing but other AVs, they may not be able to function safely on a street surrounded by pedestrians or cars slowly making turns. An AV may never learn to distinguish between a pedestrian and a plastic bag—and even if it does, a car that stops for every car or pedestrian may be too slow for most drivers' tastes and thus unmarketable. But if AVs are programmed to take more risks, they may be as dangerous as conventional cars—or, worse still, motordom will try to exclude walkers and cyclists from the streets in order to make room for AVs.
AV advocates claim that AVs will be electric and thus less polluting than conventional cars. But an electric car is only as clean as the power grid the electricity comes from, which is hardly carbon-free. And if electric cars lead to more driving, the increased carbon footprint of all that extra driving may cancel out the benefits of a cleaner car. Norton accordingly concludes that the only way to end the vices caused by automobile dependency is to reduce automobile dependency itself—to rebuild public transit and facilitate walking and cycling, so that Americans have the same level of transportation choice as Europeans and Asians.
---
'15-Minute City' To Be Built in Utah
A community that focuses on reducing the need for car ownership and providing effective multimodal transportation and diverse land uses will be built from scratch on the site of the decommissioned Utah State Prison.
Experts Express Pessimism Over Housing Costs
Although the current housing crisis has been compared with the housing crash of the late 2000s, experts caution that affordability issues could plague the U.S. housing market for years to come.
This six-course series explores essential urban design concepts using open source software and equips planners with the tools they need to participate fully in the urban design process.
This course aims to provide an introduction into Urban Design Sketching focused on how to hand draw master plans using a mix of colored markers.
View More