A complete community includes an optimal mix of people, activities, and transport modes in each neighborhood. Like a chef, planners need the right ingredients. Here is the recipe.
---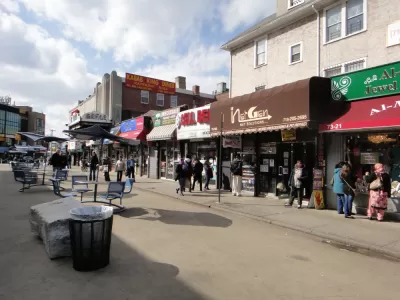 A city is a place where many people and activities occur close together, which facilitates the exchange of goods and ideas. The secret to success is to mix things together to create complete communities.
Urban planning often focuses on density, the number of people or activities in a given area, but equally important is land use mix, the diversity of people and activities in an area. To use a sports metaphor, density provides strength and power, a necessary foundation, while mix is akin to skill and finesse, which is what makes a community interesting and successful.
Like a chef, planners need the right ingredients. An efficient and inclusive neighborhood must have an optimal mix of housing types, commercial and public services needed by current and future residents, employees, and visitors. A neighborhood that has seniors needs an appropriate number or pharmacies and pubs, while a neighborhood that has children needs an appropriate number of schools and playgrounds. I often describe this as an urban village, meaning that a neighborhood has the appropriate mix of housing, facilities, services, and activities within convenient walking distance.
Mix tends to gain more public acceptance than density. For example, if a planner proposes upzoning to increase local density from ten to 15 people per acre (15 people per acre is generally considered the minimum needed to support local services such as neighborhood schools, stores, and public transit), many residents will probably find that frightening. Density sounds bad. But, if the change is described as a way to raise the neighborhood's Walk Score (an indicator of land use mix) from 55 (somewhat walkable) to 75 (very walkable), meaning that most commonly-needed services will be easily accessed by a short walk or bike ride, residents are more likely to consider that a positive change that benefits them directly.
90–100

Walker's Paradise
Daily errands do not require a car

70–89

Very Walkable
Most errands can be accomplished on foot

50–69

Somewhat Walkable
Some errands can be accomplished on foot

25–49

Car-Dependent
Most errands require a car

0–24

Car-Dependent
Almost all errands require a car
Mix can be defined and measured in various ways. Planning often focuses on land uses (residential, commercial, institutional, etc.) and building types (low-, mid- or high-rise, single-family or multi-family), but can also refer to the variety of services (medical clinics, grocery store, fast food and ethnic restaurants, etc.), and people (ages, incomes, ethnic groups, etc.) in an area, and, because transportation patterns affect the people and activities that occur in an area, it can also include transport system diversity. If you want diverse residents and businesses, a community needs diverse building types and diverse transport options.
Depending on context, planning to optimize land use and transportation mix can be called Smart Growth, New Urbanism, transit oriented development, location-efficient development, walkable urban communities, and most recently, 15-minute neighborhoods. All strive to create compact, mixed, multi-modal communities where residents drive less, rely more on non-auto modes, and can easily get around without a car. Here are a few useful references:
AARP and CNU (2021), Enabling Better Places: A Handbook for Improved Neighborhoods, American Association of Retired Persons
Gehl Architects (2010), Our Cities Ourselves: 10 Principles for Transport in Urban Life, Institute for Transportation and Development Policy.
Knight Frank (2020), Walkability and Mixed Use: Making Valuable and Healthy Communities, The Prince's Foundation. This beautiful report highlights the many social, environmental and economic benefits that result from creating complete communities where most commonly used services are easy to reach by walking.
Todd Litman (2017), "Determining Optimal Urban Expansion, Population and Vehicle Density, and Housing Types for Rapidly Growing Cities," Transportation Research Procedia. This article describes specific design parameters for optimizing urban development.
USEPA Smart Growth Website provides information on Smart Growth strategies to reduce environmental impacts.
A number of technical tools can be used to evaluate these factors. The California Air Resources Board's "Impacts of Transportation and Land Use-Related Policies" is a set of studies that evaluate the impacts of changes to land use mix, jobs-housing-balance, population and employment density, transit and regional accessibility, and roadway network connectivity. Land use mix can be measured using entropy values or dissimilarity indices. These studies indicate that a 10% increase in mix typically reduces vehicle travel by 1%, which by itself may seem small, but when integrated with other Smart Growth policies, it can have very large impacts on per capita vehicle travel and associated costs, as illustrated below.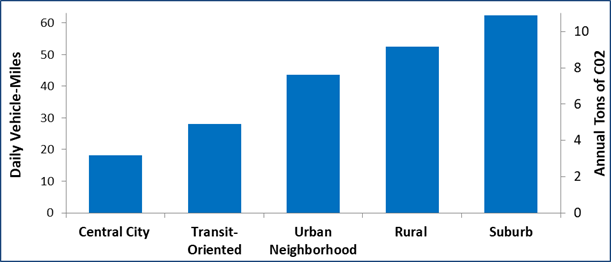 Some wonderful publications and websites provide guidance for creating complete communities that include diverse residents including children, seniors, people with low incomes, diverse race and ethnic backgrounds, people with disabilities, and other special needs.
AARP Livable Communities website provides guidance on policies and planning practices to create safe, accessible, affordable and vibrant communities suitable for people of all ages and abilities.
Kristin N. Agnello (2020), Child in the City Guide, Plassurban. This attractive guide asks, "If you could experience the city from 95cm - the height of a 3-year-old - what would you change?"
Gehl Architects (2013), Istanbul: An Accessible City – A City for People, EMBARQ Turkey. This beautiful study describes why and how to accommodate diverse people in an existing city.
NACTO (2020), Designing Streets for Kids, Global Designing Cities Initiative, National Association of City Transportation Officials. 
Urban 95 helps city planners, urban designers, and other urbanists identify and scale cost-effective ways to improve the way families with small children live, play, interact and move through cities.
Inclusivity requires diverse affordable housing so every family, including those with low incomes, can find suitable homes in a walkable urban neighborhood. Some households, including people transitioning out of homelessness, addiction or poverty, need special social (subsidized) housing, but most affordable housing consists of older market-built housing that has depreciated. For such naturally occurring affordable housing to be available, the market must be responsive, meaning that if the number of moderate-income household that want to live in a community increases by a given amount, allowable densities increase by that amount. It is particularly important to encourage development of lower-cost missing middle housing types, such as multi-plexes, townhouses, and mid-rise (3-6 story) apartments. The following are specific ways to encourage more diverse and affordable housing in existing urban areas:
Upzone residential neighborhoods to allow missing middle housing types. 
Allow additional height and density for corner lots and larger lots (more than 10,000 sf), since they have fewer impacts on neighbors.

Allow higher densities and building heights in exchange for more affordable, family-oriented units.

Exempt moderate-priced housing from inclusivity mandates and development impact fees.
Greatly reduce or eliminate parking minimums, 

and 

require

 or encourage unbundling (parking rented separately from housing units), so residents are not forced to pay for parking spaces they do not need.
Here are some useful resources for supporting affordable housing development:
Child in the City includes guidance on how to support family-oriented affordable housing, including pro forma analysis of how public policies affect development costs.
Housing and Transportation (H+T) Affordability Index provides tools for measuring the combined cost of housing and transportation in specific locations.
Daniel Herriges (2019), The Connectedness of Our Housing Ecosystem, Strong Towns.
Location Efficiency Hub provides a suite of web-based tools to help planners, developers and individuals identify and create location-efficient communities, including excellent Research Reports.
Sightline Institute Affordable Housing Page
Planetizen Affordable Housing Page
Recent studies indicate that this type of development increases multi-generational economic mobility (the chance that a child born in a lower-income family becomes more economically successful as an adult).
Reid Ewing, et al. (2016), "Does Urban Sprawl Hold Down Upward Mobility?" Landscape and Urban Planning, Vol. 148, April, pp. 80-88; at www.sciencedirect.com/science/article/pii/S016920461500242X.
Dylan Matthews (2019), "America has a housing segregation problem. Seattle may just have the solution," Vox.
Eric Jaffe (2016), Where Sprawl Makes it Tougher to Rise Up the Social Ranks: Dense Metros Tend to Offer More Economic Opportunity than Less Compact Cities Do, CityLab.
Walkability is a key attribute for compact, multimodal, and, therefore, affordable and inclusive communities, and is also key to public health and safety. The following new resources provide excellent guidance for improving walkability and bikeability.
The Institute for Transportation and Development Policy's Pedestrians First website includes a suite of resources that explore why and how to create more walkable (and therefore affordable, inclusive, healthy, resource-efficient and fun) communities. It includes lists of publications, tools, and performance indicators.
ARUP's Cities Alive: Towards a Walking World is an attractive, free book that systematically identifies and categorizes the many social, economic, environmental and political benefits of walking, with examples from around the world.
Although some types of planning focus on a particular mode—for example, special pedestrian, bicycling and public transit plans—transportation agencies generally plan for a particular roadway, so multi-modal planning is reflected in complete streets policies which ensure that all (or at lease most) roadways are designed to serve diverse users and uses. These documents describe how to do this.
AARP (2015), Evaluating Complete Streets Projects: A Guide for Practitioners, National Complete Streets Coalition and Smart Growth America.
City Health (2020), Safe Streets in American Cities: How Complete Streets Laws are Creating Stronger Communities, City Health Initiative.
NACTO (2016), Global Urban Street Design Guide, National Association of City Transportation Officials.
Marc Schlossberg, et al. (2013), Rethinking Streets: An Evidence-Based Guide to 25 Complete Street Transformations, University of Oregon's Sustainable Cities Initiative.
USDOT, Complete Streets: Transportation and Health Tools, Federal Highway Administration.
The following documents take a more aggressive approach. They point out that road space dedicated to motor vehicle traffic is unavailable for other modes or uses including sidewalks and bike lanes, sidewalk cafes, play space and bike parking. They argue that this is an inefficient and unfair allocation of resources, and that more balanced allocation of urban street space can provide large economic, social, and environmental benefits. Amore balanced allocation of urban street space does not necessarily exclude motorists, but ensures that people who use other modes receive their fair share.
Stefan Gössling (2020), "Why Cities Need to Take Road Space from Cars - And How this Could be Done," Journal of Urban Design.
David A. King and Kevin J. Krizek (2020), "The Power of Reforming Streets to Boost Access for Human-Scaled Vehicles," Transportation Research Part D, Vo. 83.
TA (2021), NYC 25x25: A Challenge to New York City's Next Leaders to Give Streets Back to People, Transportation Alternatives.
A goal of mixed-use planning is to ensure that most commonly-used services are available within a convenient walk or bike ride, called a 15-minute neighborhood. The table below indicates the typical number of residents required for various local services, and therefore the typical walking distances and population densities required to maintain them in a neighborhood.
Public Amenities (The Child in the City)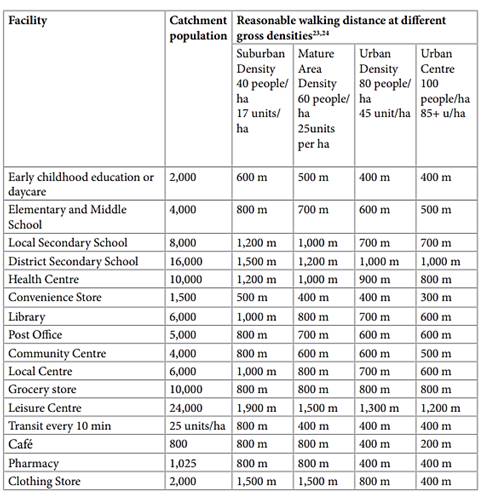 Complete communities are all mixed up…and that's good!
---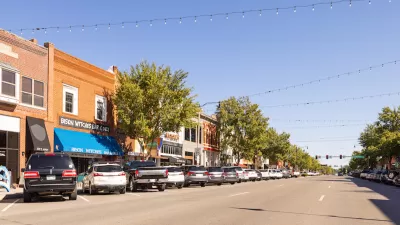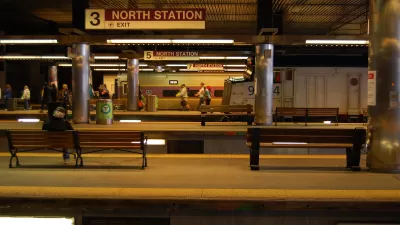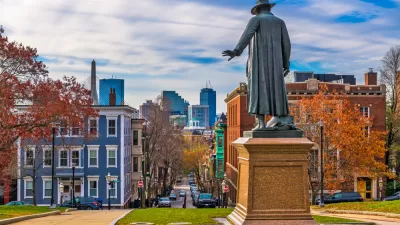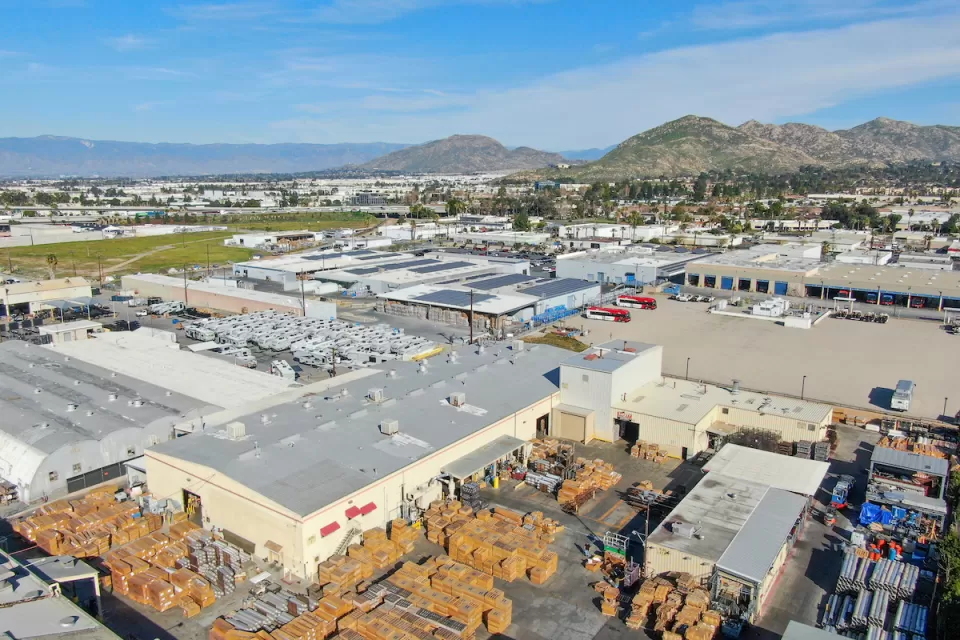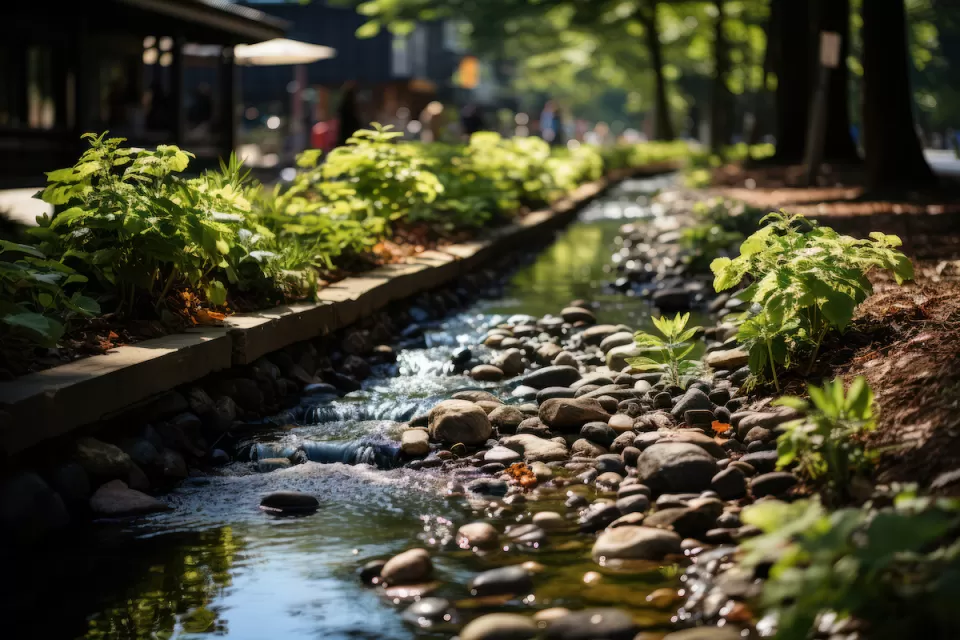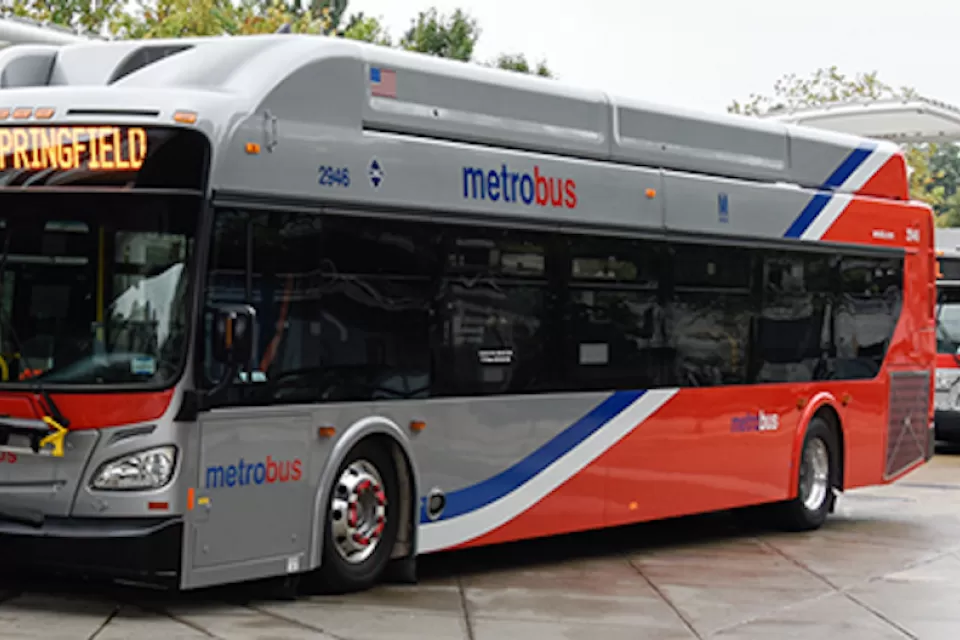 This six-course series explores essential urban design concepts using open source software and equips planners with the tools they need to participate fully in the urban design process.
Learn the tools for implementing Universal Design in planning regulations.
View More