The death of the Chicago landscape architect, Peter Schaudt, leaves an unfinished body of work and a deep void within the profession that adored him.
---
I was in the middle of working on a piece about the landscapes of Chicago when I received the sad news that Peter Lindsay Schaudt, a partner in the Chicago landscape architecture firm, Hoerr Schaudt, had passed away at the far too young age of 56. To say he will be missed hardly begins to cover the impact his loss will have on his family, friends, colleagues, clients, the city of Chicago, and the profession of landscape architecture. He was an amazing person, a good friend, and a terrific designer.
Peter was one of the most respected and celebrated landscape architects of his generation. He had earned a level of recognition and admiration that few achieve in their entire careers. He received the prestigious Rome Prize in 1990 and was made a Fellow of the American Society of Landscape Architects (ASLA) in 2006. Early on, he was a protégé of the great Dan Kiley, whose influence became integral to his own work. His designs reflect a similar sense of structure and organization as that of Kiley, but were entirely his own. Peter didn't copy the work of others, but he also never hesitated to credit those who influenced him.
Peter was never driven by a need to "leave his mark" on a particular landscape. Whether in urban, civic, or campus environments, the places he designed were always appropriate to their context and to the community that would use them. He loved learning the history of a specific site, and found ways to ingeniously incorporate it into his designs. His work was always about the place, not about his ego. In fact, there was very little ego in Peter's personality, which made him a refreshing anomaly in the upper echelon of the design world that he inhabited.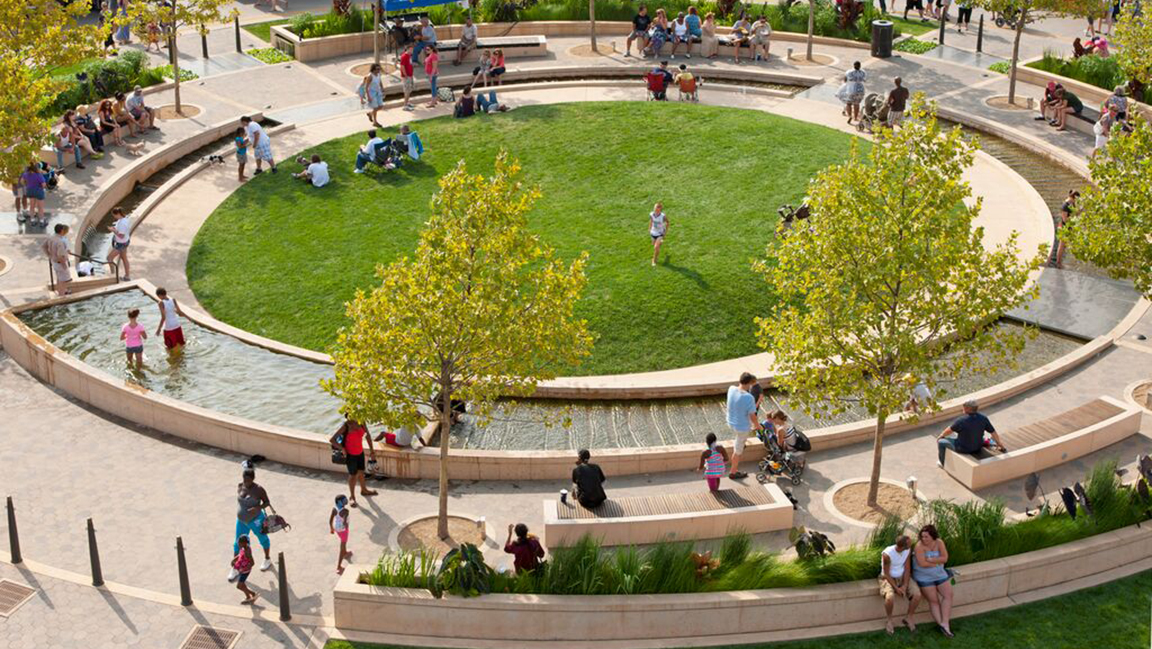 He was most inspired by projects that could leverage the interdependence that exists between built form and landscape. He loved the challenges that came with creating landscapes that work seamlessly with adjacent architecture, which makes sense since he was first trained as an architect. By no coincidence, one of the proudest moments of Peter's career came when the American Institute of Architects awarded him the AIA Collaborative Achievement award, a recognition that symbolized the respect he earned from the architecture community. That collaborative spirit defined his personality and his process, as was well known by people familiar with his work on Chicago's Olympic bid and on various planning and design committees. He was selfless with his time, constantly volunteering in any capacity he thought would make a difference to his community and the profession he loved.
Although he was certainly proud of his chosen profession, Peter was constantly frustrated by the lack of understanding the general public had about it. When people would ask him what he did for a living, he would often say he was an architect to deflect misconceptions spurred by the term landscape. As he wrote in Landscape Architecture Magazine in 2012: "It is more important, in my opinion, to tell the story of what we do rather than worry about how we are categorized or named." He understood and acknowledged how projects like the High Line and Millennium Park were broadening the image of landscape architecture, but was far too modest to acknowledge that his work was doing the same. His is quite a legacy.
I had the honor of being friends with Peter over the past decade and can say without hesitation that I never heard even a hint of a bad word spoken about him. He was beloved among the entire landscape architecture community. People who knew him will remember him for the heartfelt smile that rarely left his face, his constant good cheer and optimism, and the endless passion he had for the work he did as a landscape architect. He cared deeply for the places he designed, and for the people who would use them. Clients and colleagues inevitably became his friends, and his friends became his family.
This was the spirit of Peter Schaudt. He will be greatly missed.
---
Inclusive Prosperity: No Displacement Necessary
Recent analysis identifies nearly 200 U.S. neighborhoods that have achieved the highly-sought-after goal of increasing the prosperity of residents without displacing the existing community.
Making Healthy Places
The editors of the book "Making Healthy Places," recently published in a second edition by Island Press, discuss the intersections of public health and planning, including key concepts such as green gentrification, health impact assessments, and AI.
Is it a Rowhouse, or a Rowhome?
Philadelphia has long been acknowledged as the capital of rowhouses in the United States. It's becoming more common for those rowhouses to be referred to as rowhomes.
This six-course series explores essential urban design concepts using open source software and equips planners with the tools they need to participate fully in the urban design process.
This course aims to provide an introduction into Urban Design Sketching focused on how to hand draw master plans using a mix of colored markers.
View More