The gridlock in American cities today doesn't compare to the crush on streets in Boston and New York City in the mid- to late-1800s. In The Race Underground, Doug Most chronicles the occasionally synchronous development of the nation's first subways.
Two-thirds of the way through his infrastructure development epic The Race Underground: Boston, New York, and the Incredible Rivalry That Built America's First Subway, author Doug Most proposes an awkward hypothetical situation. Most wonders about the New York City's chief subway engineer William Parsons' reaction to headlines announcing the Sept. 1, 1897 opening of the Boston subway. "Had he seen The Globe article," writes Most, "Parsons would surely have cringed at the thought of little old Boston setting the pace for New York City to follow."
A sportswriter by trade, Most recounts the development of the nation's first two subways as a subterranean version of a Red Sox-Yankees series. And yet, as far as we know, these feats of engineering inspired no militaristic speeches, no blood-stained diary entries, and no more bitterness between the cities than usual. Most provides no documentation about Parsons' emotions, much less his reading habits.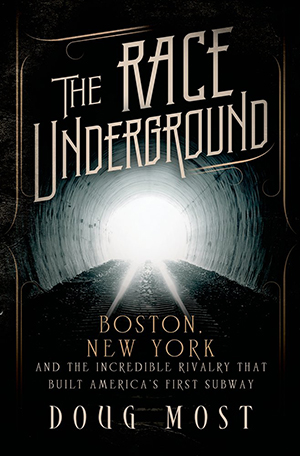 In truth, Most demonstrates that, then as now, the cities did not compete with each other so much as they competed with technology, financing, and the weight of their own political power structures. The first underground leg of what became Boston's Green Line opened with 1.8 miles of underground partially skirting Boston Common. New York's first two lines opened simultaneously seven years later, but with 19 more miles of service. In this tale of two subways, told in roughly alternating chapters, it's reasonable say that everyone was a winner.
Anyone who thinks that public transit is an inefficient luxury or left-wing conspiracy should look into New York and Boston in the mid-1800s, European immigrants were arriving in both cities by the boatload. Most refers to "dark, wet, cold, rancid" tenements and lower Manhattan neighborhoods that were among "the most crowded places on the planet."
As the cities' footprints expanded beyond easy walking radius, streets became "filled with so many moving pieces, of all shapes and sizes, it was a miracle anybody got anywhere. Chairs on wheels, covered wagons, omnibuses, trolleys on tracks, and more, all of them pulled by horses, created an almost deafening wall of sound." As public transit grew more popular, the average resident eventually averaged 300 trips per year on aboveground railways that "left women disgusted and embarrassed and that alarmed children to the point of tears."
At the peak of the Gilded Age, the putrid crush of horse-drawn omnibuses united tycoons and toilers alike.
London had opened the Thames Tunnel for steam trains in 1843, but it was an intolerably smoky affair. Ideas like human-sized pneumatic tubes fell by the wayside while public officials argued incessantly over the relative merits of cable cars, elevated steam trains, and the like. An engineer named Frank Sprague nearly bankrupted himself developing an electric motor strong enough to power a train; he finally succeeded in Richmond, Virginia, in 1888. 
Citizens and elected officials remained wary of putting Sprague's invention underground. A concern that Most invokes many times is that the tunnels would be dark, scary, and full of "bad air." Most credits two events with overcoming those biases: first, a monstrous fire at a Manhattan stable killed many of the city's horses; second, the great blizzard of 1888 literally froze streetcars in their tracks. 
As demand for underground transit grew, the figures who most poignantly underscored the competition between the cities were brothers Henry and William Whitney (the latter of Whitney Museum fame). Henry developed real estate in Boston's western suburbs and, eventually, its suburban trolley lines. After William married into New York high society and embarked on a political career, he wrested control of the city's elevated railways away from Boss Tweed's Tammany Hall "machine."
Even that neat parallel gets lost amid the cavalcade of financiers, politicians, engineers, and workmen required to build what became the nation's biggest public works projects. The most memorable contributor may be Parsons, who was said to understand Manhattan's temperamental schist as if he had built it himself. Parsons did such a good job that his company is working on Manhattan's Second Avenue Line at this very moment. 
The Boston subway came in on time and $800,000 below its $5 million budget, and its gleaming tiled walls immediately dispelled concerns about "bad air." In so doing, Boston set a precedent that has probably never been followed. Most writes that "the subway capped a string of achievements that secured Boston's place as a birthplace of innovation." But, as both the cradle of Puritan America and the home of MIT, Boston has always had fraught relationships with tradition and modernity. Though it embraced the subway, Boston did not perfect it.
Voters in New York first approved a subway in 1891, only to see it killed by political interests in the state legislature. The city finally opened a new bidding process in 1900, overseen by transportation commissioner and piano magnate William Steinway, to design, build, and operate a new system. Of the two bidders, John McDonald won the contract. He had scarcely a penny to his name. 
Arguably the most triumphant moment in the otherwise drudging history of transit financing came when playboy financier August Belmont agreed to underwrite the $35 million that McDonald needed to make good on his successful bid. That stake launched the Interborough Rapid Transit Company. McDonald then placed with Andrew Carnegie what was then the largest order for steel in history: 72,000 tons for $10 million. Construction proceeded apace, with only one major disaster: an explosion that nearly destroyed Murray Hill.
On opening day in 1904, "ticket sellers braced themselves, worried about being unable to collect their fares and terrified of being crushed," writes Most. But the frenzy did not last long. Most writes, "it didn't take days or weeks or months or years for the cities to adapt to their new world. It took hours."
En route to this gladsome conclusion, Most too often lurches into flashbacks or makes casual reference to an event that took place years before the event he just described. Sprague's triumph in Richmond, which presumably inspired Boston to build its trolley system, took place five months after the great blizzard, which supposedly did the same. And yet, Most describes the former before describing the latter. Alternating between the two cities makes Most's narrative even more dizzying.
Most gives less attention to space as he does to time. Most adequately describes the 1.8 underground miles of the Tremont Line and the "Y" that the eventual New York subway traced. And yet, he includes not a single map or diagram amid the book's regal photographs of the subways' backers.
Finally, Most's tale lacks drama for one crucial reason: even if the cities were competing against each other, they were running a "race" that both had already lost. In the 19th century as now, underground systems in European cities, including London, Budapest, and Paris maintained a decisive lead over their American counterparts. 
Most does not comment on anything past 1907, but his lessons for the present-day are clear. At least New York and Boston had an excuse for taking so many decades to build. They were enlisting propulsion technologies, construction techniques, and cultural attitudes that did not yet exist. Since then, the Second Avenue subway has been delayed for decades. Los Angeles' subway plans have plodded along as if reinventing the wheel. You can fly to China from Washington, D.C., but you still can get only halfway to Dulles on the Metro.
That's news that would surely cause the Whitneys, McDonald, and Parsons to cringe.
The Race Underground: Boston, New York, and the Incredible Rivalry That Built America's First Subway
Doug Most
St. Martin's Press
412 pages
$27.99
Topics