Insurance coverage hasn't kept up with the cost of medical care and property damage caused by crashes. And whether we drive or not, when someone can't pay for the damage they've done, we all have to pick up the tab.
---
In many states across the country, vehicle insurance doesn't come close to covering the cost of some car collisions. In California, along with six other states, drivers' insurance need only cover up to $15,000 in bodily harm or even death, and just $5,000 for property damage. These same minimum coverage standards have been in place for over 40 years, back when $15,000 was worth almost five times as much as it is today. When someone is hit by a driver with inadequate insurance, everyone pays. In the most egregious cases, like that of Jikaiah Stevens, pedestrians end up directly subsidizing the costs of undercoverage, both physically and financially:
Jikaiah Stevens was left with more than just massive injuries—which include permanent brain damage—after being struck by a car at a crosswalk. A $141,760.24 medical bill now follows around the San Francisco hairstylist and photographer. 

The driver at fault had little to no assets, so all Stevens can receive is $15,000 — the state minimum liability to cover bodily injury or death.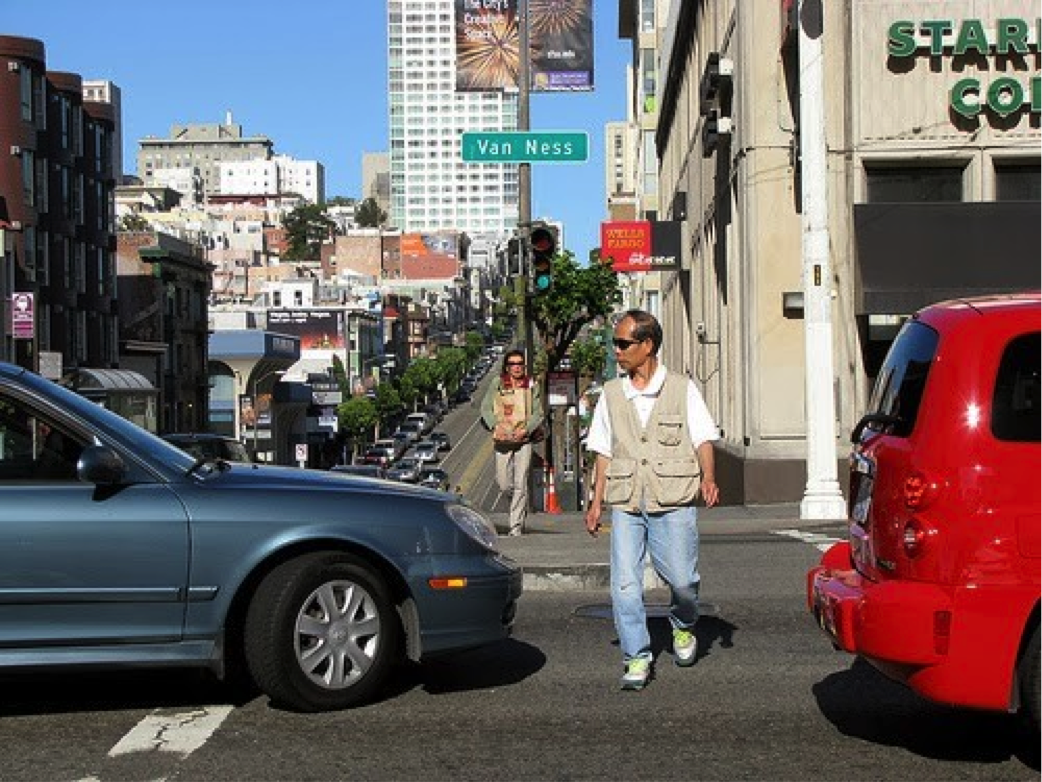 That's just the city of San Francisco, which accounts about two percent of the population of California. That's also just the cost from pedestrian collisions. About eight times more drivers than pedestrians are killed every year, so it's fair to guess that the cost of medical care and property damage due to underinsurance is even greater for drivers.A report by UCSF's San Francisco Injury Center reported that, between 2004 and 2008, over $56 million was paid by Medicare, Medicaid, and out-of-pocket to cover the medical care of SF residents hit by cars (another $18 million was charged to private insurance). Among admitted patients, which made up a quarter of the 3,600 victims of auto-versus-pedestrian collisions in this time period, hospital charges averaged $47,000 to $77,000—three to five times higher than the minimum insurance requirement. And as the study notes, these costs are underestimates that don't take into account costs after discharge. Like, for example, a lifetime of physical therapy or decades of lost wages.
Regardless of the insurance status of the victims, this is a cost that we all bear. An uninsured pedestrian hit by a person with few assets and minimum insurance will have to pay for their medical care out-of-pocket. When they can't pay, the government will often step in, which means we all chip in. (And for the record, that's a much better outcome than having a blameless victim saddled with all the costs, especially after already dealing with the physical and mental toll of their injuries.) But even if the victim does have health insurance, we still all pay: the risk of pedestrian collisions, like everything else, is baked into the price of your health insurance premium. If you have health insurance but don't own a car, drivers with minimum coverage have you to thank for their low-cost insurance. Whatever's left over is picked up by the federal government.
Soon, under Obamacare, nearly everyone will have health insurance coverage. The financial problems faced by people like Jikaiah Stevens will mostly disappear, insofar as there will be a clear mechanism for the payment of medical costs: insurance will cover it. That's the good news. The bad news is that we'll have solved the problem by effectively "socializing" the cost of car crashes. Everyone will pay a little more on their health insurance—billions more every year in the aggregate—so that drivers in places like California and Florida can get a nice discount on their car insurance. 
Those billions could be put to better use. Programs like the Great Streets Initiative in Los Angeles and the Vision Zero movement in NYC exemplify a more sensible transportation policy, one that invests money up front to save lives and dollars down the road. Chicago's Ashland corridor Bus Rapid Transit and Seattle's Link light rail expansion are also great examples.
Car insurance companies and advocates for low-income residents argue that increasing minimum coverage would be onerous to the poor, but what's really hurting the poor is the necessity of car ownership itself. No matter what you're paying for insurance, a $100-a-month bus pass is always cheaper than driving. The key is making that bus pass useful, which many cities have failed to do. If we're really interested in unburdening the poor we should focus on providing them—and everyone else—with alternatives that are inherently less expensive. We can spend more now on better infrastructure for walking, biking, and transit, or we can spend it later on body shops, hospitals, and funeral expenses. Either way, we're all paying.
Image: A pedestrian crosses at Van Ness Avenue in San Francisco. Photo: Bryan Goebel, via StreetsblogSF
---
Red Cities, Blue Cities, and Crime
Homicides rose across the nation in 2020 and 2021. But did they rise equally in all cities, or was the situation worse in some than in others?
This six-course series explores essential urban design concepts using open source software and equips planners with the tools they need to participate fully in the urban design process.
Learn the tools for implementing Universal Design in planning regulations.
View More