A fascinating new study found that drivers perceive exactly the same things more negatively than those who walk, bike, or take transit. These findings have a few interesting implications.
---
A fascinating new study has revealed what many Planetizen readers already know: cities aren't meant to be experienced from behind the wheel of a car. Researchers at the University of Surrey found that drivers perceive exactly the same things more negatively than those who walk, bike, or take transit, confirming the anecdotal experience of literally every person that's ever tried to find parking in an urban downtown.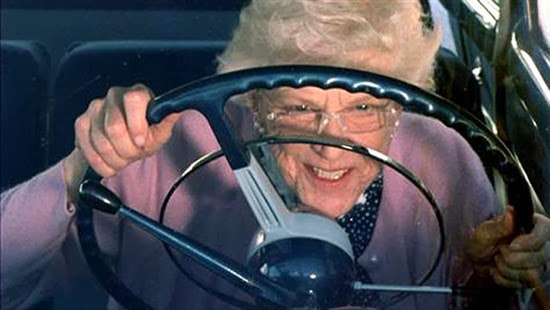 Photo: WPIQ Radio
Pacific Standard Magazine has a great write-up describing the results of the study, in which participants were asked to judge the traits of people they saw from a car, transit, bicyclist, or pedestrian perspective:
The researchers found that participants who saw the video from the perspective of a car rated the actors higher on negative characteristics (threatening, unpleasant) than participants in the other three conditions. Participants who saw the video from the perspective of the pedestrian rated the actors higher on positive characteristics (considerate, well-educated) than those in the car condition.
These findings have a few interesting implications. For example, they may help explain the "war on cars" furor of the past several years. It's easy to imagine how some individuals, so married to their windshield perspective, could see any attempt to improve active or public transportation as a direct attack on their person. Those people on the street are so threatening and unpleasant, after all. Why should the city cater to people like that? Transit and active transportation advocates, meanwhile, are baffled by the vitriol of the Dorothy Rabinowitzes of the world because the streetside perception of our changing cities has generally been positive.
The PS Mag article also asks readers to consider the experiences of a rural visitor to the city, compared to a resident. My personal experience reflects both of these perspectives. I grew up in the suburbs and hated visiting nearby Seattle: traffic was a nightmare, finding parking was a chore, and the complexity of the city created a constant sense of anxiety and directionlessness for me. It wasn't until necessity demanded a move to Seattle, for school, that I came to recognize what cities had to offer and became the urban proponent that I am today. I had to experience the city at the ground level, as a pedestrian, bicyclist, and transit rider to truly appreciate it. But I have many long-time friends who remain wary of cities and are confident in their disinterest, and it's almost impossible to convince them otherwise as long as they're unwilling to immerse themselves as only residents can. I'm sure many urbanist readers can sympathize.
A related study compares perceptions of crime between urban and rural residents, and finds that although urban residents perceive their neighborhoods as less safe they nonetheless feel more comfortable within them. This reflects a few realities, I think, including the relative comfort that comes from dense populations — the "eyes on the street," described by Jane Jacobs, that help deter crime and the perception of personal threat. It also aligns with the message of an earlier article I wrote about cul-de-sacs, and how suburban and rural neighborhoods often seem to derive their sense of community from a kind of turf mentality, where strangers are unwelcome and invariably threatening. The diversity of cities necessitates an openness to and acceptance of others; this, in turn, allows residents to respond more flexibly to new experiences and uncertain circumstances. Those experiences can be recognized as interesting — a part of the unique appeal to urban life — rather than intimidating or scary.
These studies, taken together, indicate that cities working to emphasize walkable, transit-oriented communities are laying a strong foundation for continued growth. Improvements that focus on how people interact with cities at a human level, rather than the driving experience, are likely to be the changes that produce the most positive experiences for visitors and new residents. And the more alternatives residents and visitors have for getting around without a car, the fewer negative impressions they're likely to form of the city.
---
The Right to Mobility
As we consider how to decarbonize transportation, preserving mobility, especially for lower- and middle-income people, must be a priority.
Early Sharrow Booster: 'I Was Wrong'
The lane marking was meant to raise awareness and instill shared respect among drivers and cyclists. But their inefficiency has led supporters to denounce sharrows, pushing instead for more robust bike infrastructure that truly protects riders.
California Launches E-Bike Incentive Program
The state is directing $13 million to a program to help low-income Californians purchase electric and cargo bikes, but limited bike infrastructure keeps many California streets unsafe for cyclists.
This six-course series explores essential urban design concepts using open source software and equips planners with the tools they need to participate fully in the urban design process.
Learn the tools for implementing Universal Design in planning regulations.
View More