Urban forests may possess the power to battle climate change. We just have to figure out what is more important: quantity or quality?
---
Planting trees on a massive scale may be what it takes to fix the environmental damage being caused by climate change…at least according to some scientists. And while that theory is supported by very real data, it is also rife with question marks due to the fact that there is still a lot we do not know about how trees and forests affect – and are affected by – their environment. One thing we do know is that some big city mayors have bought into the idea, which is apparent in places like New York City, Los Angeles, Miami, Philadelphia, Boston and Houston, where ambitious tree-planting programs have been launched in the hopes of creating a cleaner and healthier urban environment.
I discuss the state of these types of programs within the broader context of the global forest in an article recently published in Places Journal  called "Champion Trees and Urban Forests." In it I address the justifications behind these programs, the challenges faced in implementing them, and the questionable assumption that more necessarily means better when it comes to planting trees in cities. Excerpts from the piece are below, and the full piece can be read here.
"But if the tree planting campaigns were easy to pitch, they have proven harder to implement. In the past seven years, Million Trees L.A., which is funded not by city revenue but by grants, has managed to plant slightly more than 400,000 trees; an editorial in The Los AngelesTimes characterizes the project as a qualified success, and argues that it should now focus less on the public-relations appeal of seven-digit numbers and more on mundane issues like maintenance: "The Million Trees L.A. program is now part of city government, so it will survive beyond Villaraigosa's tenure. That's good. It should continue, but with less emphasis on some alpine-high number and more on raising awareness about what an owner must do to maintain a tree." Boston, too, has struggled to match reality with rhetoric. Grow Boston Greener, launched in 2007 with the goal of 100,000 new trees by 2020, has made only fitful progress; a Boston Globe correspondent reported that to date the city has planted only a small percentage of the target (estimate vary from just 4,000 trees to more than 20,000), due to funding shortfalls and also to what Antonio Pollak, the city's Parks and Recreation commissioner, conceded was a "tough environment" in which urban trees are assaulted by pollution, weather, disease, even reckless drivers."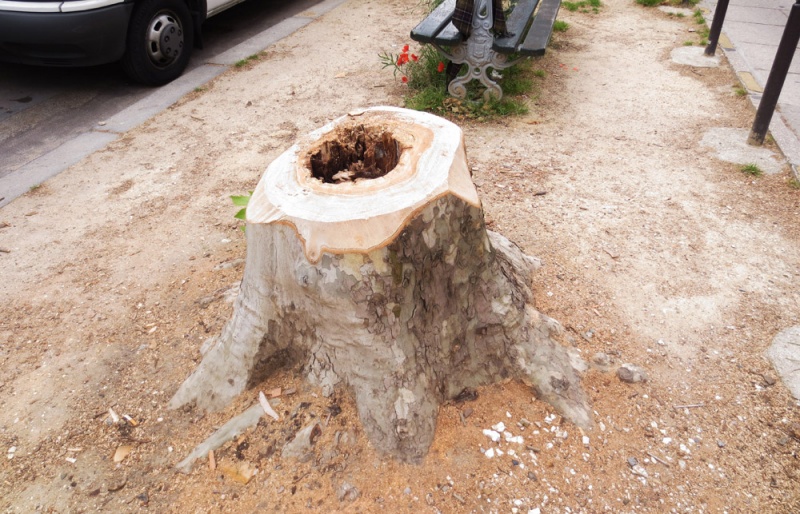 Problems with these programs extend beyond the potential failure to meet stated goals. By placing so much emphasis on planting a certain number of trees, critical things like design, infrastructure and maintenance risk getting short shrift.
"Endurance is, in fact, the single greatest challenge of urban tree-planting programs. In an influential 1992 article in American Forests, arborists Bob Skiera and Gary Moll reported that city street trees live, on average, only about 13 years. But you don't have to be an arborist to understand the torturous tests that cities pose to trees. Just walk down a typical street and observe the trash-filled planting beds, the gnarled and mangled trunks, the undernourished leaves. Happily, there is increasing evidence that conditions are improving. According to Mark Focht, the Philadelphia parks department understands the long-term benefits of specifying— and funding — larger and deeper planting pits and higher quality soil. In Los Angeles, the city claims that the mortality rate of the Million Trees L.A. program is only five percent, which is half the national figure. Landscape architect Gary Hilderbrand, a principal in the Boston-area firm Reed Hilderbrand, has learned to make the case to his clients that they need to invest in what will remain unseen: in the below-ground conditions of streetscapes and urban plazas. In this way, he says, they will provide "life support" for the above-ground landscape; for city trees to survive, he continued, you need "reciprocity between what's above, spatially, and what's below, structurally, chemically, biologically and physically," One of Reed Hilderbrand's recent projects, in downtown Boston, has become a model for innovative and effective urban tree-planting. For the Central Wharf Plaza — a tight, complex site with numerous underground utilities — the firm designed a perforated and suspended slab that supports the plaza and its dry-laid paving while also accommodating the compacted, sand-based soil that filters rainwater and carries oxygen to the tree roots."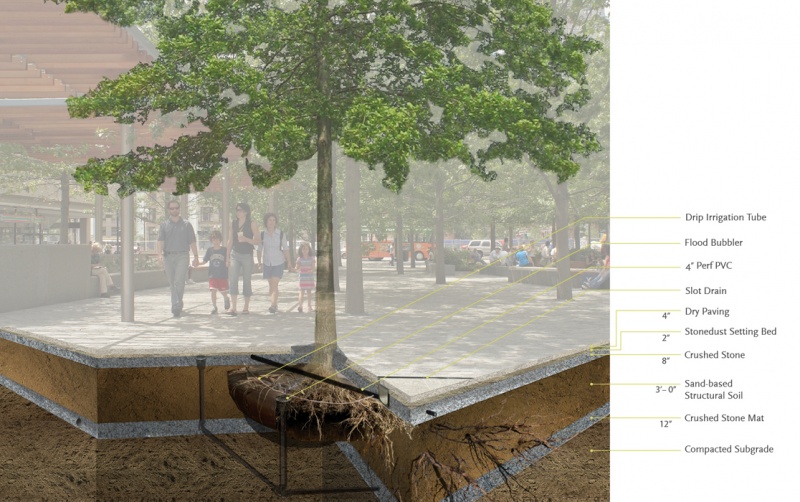 If all urban projects would follow the example of Central Wharf Plaza and invest in critical infrastructure (including high-quality soils!) and proper installation techniques – thus prioritizing the long-term health of trees over the immediate gratification of getting as many in the ground as possible – the urban forest would have a much better chance of reaching its full potential as an environmental hero.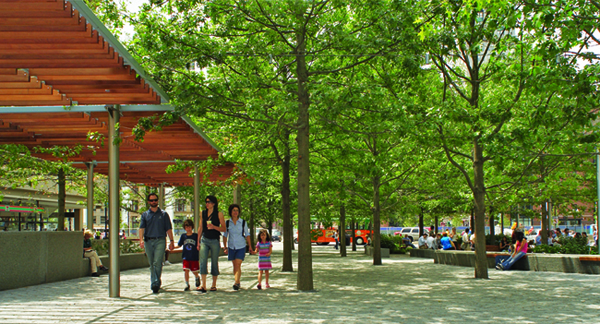 ---
This six-course series explores essential urban design concepts using open source software and equips planners with the tools they need to participate fully in the urban design process.
Learn the tools for implementing Universal Design in planning regulations.
View More