'High-End' Berkeley Micro-Apartment Proposal Receives Chilly Reception
A five-story, 60 ft. building proposal in Berkeley, Calif. that would house 70 'high end' micro-apartments ranging from 307 to 344 sq. ft. was presented to the city's Zoning Adjustment Board, but commissioners and neighbors were not impressed.
Emilie Raguso reports on how the project proposal was received at the Zoning Adjustment Board meeting on August 8 for Berkeleyside and also KQED News Fix. The four stories of micro-apartments would be built above a ground floor restaurant. The project, identified by its address, 2701 Shattuck Av., includes half as many garaged parking spaces as units and parking for 81 bikes with 61 spaces inside a secure bike storage room.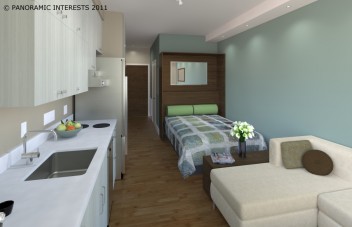 The project's attorney told the zoning board that that these apartments "have been lauded in every design review magazine," adding that the Berkeley proposal would offer even more amenities than a similarly high-end project, 38 Harriet, in San Francisco (built by Berkeley-based developer Panoramic Interests): "It meets the highest standards for this kind of housing in this area." (She) also noted that it would bring some much-needed vibrancy to the area", writes Raguso. The attorney was referring to Urban Land Institute's 2013 Global Awards for Excellence Finalist for SMARTSPACE SOMA – won by the project's designer, Lowney Architecture, 
Fifteen neighbors testified against the project, one calling it a "a resident hall stuck at the end of a very residential neighborhood". Another stated, "It's a new standard of tenement houses for the people of Berkeley". However, zoning commissioner Sophie Hahn topped them by calling the designs "penitentiary housing". Zoning commissioner Igor Tregub did admit one benefit to the project: "Just about anything would be better than a vacant building there".
Streetsblog's Angie Schmitt adds her take on the comments made by the zoning board members. See her Tuesday August 27 blog, "Zoning Boards Shouldn't Make Decisions By Judging People's Lifestyles".
However, academic data shows that single households are predominantly older and opt to live in urban areas for access to employment and public transit, concluding that these households are more sustainable than those of traditional families, which would seem to be a good fit for environmentally-conscious Berkeley.  In New York City, over 50 percent of single households are over 55, according to an August SPUR article reposted here.  
While Raguso did not not list rental prices, she wrote that proponents argue that micro apartments "are the way of the future, offering a more viable financial alternative to renters who otherwise would not be able to afford their own apartments." And if that isn't enough, she notes that the "project would result in a payment of $1.4 million into the city's affordable housing fund."
Published on Monday, August 26, 2013
in
Topics