Small business owners who drive themselves nuts arguing against the reuse of on-street parking with other balanced transportation solutions is a shame because there is so much good data to prove it's actually very good for business.
---
You ever hear the one about the Main Street merchant who went out of business because he lost all his parking?  No?  Are you sure?  But, it's common knowledge that business goes bust as soon as parking is removed.  I mean, I don't know about you, but I've even heard irate shop owners claim that just talking about reduced parking, or – dare I even say it out loud – increased parking rates (cue: gasps, guffaws) , can devastate a business district, and surely sink one that is struggling in these "difficult economic times."  We've all heard it time and again; and therefore, everybody knows that the key to good small business downtown is gargantuan gobs of (preferably free) parking.  But, some of us still get a kick out of questioning authority; so I'll ask you, is it true?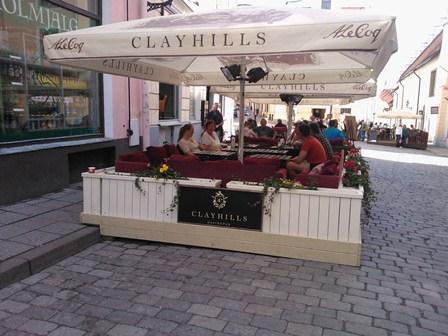 I'll come right out and say that I've never run a Main Street small business, so therefore I invite all small business owners to declare that I have no idea what I'm talking about.  And I am certainly not going to use that tactic some people – I'm not naming names – use by saying they "…drove that street every day for the past twenty years…" and are therefore de facto traffic engineers for the limited purposes of a heated public meeting about traffic (ugh, aren't they all?).  I'm not. I really do appreciate the way anecdotal quotes give color to poorly-researched, just-in-time-delivered local news stories, and I certainly respect people's personal opinions on stuff, but I think that what this discussion really wants is a little bit of good old-fashioned, home-grown objectivity.
Streetsblog SF recently posted a great piece on the results of a SFMTA survey that showed that only about fifteen percent of people get to heavily-shopped Polk Street by car.  The remainder arrived by a mix of walking, bicycling, and transit (By the way, I have heard some angry merchants speculating that people without parking might get to their shop via a "magic carpet" mode, which would probably fit in the "other" category).
I believe these findings are important because they demonstrate in cold, unemotional numbers yet another counter-intuitive fact about traffic and parking; namely, that many busy shopping streets are way more dependent on non-auto customers than they realize; perception versus reality strikes again.  It's a shame that this survey was done by SFMTA, because it's much more difficult to trash the findings of a highly respectable professional transportation agency than some crazy fixie-fanatics.
I did some hunting and found several other studies that showed little correlation between changes in parking supply or price to the vitality of bustling business districts, even the ones that were procured by local businesses trying to bust up less-parking plans.  The general consensus of various analyses seems to support the idea that "more parking", "cheaper parking", or the hideous "free parking" are farce demands of local businesses based on truisms that, if met, unnecessarily tax communities with outrageous construction bonds and/or lost opportunities for improved public spacees for no good reason.  In many cases, the same communities have plenty of underutilized parking that is simply not made available when needed or it is not properly priced.
A 1998 study by The University of Wisconson-Cooperative Extension Center for Community Economic Development called "Evaluating the Health of Downtowns: A Study of Michigan Small Cities" used a "Health Perception Index" to measure the results of revitalization efforts in several cities in Michigan.  Among their findings was that parking had very little perceived impact on business success when compared to other factors:
"Many merchant associations have expressed their concern with the inadequacy of downtown parking as a reason for their poor sales, and city officials have responded by spending capital improvement money on larger parking lots. Yet this survey found that other factors were much more closely tied with commercial success, and that parking was largely overrated as a factor"
In 2006, the City of Philadelphia teamed with economic development interests to study the success of commercial corridors and found that too much parking in places where pedestrian/bicycle access was possible can actually be an impdiement to businesses:
"Along pedestrian-oriented commercial districts surrounded by dense residential neighborhoods, the availability of parking seemed to play less of a role in commercial districts success. This is likely because many residents are choosing to walk to the corridor instead of drive. So while parking may help an automobile-oriented commercial district better serve its customers, the study suggests that too much parking actually serves to decrease property values as compared to property values surrounding pedestrian-oriented commercial corridors."
Of course, Hoboken, NJ is an excellent benchmark for those looking to demonstrate that the overwhelming majority of sales for local businesses comes from customers arriving in just about anything other than a car.  And by overwhelming majority, I mean 99%.  As part of our due diligence and getting local businesses on board with a new pocket plaza project that would result in the loss of 5 angled parking spaces adjacent to their shops, we did a quick survey of customers leaving nearby businesses and found that only 1% of those customers were parked in those spaces.  The survey also counted cars and pedestrians on that block and found that foot traffic outnumbered cars by a 7:1 margin.  Admittedly this effort was surgical, but the point is that such data made a merchant-led fight for these spaces pointless, especially when the alternative was a plaza where people - not cars - could enjoyably sit and spend time in front of these businesses.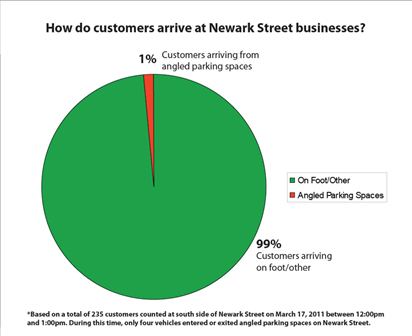 Another highly respectable professional transportation agency is New York City DOT.  Their 2012 report on the impacts of street improvements that often result from a re-use of on-street parking is called "Measuring the Street: New Metrics for 21st Century Streets".  It provides some fantastic statistics you may want to offer up the next time you hear from end-of-world doomsday scenario speculators about re-purposed parking, such as a 49% increase in local retail sales along its 9th Avenue segment between 23rd and 31st Streets after the street redesign.  NYCDOT has so many travel lanes to work with that they can sacrifice those instead of parking lanes, but I wonder if there was a parking-lane-versus-bike-lane retail sales impact smack down, who would come out on top?  Can the new business generated by balanced modes solutions using parking overcome the mayhem of a few lost car parking spaces?  Can expanded outdoor seating for 30-40 restaurant patrons overcome the door-front seating for 3-4 patrons' cars?
This is not to say that no parking is needed; rather, I submit the supply of parking in a downtown should be proportional to the share of trips associated with automobiles.  Furthermore, this amount is not static, and in fact can be manipulated by local authorities to better suit the needs and desires of the community so that quality of life is improved by a shift to less impactful modes.  In Europe, where this kind of modal manipulation is perhaps most advanced, the techniques used by transportation planners to actively better balance demand for various transportation options are generally called "Mobility Management".  In many ways, Mobility Management is the next generation of transportation planning, and has not yet entirely found a home (or funding) stateside.
My conclusions here are, of course, nothing new.  After all, Streetsblog writer Matthew Roth posted an excellent Urban Driving Shoppers mythbuster in 2009.  But my objective is to revisit, strengthen, and add more to the argument needed by planners when confronted by understandably angry yet nonetheless uninformed local/small business owners who drive themselves and their neighbors nuts fighting the very things that are better for their business because they are using an antiquated mid-20th century truism.  The simple act of providing good, objective data and anecdotes – preferably early on and in a quieter, slightly less combustible setting than a public meeting – is a healthy and productive way of informing local merchants and getting them on the same side as good street designers.
UPDATE 6 JUNE 2013: Very sadly, just a day after posting this article, legendary Hoboken small music venue/bar/restaurant Maxwell's announced it was closing its doors for good (the bar stage in Springsteen's "Glory Days" video).  I am the first to admit that the owners approached the city several times about parking accommodations, and in response several attempts were made to explore and find ways to solve those unique problems within the confines of local laws which everyone is required to follow, including an amendment to a parking ordinance to update/clarify how time-limited parking is enforced so that visitors to Hoboken were not unfairly ticketed.  Certainly, finding street parking around the uptown venue on a weeknight at 9pm is extremely difficult, but in defence of the above treatise and the merchant parking needs argument in general, and as can be gleaned from just about every article on the closing - but perhaps most eloquently explained in a blog post by the witty, local, introspective Chris Halleron - the root cause is attributable to a gradual change in demographics and, perhaps, soul, but certainly not for lack of parking.
UPDATE 27 AUGUST 2013: Kyle Rowe, University of Washington, has released another excellent study of the relationship between bicycle facilities and businesses, this time in Seattle.  In summary, "Bikenomics: Measuring the Economic Impact of Bicycle Facilities on Neighborhood Business Districts" demonstrates using local business sales data that new bicycle lanes have some to significantly positive impacts on retail shops.  The takeaway here is that the more studies published with these kinds of data, the stronger the case can be made that data trumps sound bite.
---
This six-course series explores essential urban design concepts using open source software and equips planners with the tools they need to participate fully in the urban design process.
Learn the tools for implementing Universal Design in planning regulations.
View More