All it Takes is a Little Paint
Alyse Nelson says that when it comes to placemaking, sometimes all you need is some brightly-colored paint.
Nelson talks with City Repair co-founder Mark Lakeman, who was behind the citizen movement to create community through painted intersections (see below):
"At its core, intersection painting is about community empowerment. In Portland, City Repair doesn't seek out neighborhoods to encourage residents to paint the street. They wait for neighbors to come to them. City Repair will then work as facilitators, helping residents choose a design and encouraging them as they knock on doors to garner support for the painting. While the painted mural is a beautiful end product, it's the relationships and sense of community formed through the process that makes these places become villages within the city."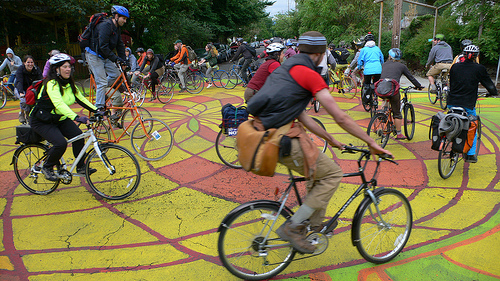 Sunnyside Piazza in Portland. Photo: donkeycart.